Tango Video & Audio Chat Client Now Available For Windows
Inspired from Apple FaceTime, Tango is a multi-platform audio and video chatting app available for Android, iPhone, iPod Touch and iPad. If you enjoy video calling via Tango on your smartphone and wish there were a way to use it on your PC, here's some great news for you. Tango has recently released its desktop client, which provides seamless audio and video calling with Tango contacts via both wired and wireless networks. As of now, Tango desktop client is only available for Windows but it will  soon be out for other operating systems as well. It offers a minimalistic, iOS-like user interface which gives you the feeling that you're using Tango on your iPhone. However, you can switch between iPhone and Windows Standard UI design from within the application's Settings.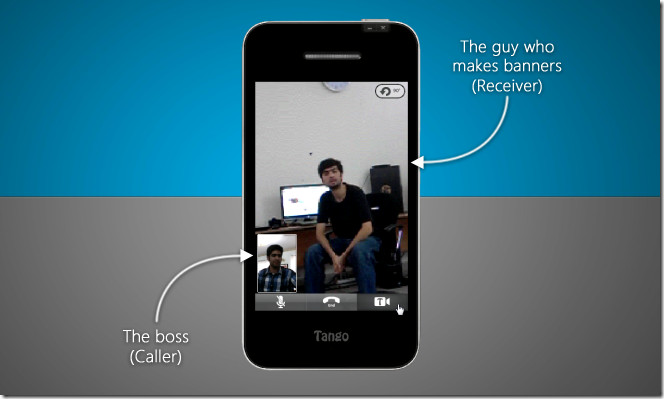 Speaking of usage, it is not only straightforward but quick as well. If you already subscribed to Tango, enter your country code and phone number to go online. Otherwise, you will have to enter phone number, First name, Last name, and email address to log in to Tango.
From the Invite tab, you can invite your friends, acquaintances, colleagues, etc. by specifying either their full mobile number (with country code) or email addresses. The default skin emulates the conventional design of iPhone apps, and so you will find Contacts, Recent, Invites, and Settings at bottom of the interface. When you want to make a call, go to Contacts and hit required contact to begin audio or video chat.
From Settings, you can configure audio and webcam settings, enable/disable Run on Startup option, and switch to Standard Windows skin.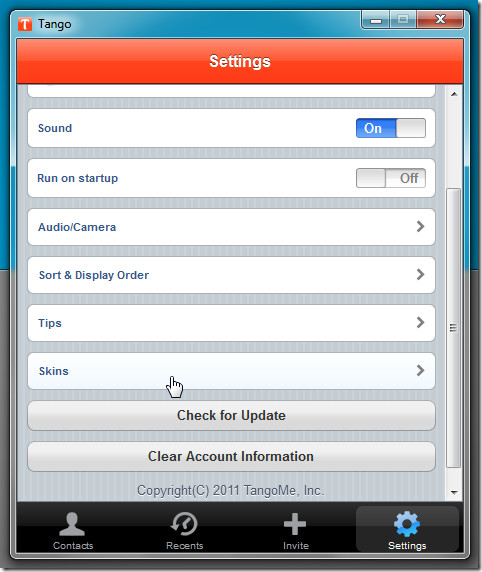 Tango desktop client operates from system tray. When you close the window, it automatically minimizes to system tray, from where you can bring it back up or quit the application. Tango is in initial development phase, so you may encounter some bugs and video chat related glitches. The application works on Windows Vista and Windows 7.