TheFolderSpy: Monitor & Receive Email Notifications For Folder Changes
You may know that Windows constantly changes, renames, modifies and removes certain files while you perform tasks using any User or System utility. It's certainly impossible to keep track of all the files that are being crearted, changed, deleted from the system. However, if you want to monitor the files for changes in a particular folder, check out the previously covered Folder Monitor (reviewed here), Directory Monitor (reviewed here) and Watch 4 Folder (reviewed here). File monitoring applications help users view the changes made to the specified set of files without having to manually check each file's property sheet. TheFolderSpy is a simple, yet powerful folder monitoring application that allows you to monitor multiple folders for changes, and notifies you whenever it detects changes in files' contents/attributes. Using the application, you can easily monitor files to check whether it's been renamed, modified or even deleted from a specified folder, or not. Apart from providing you with an on screen notification, it also allows you to automatically send information about the change to a user-specified email address. More on TheFolderSpy after the break.
Upon the first start, you need to configure the application for monitoring the required folders. Using the Setup window, you can Add Item, Edit, Remove, Save Items list and Setup Email. When you add the folders, it shows information like Folder name, File Type to be monitored, current State, Parameters, Detect change types, Subfolders included or not, Email option activated or not etc.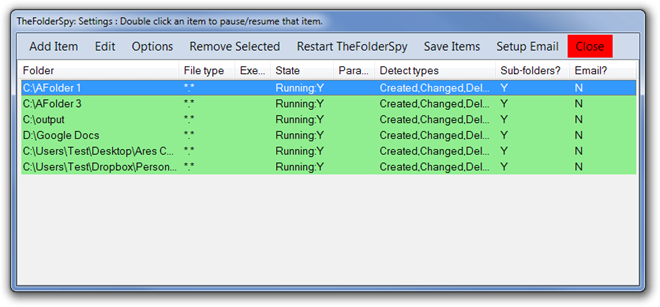 The Add Item window has options to add the folder to be monitored, monitor the sub-folders along with the parent folder, enter specific file types to be monitored, execute a particular application or run a specified file when any change is detected, and choose the types of changes to be detected by the program. As stated earlier, it also lets you send email to specified recipients when it detects a change in the selected folders. Here, you can enable Send email if change detected option to send the file change notification via email as soon as a change is detected.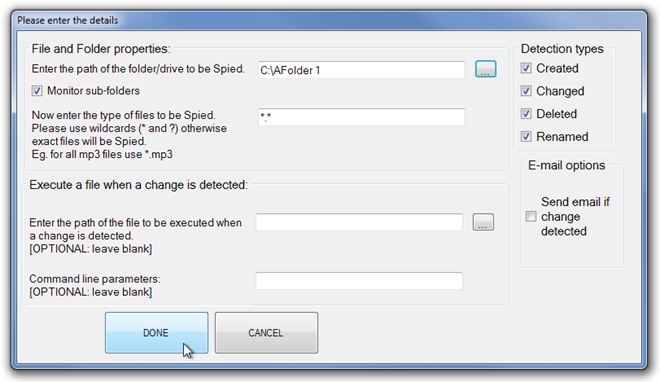 Once everything is set up, click Close to save the settings and start monitoring the selected folders. The changes will be displayed in the main window of the application. If you have selected the email option, an email will be sent to specified email address every time a change is detected in the folder. The main window will log all the activities performed by the application including changes detected and sent emails notifications.

TheFolderSpy is a portable application that works on both 32-bit and 64-bit versions of Windows XP, Windows Vista, Windows 7 and Windows 8.