Top 5 Free Desktop Photo Editing Tools
We all edit our photos in one way or the other. Either simple cropping, resizing, touching up or red eye removal. Almost all computer users do it. But you don't always need to shell out big bucks for such functionality. There are many free desktop photo editing tools that match the functionality of paid commercial software.
We're going to take a look at what we think are the top 5 free desktop photo editing tools available for Windows.
Windows Live Photo Gallery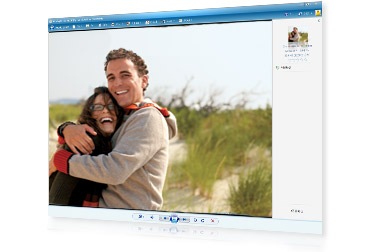 Windows Live Photo Gallery is a part of the Windows Live suite of applications that increase the functionality of Windows. WLPG is available as a free download, and fits right into Windows. It offers you indexing of your photos with their thumbnails, , tags, metadata and ratings. It can also act as your default photo viewer. For editing, it gives you options to adjust color, exposure (with Histogram), detail, fix red eye and cropping. Slideshow options are good too with various different themes.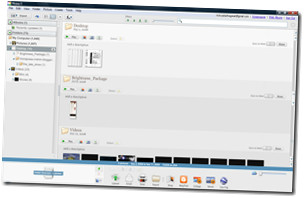 The new Picasa 3 Beta from Google is one of the best desktop editing tools you'll need unless you need Photoshop like editing. Unlike the pervious version, you can now use it as a photo viewer. It  opens the photos in an overlay on your desktop which makes it one of the best photo viewers available. Apart from that, you can organize your photos, sync your Picasa 3 and Picasa Web Albums edits, retouch your images, create and edit movies, capture your screen and webcam videos, add text or watermarks to your photos, print captions, upload to Youtube and Picasa Web Albums and many more.
Paint.NET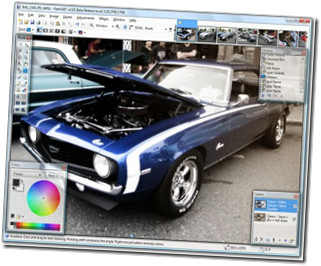 Paint.NET is free image and photo editing software for computers that run Windows. It features an intuitive and innovative user interface with support for layers, unlimited undo, special effects, and a wide variety of useful and powerful tools. An active and growing online community provides friendly help, tutorials, and plugins. If you need to use Photoshop but can't afford it, Paint.NET is the free alternative for you. You won't find a better one than this!
Photoscape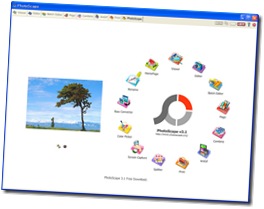 Photoscape is a cute photo viewing and editing software with different features from the earlier mentioned software. Check out its key features:
Viewer: View your folders photos, slideshow
Editor: resizing, brightness and color adjustment, white balance, backlight correction, frames, balloons, mosaic mode, adding text, drawing pictures, cropping, filters, red eye removal, blooming
Batch editor: Batch editing multiple photos
Page: Make one photo by merging multiple photos at the page frame
Combine: Make one photo by attaching multiple photos vertically or horizontally
Animated GIF: Make one animation photo with multiple photos
Print: Print portrait shot, carte de visite, passport photo
Splitter: Divide a photo into multiple parts
Screen Capture: Capture your screenshot and save it
Color Picker: Zoom in screen on images, search and pick the color
Rename: Change photo file names in batch mode
Raw Converter: Convert RAW to JPG
GIMP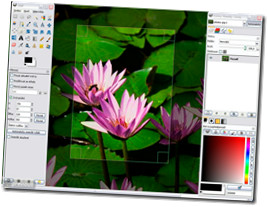 GIMP is for all you open source software lovers out there. This is another Photoshop alternative that is aimed at advanced users. Along with the usual editing, layers and other advanced photo editing features is the hardware support for not only Pressure and tilt sensitive tablets, but also a wide range of USB or MIDI controllers. It's also widely expandable through plugins and has one of the largest range of format support amongst the 5 reviewed in this post.