How to try Edge based on Chromium on Windows 10
Microsoft tried making a new, better browser after Internet Explorer fell into obscurity on account of it not being any good. Edge has been doing better than Internet Explorer but it still isn't as good as Chrome or Firefox. This is why Microsoft is rebuilding Edge and the new version is based on Chromium. This version is only available to Insiders but, there's a leaked version of Edge based on Chromium that you can try on the stable version of Windows 10.
Update: Edge Insider builds are now available for everyone.
Edge based on Chromium
This is a leaked version of Edge based on Chromium and while it is safe, and passes a VirusTotal scan, you should nevertheless try this at your own risk. The app will not have to be installed and instead runs as a portable app.
Download it here, unzip the downloaded file, and run the EXE inside it. For now, there is only a 64-bit version and if you're running 32-bit Windows 10, it may not run on it. You can give it a try if you want.
The UI is still very Edge like, leaning towards the modern design that you see on Windows 10 with no hint of fluent design in this leaked version. The settings/options that it offers mirror almost all the ones you get in Chrome except data is synced via your Microsoft account, and you can disconnect it if you like.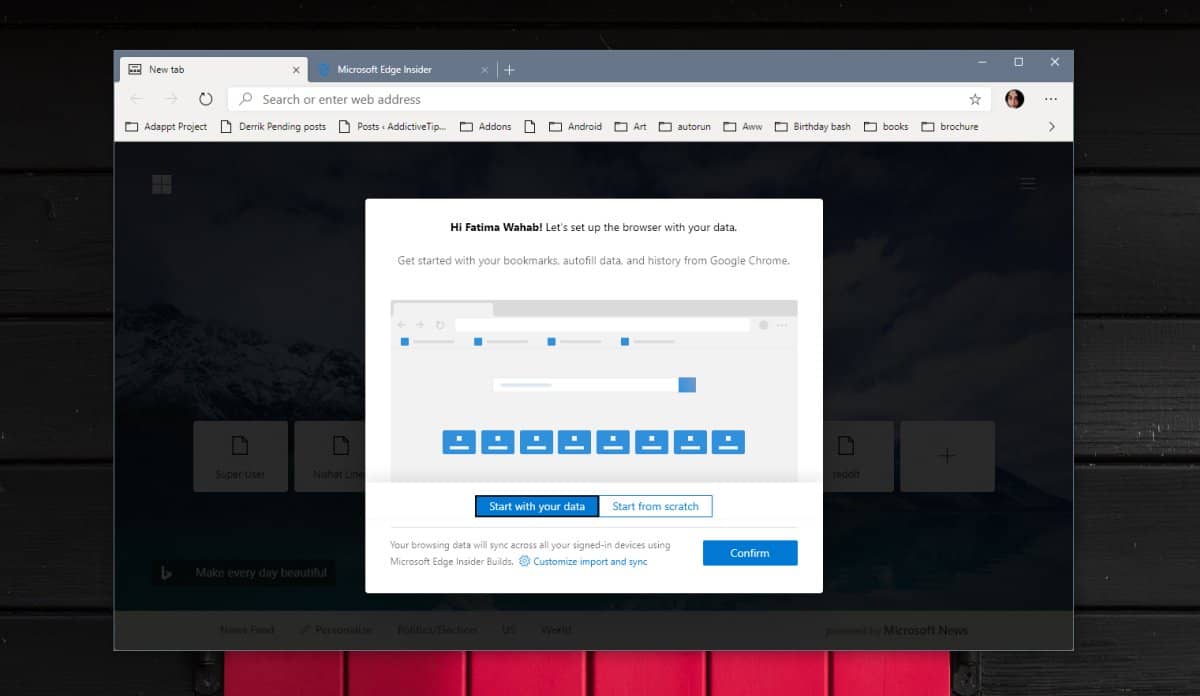 This version of Edge based on Chromium also gives you access to the Edge extensions store which has a modest number of extensions at present. More importantly, you can install Chrome extensions to this version of Edge. To install Chrome extensions, you need to first open the extensions' page in Chrome and enable the 'Allow extensions from other stores' option and then visit the Chrome Web Store. Pick any extension that you want to install, click the Add to Chrome button. The extensions should work though there may be some exceptions.
The settings that are available are more or less the same you get in Chrome but the browser works with your Microsoft account and not your Google account. You can customize the New Tab page, edit the speed dial, and still get the News Feeds that the current stable version of Edge has.
The downside is that the PDF viewer that Edge stable has is no where in the Chromium based version of the app. Edge as a PDF viewer and an eBook reader wasn't half bad. The set tabs aside feature is also gone though you do get access to all the flags that Chromium supports.