uMark: Batch Image Watermarking Tool To Add Images & Text Watermarks
Copyright infringement is a major issue when it comes to publishing content over the internet. People copy and publish the work of others without even crediting them in any way. These days, no one gives a second thought to using someone else's image, as if it was their own and earn all the credibility. Albeit, there are millions of pictures that can be downloaded for free (yeah that's the beauty of internet), some people simply don't want their work to be reused, or at least without their consent. Thankfully, to avoid such nuisance you can simply watermark your images to safeguard their misuse. There are various photo editors that let you watermark images within a few clicks, but if you are a photographer, for instance, and face the issue of copyright infringement, and simply needs a watermarking tool, then uMark will be a great help to you. uMark is a batch image watermarking application that lets you watermark images in batches of 50 in one go. You can use text and well as images to watermark your personal photos. Details on uMark up ahead.
The interface has image list in the top left corner. The Actual Size, Fit Screen, Zoom In, Zoom Out and Full Screen buttons are placed at the top, while Add Images, Add Folder, Add Watermark, Move Up, Move Down, Delete Watermark, Save Watermark and Start Watermarking buttons are available on the left side of the interface.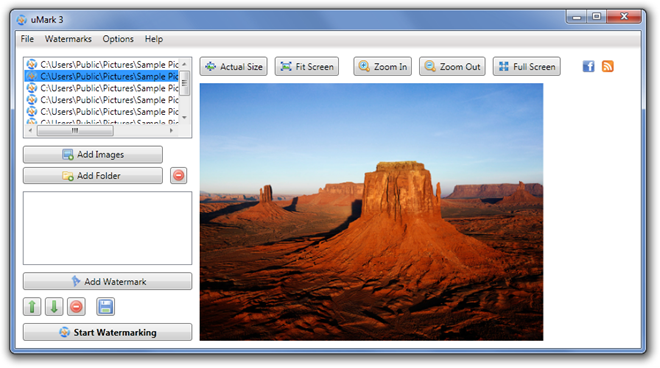 To start adding watermarks to images, first add the folder that contains your images from Add Folder button. uMark lets you include JPEG, PNG, TIFF, GIF and BMP file extensions.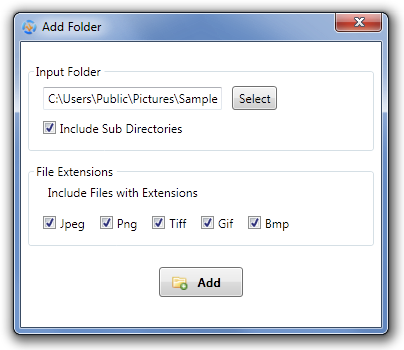 Once the image files are added, click Add Watermark and select Add Text Watermark to access the Watermark Settings dialog box for text. It has options for Watermark Text, Watermark Macro, Transparency, Rotation, Font Options, Tiling, Position and Padding. Click OK when all settings are done.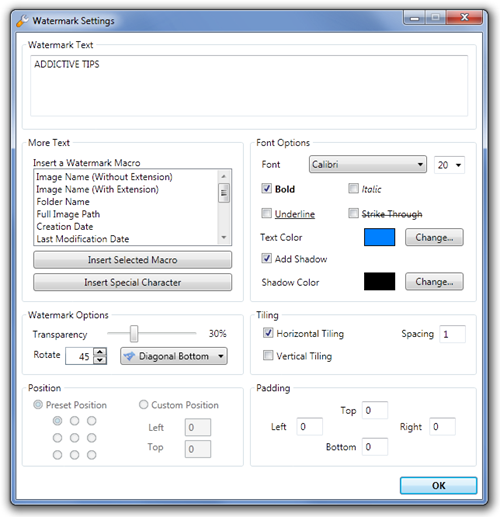 Click Add Watermark and select Add Image Watermark to access Watermark Settings of image watermark. It has options for Watermark Image, Transparency, Rotation, Position, Tiling and Padding. Click OK when all settings are configured.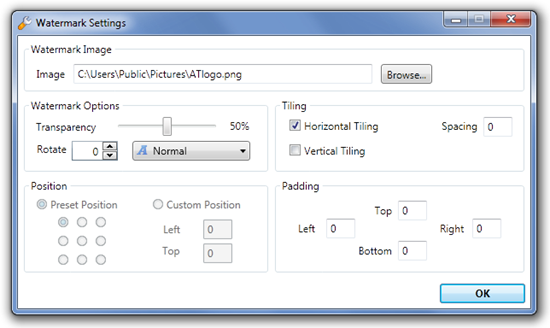 The changes will be displayed on a model image taken from your collection. Click Start Watermarking to start watermarking all your images.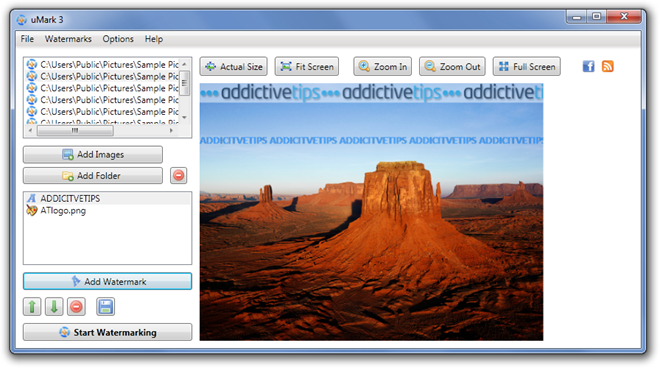 uMark is an excellent application that is quite feature-rich in what is has to offer. It's one of the best ways to instantly watermark multiple images. The application works on Windows XP, Windows Vista and Windows 7.