uMusic – Upload Mp3 Music File To YouTube
We have discussed about various methods to download YouTube videos, today we will talk about uploading your favorite mp3 music to YouTube. We all know that YouTube only allows users to upload video files and mp3 audio files are not supported.
One of the most common way to upload mp3 audio on YouTube is to use Windows Movie Maker. Users need to create a video file from pictures & audio and then upload it to YouTube. This process is quite tiresome and can be annoying if you need to upload multiple mp3 files.
Isn't there any easier method out there? I have found one hidden gem called uMusic that has long been overlooked by the blogosphere. It makes the whole Mp3 to YouTube process automated. All you have to do is select the mp3 file, add some pictures, and hit Create Video. Choose the destination where you want to save the video and it will create the output video in 232Kpb/s and Audio into 192Kbp/s in WMV format.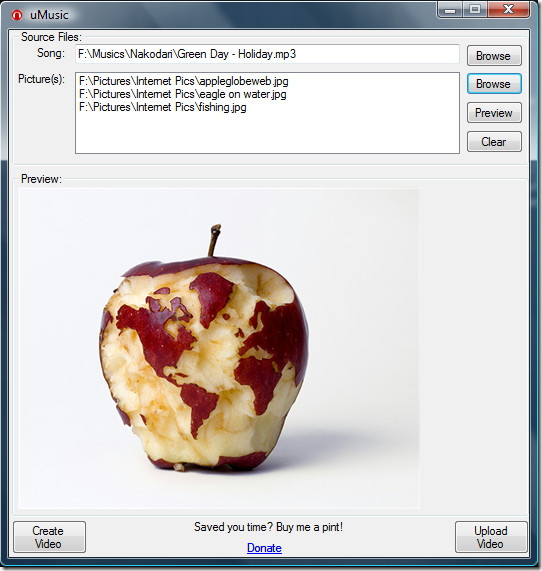 You can now either click the Upload Video button to upload the file using this app or you can manually upload it later by going to YouTube. To upload the newly created video file to YouTube, hit the Upload YouTube button and then select Video Sites > YouTube.

Now select the video file that you created using this app, enter your YouTube login credentials, type some video details, add some tags, and finally hit Upload.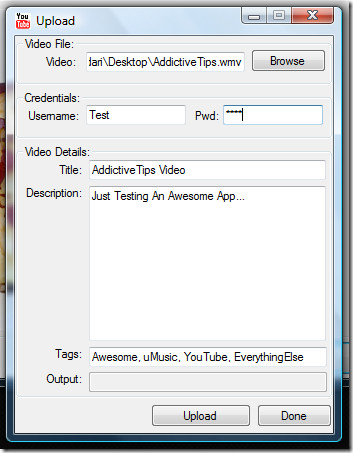 That's it and you are done. At the moment it includes another site where you can upload the video files to, Rapidshare. The developer is working to add more hosting and video sites to the list in near future.
Technically speaking, since mixing photos and audio makes a slideshow, this tool can also be used to upload slideshows to YouTube quickly. The time taken for the photos to rotate will depend on the length of the song, if the length is 3 minutes then 6 pictures will rotate after every 30 seconds.
It works on Windows 2000, Windows XP, Windows Vista, and has been tested to work flawlessly on Windows 7 as well. Enjoy!