Uninstall Or Remove Microsoft Office 2010
When you buy a brand new computer or laptop from any popular manufacturer, it is always filled with pre-installed software. Also you will find trial version of Office 2010 which is valid for only 60 days.
There are complains from users that they are not able to remove Office 2010 from Add/Remove Programs in Control Panel. The reason why Office 2010 cannot be removed is due to missing Setup.xml file.
There are two methods to fix this problem. The first method is guaranteed to work, but if for any reason you are not able to remove Office 2010, follow the 2nd method(for advanced users only).
Method 1 – The Manual solution
Since the Setup.xml file is missing. All you have to do is to copy the setup.xml file from the groove folder from the source and paste it in C:\Program Files\Common Files\Microsoft Shared\OFFICE14\Office Setup Controller\Groove.en-us\
Once done, run the uninstaller again and everything will be smooth again. For the sake of convenience I have provided both x86(32-bit) and x64(64-bit) setup.xml files in one simple zip archive. Just grab it and put it in the Groove folder as mentioned above.
Method 2 – The Advanced solution
Warning: Before following this method, create a system restore point just to be on the safe side. We are not responsible if any problem occurs.
This method requires you to download and run the Remove Office 2007 app. The name says Office 2007 but I have tested it to work with Office 2010 as well. Just load it up and hit GO to begin.

Make sure all windows and applications are closed before running the app.

After the uninstallation is complete, it will automatically restart the computer. Once your computer starts again it will again look for traces of Office 2010 installation and remove them if any trace is found. When all is done, it will show you the success dialog

Please note that this app is quite powerful and will remove Office 2010 forcefully. It does however not remove certain parts of Office 2010, which you can remove manually.
There are still some traces left behind. As you can see from the screenshot below Office 2010 is still present in Add/Remove Programs window. As long it is present here, you cannot reinstall Office 2010.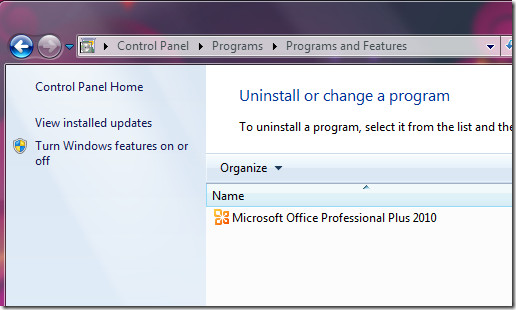 So what will you do now? How will you remove the traces that are left behind. The answer is to use Windows Installer Cleanup Utility. Select Office 2010 from the list and hit Remove.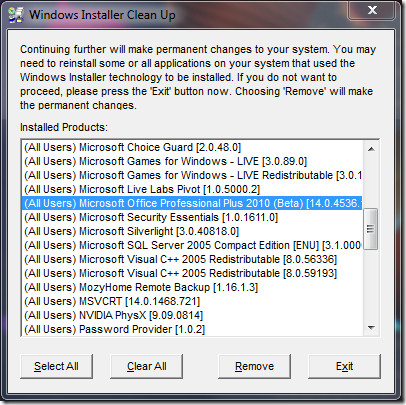 Once done, Run CCleaner and fix all registry problems. Doing this will remove all Office 2010 registry entries. After you are done with all uninstall procedure, you won't be able to re-install Office 2010 unless you do not remove each and every file and registry key as mentioned by Microsoft themselves here. The method is for Office 2007(Office12), but works with Office 2010(Office14) as well, just make sure where they ask to locate Office12, look for Office14 instead. Now your uninstallation is complete.
Download Windows Installer Cleanup
Conclusion
I would highly recommend following the first method, but if it all else fails, then you can follow the 2nd method(only if you are an advanced user).