Video 2 Mp3 Is Quickest Video To Mp3 Converter
What is the fastest way to extract mp3 audio from a video file? Its OK if you don't know. We didn't know it either, until today, when we stumbled across Video 2 MP3. It is a dead-simple straight-hitter portable tool with no UI(user interface).
Simple extract the zip archive and paste the executable file to a commonly accessible location, such as desktop. Now simply drag any video file and drop it on the executable and you will get the mp3 file in no time. Can there be any simpler video to mp3 converter out there?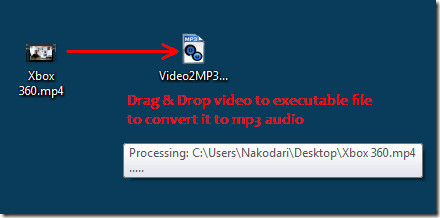 It was able to convert all video formats I threw towards it, from MP4 and FLV to a high quality AVI video file. The conversion itself went seamless and the output quality was top-notch. Double-click the executable file and you will find the instructions and credits section.
The audio file will be saved in the same location where the executable is residing. The name will remain the same except that the extension will change to Mp3 format.
It is a portable tool that requires no 3rd party dependencies and works on Windows XP, Windows Vista, and Windows 7. For more, check out Pazera Free Audio Extractor.