Nirsoft DomainHostingView: View Detailed Information For Any Domain Name
If you've been following us for a while, you might know that we have provided extensive coverage of various tools from NirSoft, a renowned Windows applications developer. Nir Sofer (the man behind NirSoft) is known for creating some of the most useful yet very light-weight tools. The developer has unleashed another handy application labelled as DomainHostingView. The tool is designed to allow you to gather information about any domain name using various DNS and WHOIS (pronounced Who Is) queries. It sums up the information by showing numerous details regarding the domain, for instance, the company that has registered the domain name (registrar), registrant's name, website hosting company and location, its creation and expiry date, domain owner, mail server, DNS and so on. As is NirSoft's usual norm, the utility is portable and ultra-light, taking up a mere 230 kB of your precious storage space, being portable helps you use it anywhere you go. More details coming after the jump.
Upon launching it, one of the things we liked about this tool is its minimalistic UI design – giving it that easy-to-use feel and look. Rendering a new report is quite simple, all you have to do is type in your domain name and hit the Go button (or simply press F9 key), and the utility will start to gather data and generate the domain report. The information contained within the report is divided into varying sections. Summary Information section, for instance,  holds the basic domain info that we mentioned earlier in the review.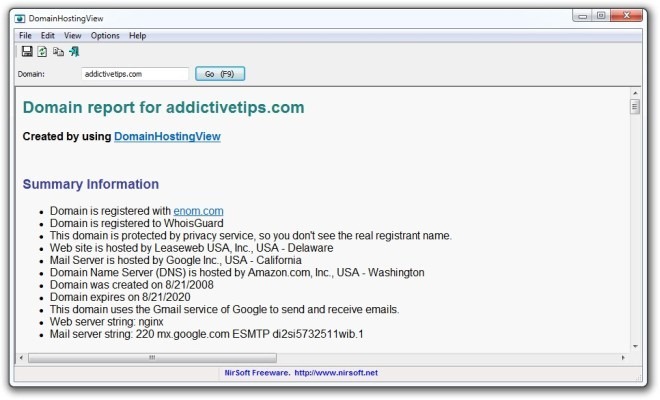 Scroll down the window a little and you will see DNS Records section. This section includes a few information fields like Record Type, Host Name, IP Address and More Data. DomainHostingView also tells you IP Address Information, Raw Domain Information, Web Server IP Address Information and Mail Server IP Address Information across-the-board. However, you must also note that as the report is based on information supplied by the WHOIS server, so any server downtime might result in some of the information being omitted from the report (which was exactly the case during certain domains that we tried to test the app). Another norm among NirSoft is that, it let you save HTML or CSS reports from within their tools and DomainHostingView is no exception. You can save the report by clicking File > Save HTML Report on the menu bar.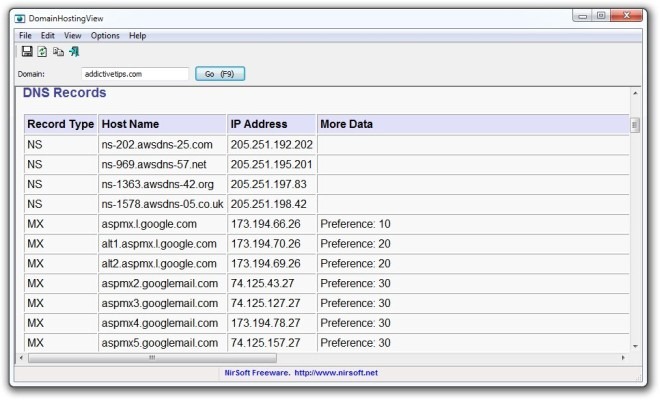 The tool works flawlessly on all Windows Operating Systems, such as Windows XP, Windows Vista, Windows 7 and Windows 8, including both 32-bit and 64-bit OS editions. We tested the application on Windows 7 Ultimate.