Fresh Diagnose: View Detailed System Info Including Run/Search History & More
If you press Win + Pause Break button on your keyboard, some basic information about the computer pops up on the screen. The native System Information panel allows you to view the Windows edition, System rating, Processor, Ram, System Type, Computer name, Domain, Workgroup Settings etc. Even though you can view all the basic information, it does not provide you with a lot of details, and you have to open the properties of each component to view the complete information. Previously, we have covered some very useful applications that allow you to view detailed information about different hardware, as well as software components. Speccy is one such previously featured advanced system information utility to view complete information about the system, including current temperature of the CPU, and graphics card. Flitskikker Info Tool has all the normal system information options, and an added Game Advisor to help you identify the compatibility of games with your system. Today, we have another system information tool called Fresh Diagnose that allows you to analyze your computer, including both hardware and software, attached and installed to your PC.
Other than information about the hardware components and installed software, it also lets you view system settings, such as your MAC Address, IP Address, TCP/IP Configuration settings, Audio/ Video Codecs, Direct X properties etc. Moreover, Traces for different Windows components, including Windows History, Search History, Run History, Internet Cache, Browser History, Recent Files etc can also be viewed from inside the main interface.
The main window comprises a toolbar containing Refresh, Up, Save, Print, Windows, Hardware, Devices, Network Multimedia etc, buttons at the top, the left side contains the list of categories available for view (same as the ones available at the top), while the information regarding each selected component is displayed in the main part of the interface.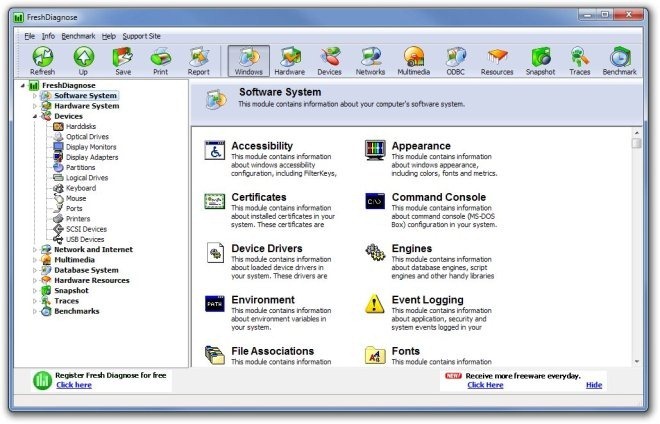 You can navigate between different components of the system using the tree menu available at the left side. Since the properties are divided into separate categories, it is very easy to find the one you are looking for. For instance, if you want to view the TCP/IP configuration settings, just click the the Network and Internet tab from the left side, and you will find the relevant menu instantly.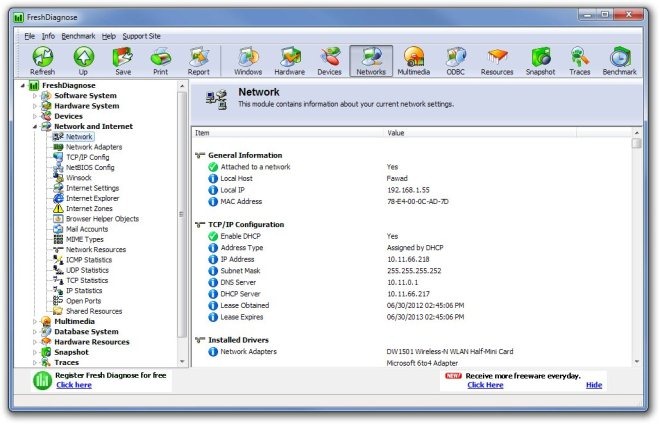 The Traces category allows you to view different history lists for your system, including Windows History, Search History, Run History, Open & Save History, Recent Files, Browser History etc.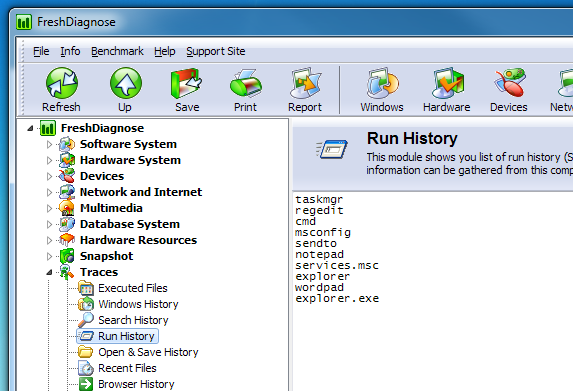 Fresh Diagnose works on both 32-bit and 64-bit versions of Windows XP, Windows Vista, Windows 7 and Windows 8.