VLC Player Vuvuzela Filter Plugin
Anybody who has heard the sound of Vuvuzela while watching a sports match will know how annoying it is. The deafening noise will even render a TV broadcast an acoustic challenge.
The institute of Communication Systems and Data Processing of Germany has come up with an Algorithm that suppresses the disturbing Vuvuzela noise during soccer matches. VuvuzeLAUTLOS is a plugin for VLC Player, which when enabled, will suppress the annoying noise of Vuvuzela. And it works!
To install this plugin, copy the .dll to the VLC plugin folder which can be found inside the VLC installation folder. When done, head over to Preferences, switch to All Preferences view, and enable VuvuzeLAUTLOS from under Audio > Filters.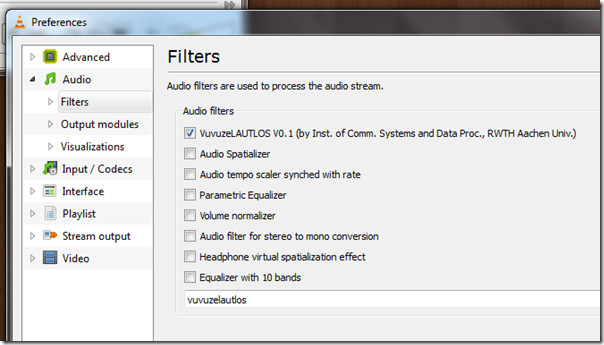 VLC Player must be restarted for the change to take place. The default setting works great and the suppression effects is quite noticeable. Advanced users, however, might want to tweak it further under Audio > Filters > VuvuzeLAUTLOS.
A very useful plugin for soccer fans who love watching the match on VLC Media Player.
Developed for VLC Player version 1.0, it has been tested to work on the latest version 1.0.5 by the authors behind this plugin. We tested it on the latest version as well running on Windows 7 32-bit system.