Lookeen: Outlook 2010 Search Plugin
Users around the world clamoring about the slow Outlook search feature can try out Lookeen which is a search add-in built solely to compensate with what Office team missed out. It significantly speeds up searching regardless of what kind of search you are intending to do; emails, appointments, calendar items, notes, journals,etc. It caters all items and shows results with utter precision and lightning speed. What makes it distinctive from the rest of add-ins and search tools available out there is that it provides multitude of options to optimize and handle indexing of items and to manage previously made searches.
Editor's Note: This is a paid add-in which costs $40. You are free to use it for 14 days after which you will have to buy it.
To start out with, install the plug-in and launch Outlook 2010. Navigate to Lookeen tab, you will see several buttons to play with. Before starting off note that indexing is necessary, click the index button to begin indexing. Once all items are indexed, enter the search keyword to view the result.

The results are displayed in a new window dialog where you can view matching search results that were found in either Mails or in all Outlook items. It remembers the last open tabs, so you can see previous search results any time. Despite being a search plugin, it also let users search Outlook items by applying special filters such as; by attachments, by email subject, by date, etc.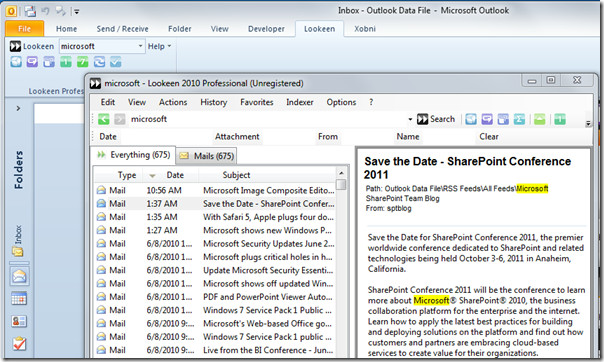 Importantly it is capable of searching Outlook 2010 items even when Outlook window is not open. It sits in the system tray from where you can instantly search for desired item.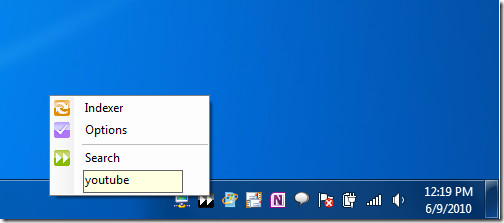 As it provides predominant searching, you might like to configure the indexing options. Click the Options button to bring up Lookeen Options. Under Indexer tab, you can add Outlook Store and Local Folder. Clear Index option is provided to rebuild the index in a case any bug or problem is encountered or when it failed full indexing earlier. You can also add/remove folders, data files, etc from the index.
Under Index Details tab, you can configure indexing schedule and set time to index items. It also provides you with an option of skipping encrypted items that helps in maintaining confidentiality over encrypted items. An important option is also provided for adding/removing attachment file formats from the index.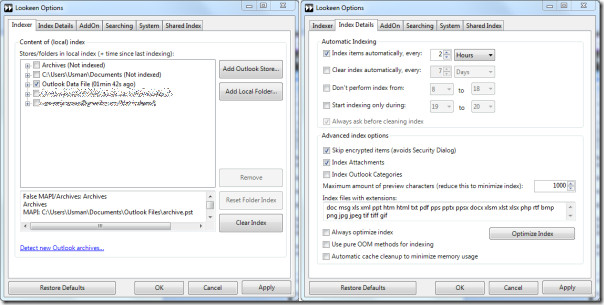 Under AddOn tab, you can change the language. From General Settings, you can configure generic options for; warnings, pop-up information, checking updates, and system tray options. If you have encountered any bug while using Lookeen, you can also view Log File, click Show Log File to view the log.
Under Searching tab, you can apply different colors on your email addresses and aliases to quickly find out items relating directly to you. Here you can also reduce the search results, by default it is set to 2000. Apart from this, you can also configure hotkeys to quickly access the Lookeen features & options.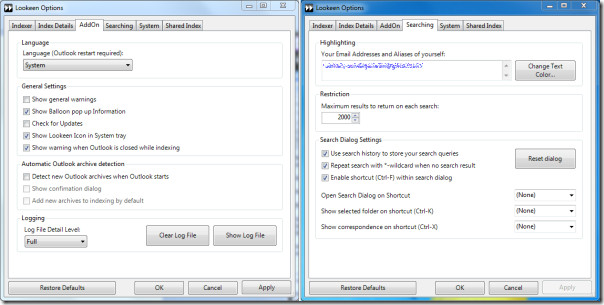 We consider Lookeen an important add-in since it provides the very best way to find out what you're looking for in Outlook. Besides providing instant search, it also facilitates user to view complete history of all previous searches in a nice pictorial representation referred to as Lookeen Analytics. In Lookeen Professional window, click Analytics to view the search history.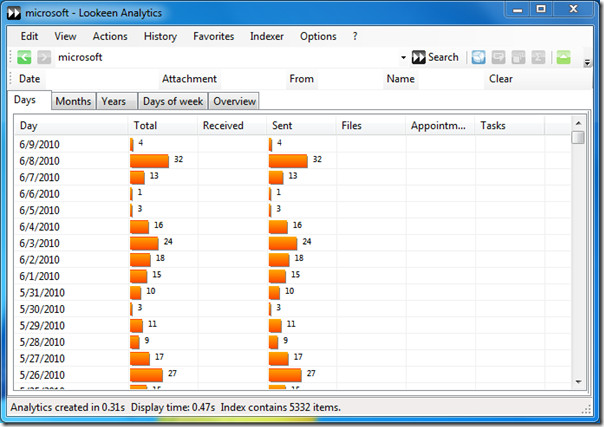 The latest version runs on all version of Outlook including the latest Outlook 2010. We have tested it in Outlook 2010 running on Windows 7 32-bit.