Wavosaur: Powerful Portable Audio Editor With 3D Spectrum Analysis
If you feel the name "Wavosaur" sounds like a wannabe dinosaur, you wouldn't be entirely wrong. However, Wavosaur is an immensely feature rich audio editor meant for the serious. What do I mean by serious? The plethora of features this editor brings to the table are meant for users well versed with audio editing, for tasks that involve more than just trimming, looping or adding fade in/outs to the audio file. While the editor retains the more common editing functions such as cut, copy, paste, paste mix, paste replace/insert, paste to new file, trim/crop, delete, undo for casual users, there's way much more to explore here. Screenshots and some important salient features of the application after the break.
To start off, simply drag and drop the file into the editor's window. The editor supports wav, aif, aiff, ogg vorbis, raw binary, au/snd, ADPCM Dialogic vox, Akai S1000 sample, Amiga 8svx & 16svx and wavpack. The interface, while not exactly the most brilliant one out there, is easy enough to get used to. The toolbars are modular in nature and can be moved around and function buttons can be added to the interface as well.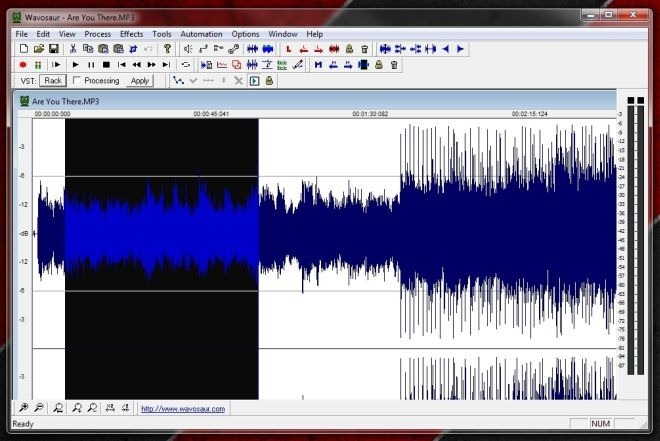 You can see the various tools that the editor has to offer from the screenshot below. Most, of course, will not make sense to the more casual us er – including me – but the 3D Spectrum Analysis, Input Oscilloscope and Output Oscilloscope are features worth commending.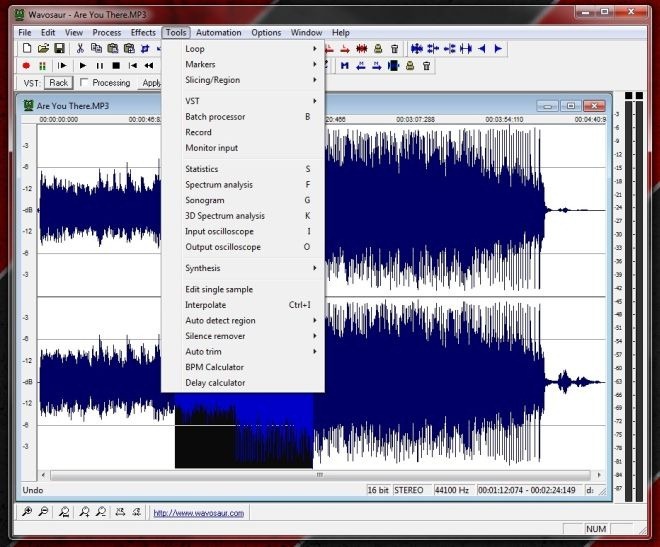 The editor also features a sonogram for the current audio output as well as seen in the screenshot below. Other than that, you have detailed statistics as well, giving you the RMS power, min & max value per channel and more.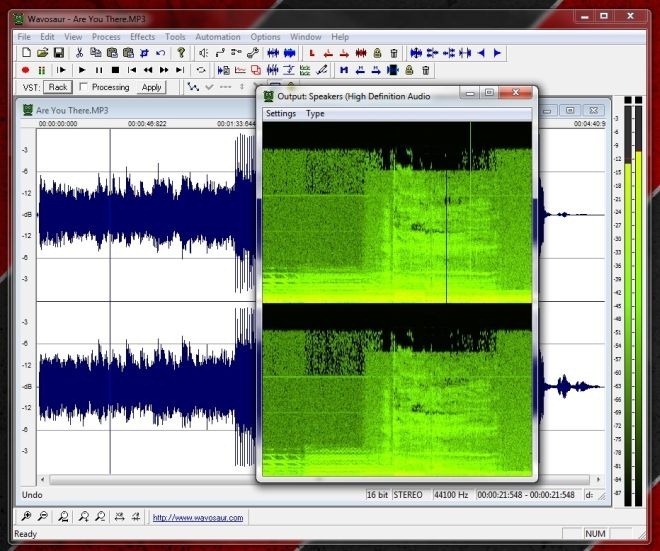 You also get synthesis features such as the waveform generator, frequency impulse train and frequency sweep. Talking about details, you can zoom in to the wave form down to the last millisecond.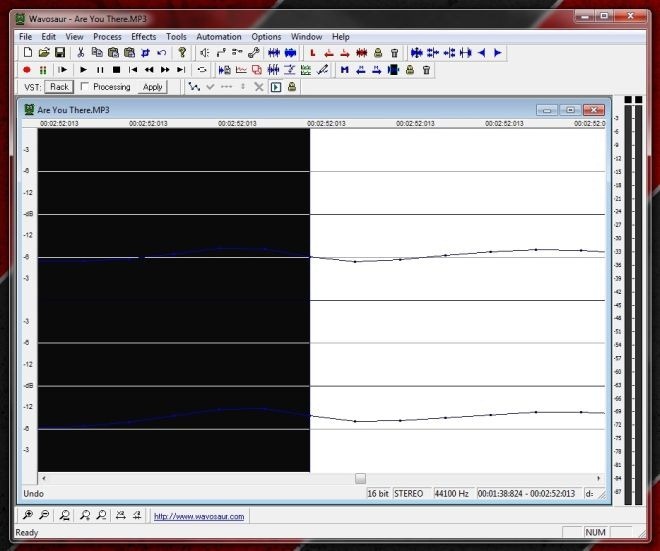 Wavosaur can also be controlled via commands triggered by an external MIDI controller, such as play, stop, record, rewind, toggle windows, go to markers, go to start, and control volume output. Now would be the right time to tell you that that Wavosaur is completely portable, sitting at a tiny 560kb, and will not make any changes to the Windows registry. The application also supports custom skins as well which can be downloaded from the official webpage here. For a complete list of features, head over to Wavosaur.com. The application works on all 32-bit and 64-bit versions of Windows, including Windows 8.