Who Blocked Me? Check Who Blocked You On Windows Live Messenger
Sometimes a person needs to see whether he/she is blocked or not? When your friend or co-worker doesn't come online, there could be three plausible reasons – Person is offline, Person's status is offline, Person has blocked you. The later is something everyone is searching for.
So far various tools have been released which tell users who blocked them on MSN Messenger, but the reality is far from what they claim. Luckily, today I came across an excellent piece of tool called MSN Privacy Extender which embeds inside the Live Messenger and acts like an add-on. It will tell you which person has blocked you quickly without any fuzz.
To install it, simply run the exe file, choose the destination folder where Live Messenger is located, and hit Install.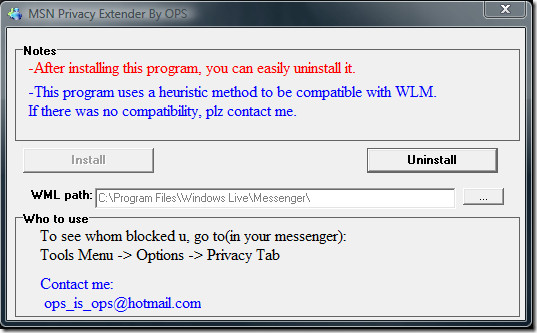 If your messenger is running, the installer will automatically shut it down. After the installation is complete, simply run Live Messenger and navigate to Tools > Options and select Privacy from the left sidebar. You will find the list of people who have blocked you at the end, as shown in the screenshot below.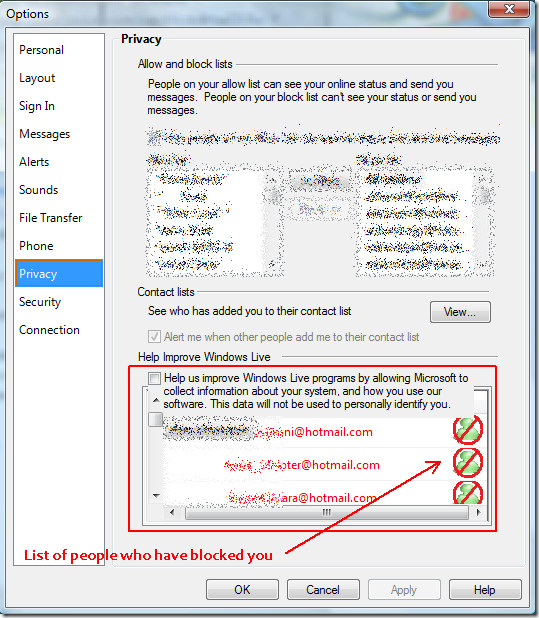 This is the first ever block checker which actually works and doesn't require you to run any 3rd party tool.
It works on all versions of MSN and Live Messenger including the latest version of Live Messenger. Enjoy!