Windows 7: Convert/Export Windows Contacts To VCF & CSV File Format
Recently I wanted to migrate all the contacts from Sony Ericsson mobile phone to Nokia, both companies provide application to manage and sync contacts. The problem I faced was after Sony Ericsson successfully synced the contacts on my computer, the contacts were saved in Windows Contacts folder. These contacts have .contact extension at the end of their name, but Nokia's application suit only supports importing of vCard(.vcf) and Comma Separated Values(.csv) contacts.
The first thing everyone does is to start finding a freeware app to convert Windows Contact(.contact) to VCF and CSV file format. After failing to find any app, I returned back to Windows Contacts folder only to find a build-in option to export contacts in both formats.
Apart from Exporting the contacts, there is also an option to Import the contacts from CSV, LDIF, vCard, and Windows Address Book file. You will also find additional options, such as, creating a new contact group, adding a new contact, and sharing the contacts over network.
Hit Export and select the desired format from the Export Windows Contact dialog window.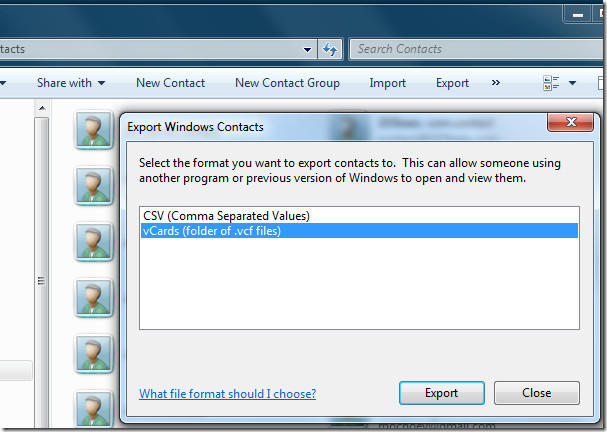 Click Export and select the destination where you want to save the converted contacts into.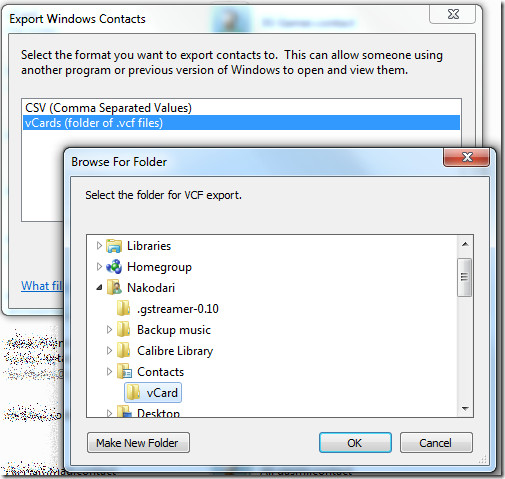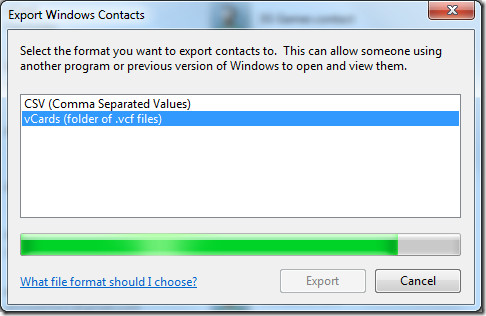 You will now find all exported contacts in the selected destination. Once the contacts have been converted, you can import them in any other application. Windows 7 can only export contacts to CSV and VCF format, developers can take advantage of this functionality to add more formats.