Windows 7 History: Recent Places
Just like Favorites, there is a feature in Windows 7 that is quite useful. Recent Places lists all folders that the user has visited in the past. It is like a recent history list similar to what most 3rd party tools offer. Provided that it is not filled with many features, it nevertheless does a great job in displaying the last visited places very accurately.
You will find Recent Places listed under Favorites on the left sidebar in Windows Explorer. By default, all folders and places are displayed at random. Examples of places are Hardware & Sound, System & Security, etc.
Since most users prefer seeing it by date and time, right-click Windows Explorer, select Sort By, and click Date Modified. Now you will see the list of places visited recently and can easily find out which folder or place was accessed at what time and date.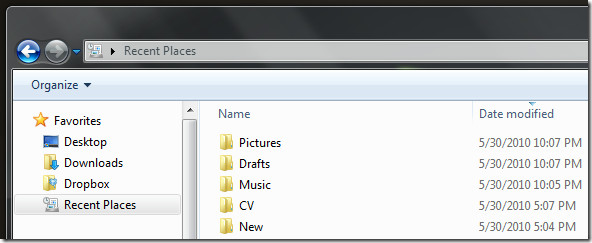 I have noticed that it only lists the folders or places when you open a file or perform an action inside it. If you visit a folder and move back or close the explorer without opening any file inside it, it will not be recorded under Recent Places.