Remove Zune Software Completely
As name implies UnZoone is an app designed to completely remove Microsoft Zune software from the system. The main reason for using this app is Zune installation package includes multiple value-added apps. Upon installation, these apps get installed automatically along with registry keys & LIB files including numerous DLLs.
Removing Zune by following an orthodox method (Control Panel-> Uninstall Program) is not enough to get rid of it completely. For complete removal, you need to remove the registry keys, value-added app and other clutter like LIB files & DLLS and to make the un-installation process a bit easier, UnZoone is an option to go for, as it provides one-stop solution for removing Zune software from the system.
Upon run, it will ask for the confirmation. Click yes to get started.
It will instantly start the operation, which includes deleting of registry keys, associated apps and other DLL files related to Zune Media Player.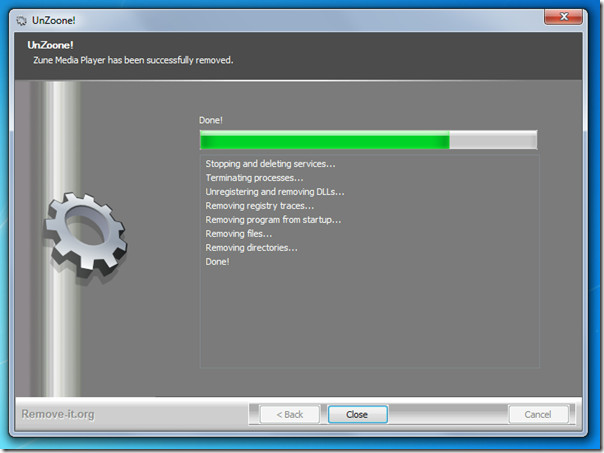 It can remove all versions of Zune software including the latest Zune 4.0.