LogMeIn – Remote Control Computer From Any OS Or Browser
Yesterday we wrote a guide on creating a desktop remote connection in Windows 7. It is a great way to control the computer if you are away, but what if you want to control your PC from any OS irrespective of the browser?
LogMeIn Free is an excellent remote access application that is worth the try. All you have to do is create an account, download the app and install it on the computers that you want to control. The best thing is that you can add as many computers as you want, which means you can connect to and control unlimited number of computers(one at a time).
Personally this type of service really comes handy, for e.g I have installed this app on my Parent's PC and my Brother's laptop. Now whenever they are in trouble I login and remote control their computers in just 2 clicks, all through a web browser.
Once you have created a new account, install the app and configure it to suit your needs. Once enabled, your computer will become accessible via LogMeIn website.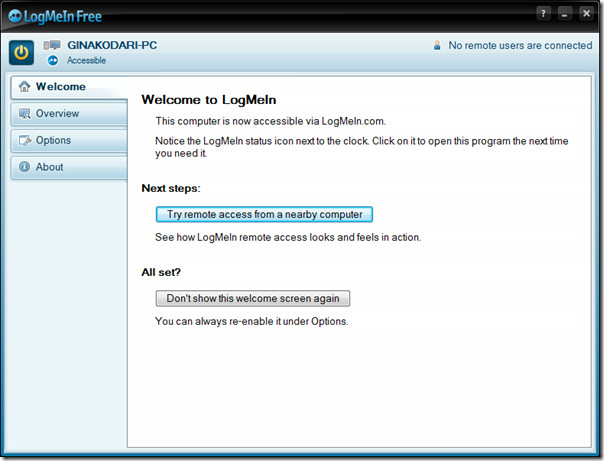 The Preferences can be accessed from Options > Preferences. If you are a beginner, I would recommend leaving the settings as default. Otherwise it has very handy settings such as, give control priority to Host or Remote user, disable wallpapers and user interface effects in host computer, lock the host after remote control, and many others.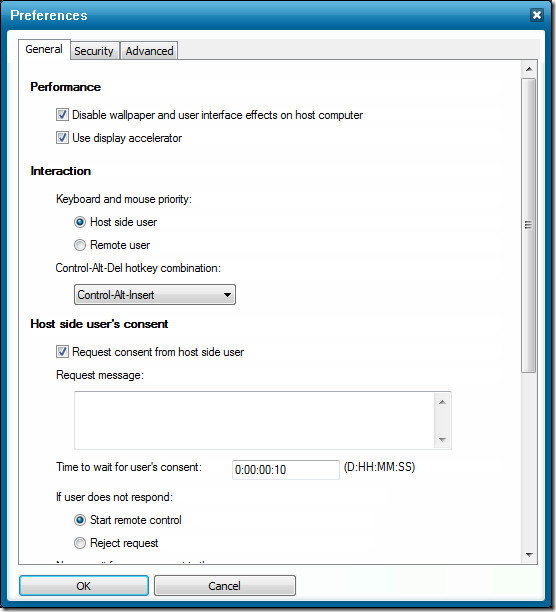 Once all is done, head over to the LogMeIn website, and login to your account. You will find all host computers listed on the main page. Only those computers will be listed where LogMeIn app is installed and enabled. Now hit Remote Control button below the visible host computer to start remote access.
On the next page, hit Remote Control link to begin(there is also an option to open it in new window).

Once done, it will start connecting immediately.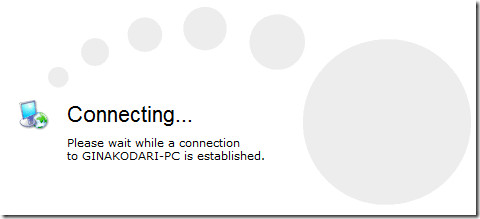 Now enter the username and password of the host computer to which you are connecting. There is an additional option to Initiate Chat, this can come useful if you want to provide support to someone.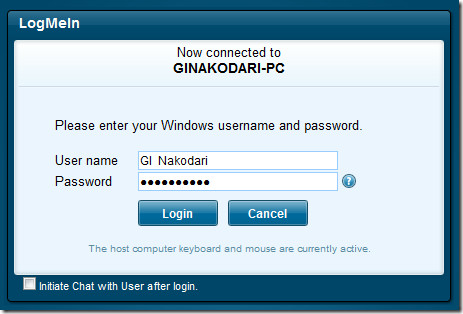 Once the connection has been established, you will see the desktop of your remote computer. Click the screen, move your mouse cursor, open programs, do much more. There are additional options provided on the upper-right corner which will provide better controls of the remote computer.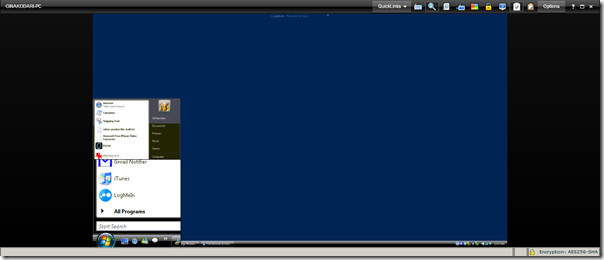 Among these options you will find perhaps the most important menu called Special Keys. It contains all common hotkeys in a simple menu. You can also use the magnifier option to magnify the screen.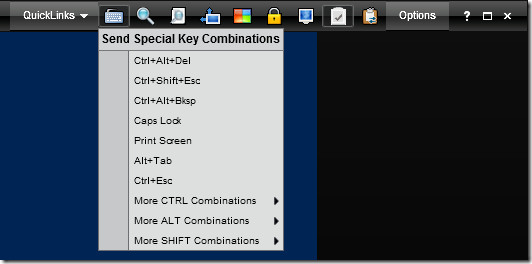 Settings such as, Screen Resolution, Color Quality, Fullscreen, and more can be found under Options menu.

Overall, setting it up took only 2 minutes on my side. It is fast, intuitive, stable, full-of-functionality, and dead-simple to use. It can be best used if you want to access your PC while you are away, since it supports WOL(Wake On Lan) things should go easy.
It is available for both Windows PC and Mac OS X. Yes, you can control both Windows and Mac computers with it. Enjoy!