Windows 7 Services Optimizer
SMART, not to get confused with S.M.A.R.T Technology which is included in hard drives, is a free utility which makes optimizing the Windows Services easier and is based on BlackViper's suggested configurations.
You can always tweak the services manually but this app automates the whole process. Right-click a service to get options, such as, Automatic, Manual, or Disabled. The only useful part of this app is that by using BlackViper's configuration recommendations, it includes 3 sets of pre-configured tweaks; Safe Settings, Tweaked Settings, and Advanced Settings.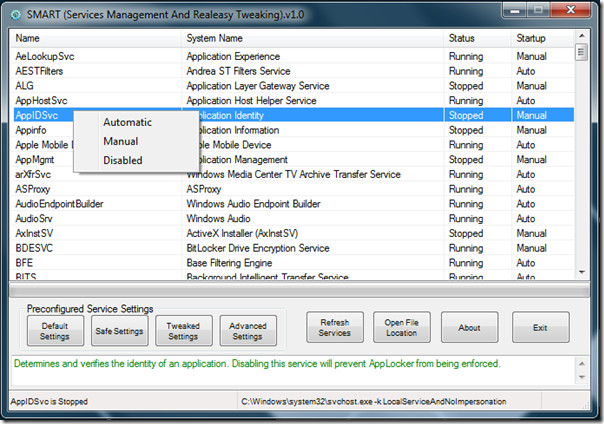 When clicked on any service, you will find a small information on it. You can choose to open the file location or refresh the services list. Please note that this app has been officially tested on Windows 7 only.
For a much more advanced tool, check out SrvMan.