Windows File Manager & Explorer With Tabbed Browsing
There are plenty of file managers out there, but none has the ability for tabbed browsing, except Nomad .NET. Just like there are tabs in web browsers which makes browsing much more easier and faster, Nomad .NET has full tabs support as well that allows a user to open multiple folders, thus allowing a much more faster overall experience. It supports threaded file operations, such as, delete, move, copy, etc.
Now you can open multiple tabs and perform each operation in each tab, in this way you will be able to perform fully threaded file operations easily. It is quite a powerful tool made entirely on .NET framework. The search operation can come quite handy since you can search for duplicate files as well. You can open a new tab by pressing Ctrl + T, the same hotkey that you use in web browsers.
You can also create a duplicate tab with a simple right-click.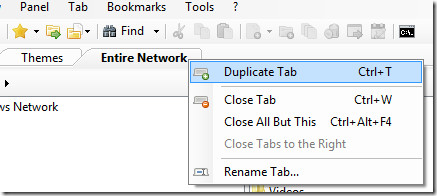 Moving your mouse cursor over the files will show you their basic details instantly, and for photos you will be able to see a small preview. This helps in better navigation if you are looking for the right file. Unlike the default Windows Explorer, it will allow you to browse the archive files as well(it uses 7-zip libraries). Apart from it, you can also browse various Internet and Disk Image files too. To see the full list of features, go to the developer's about page(see link in first paragraph).
Base Rename support, Improved support for properties, better capability with Windows 7, better FTP folder handling, and much more will be coming soon according to the developer's roadmap. It is a portable tool and works on all versions of Windows. Enjoy!