Windows Photo Viewer 7 For Windows 7
Windows 7 has a default picture viewer called Windows Photo Viewer which is similar the one in Windows Vista. Even though Microsoft have changed the look and feel of Windows 7, Windows Photo Viewer has largely been untouched.
When you open any image in Windows Photo Viewer, you are reminded of Windows Vista. If you want to add a brand new eye-candy look so that it looks more like Windows 7, meet Windows Photo Viewer 7.
All it does is change the UI buttons of Windows Photo Viewer so that it looks more sexier. It doesn't include an installation file, all you have to do is copy the PhotoViewer.dll file to the Windows Photo Viewer folder inside Program Files folder. But make sure you have the backup of the original PhotoViewer.dll file too, just in case you need to bring back the old look.
Before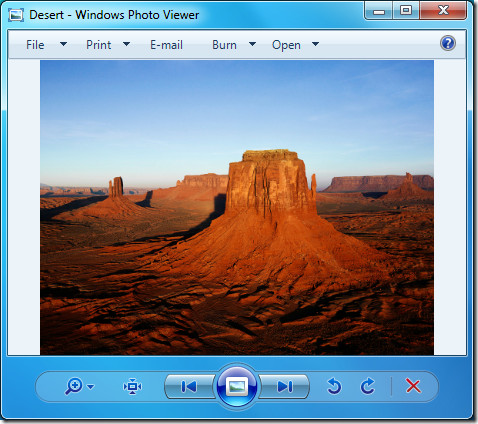 After
The complete installation guide is given inside the ReadMe text document that comes with the package. It isn't too difficult to install it. Go ahead and give it a try for a change.
Download Windows Photo Viewer 7
It is developed for Windows 7 only, both 32-bit and 64-bit files are given inside the package. Enjoy!