7APL – Quick Start Up Programs In Windows 7
Back in June we covered Jumpllist Launcher, a tool that allows creation of custom jumplists so that launching programs can be more easy. Windows 7 Application Launcher(7APL) is another tool that allows users to create jumplist, but apart from that it also contains thumbnail previews and ability to launch profiles using hotkeys.
Unlike Jumplist Launcher, 7APL wants to become the complete suit of launching apps quickly. One feature that stands out is the ability to create multiple profiles, with each containing programs of your choice. You can either add a single program in the profile or add multiple programs in the profile. If you launch the profile that contains multiple programs, then upon launch it will start all programs inside that profile.
To begin, first run the program, right-click the taskbar and select Pin This Program To Taskbar option.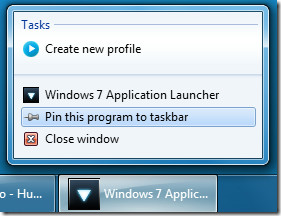 Now head over to Create New Profile tab, give it a name, and hit Create Profile.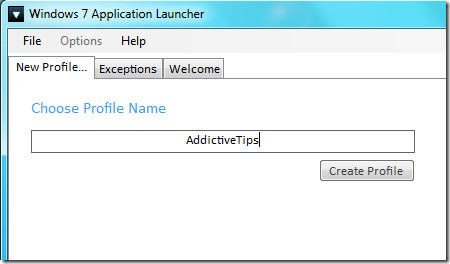 Now to add an application, simply enter the application path and hit Include. You can add as many applications inside the profile as you want. Now specify the hotkey to launch the program and hit Save/Update button. You can also change the image of the profile, this image will appear in thumbnail view.
Now minimize the application and move your mouse cursor over the taskbar, you will see the thumbnail preview from where you can select the Profile to launch.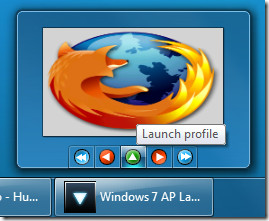 There is another method to launch profiles quickly, simply close the program, right-click the pinned 7APL program and you will see all profiles listed neatly.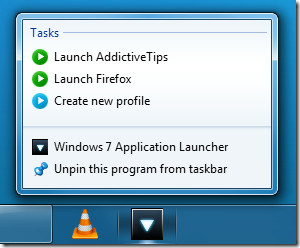 Kudos to Daniel Moxon for creating this awesome little program. While running the program takes only 12Mb of system memory and while pinned it takes obviously no memory. This is the first program I have come across that makes full use of both Windows 7 Jumplist and Thumbnail preview.
Below is the video showing it in action.
Some features included are:
Profiles – Group applications into profiles to launch them simultaneously.
Profile pictures – Associate pictures with profiles to easily identify between them.
Hotkeys – Specify hotkeys on a per-profile basis to launch your applications
Interactive thumbnail – Launch profiles directly from the taskbar
Jumplist support – Launch profiles or tasks directly using jumplists
Toggle Mode – Toggle mode allows you to close the apps you launched (on a per-profile basis)
Exceptions – Pesky applications that won't close can be added as an exception
Pinning – The application pins just fine for those who want it constantly running
Options – Run 7APL at system boot, minimize on startup, and minimize on close ensures you can keep the launcher running at all times if desired
Download Windows 7 Application Launcher
It is developed for Windows 7 only. It is still under development and is currently in Beta, so far during my testing it was very stable. Enjoy!