X-Screamer Radio: Listen To & Record Screamer Radio Stations With Ease
There are certainly a host of desktop applications and online services available out there that let you tune in to your favorite radio stations within a few clicks. If you're a fan of music, then you might have heard about Grooveshark, Pandora and Spotify, but when it comes to top online radio services, Screamer Radio also needs no introduction. X-Screamer Radio, is a portable desktop application that lets you listen to the massive library of radio stations available on the Scream Radio website. There are almost 400,000 different radio stations that you can listen to from within a unified interface. Apart from streaming online music tracks, it also lets you record any tune from a selected radio station. The application keeps a log of all the radio stations that you stream, so that you can instantly jump to these stations without having to look for them every time.
This application has a minimalistic UI design. The navigation buttons like Play, Stop, Prev, Skip, Record and Mute, along with a volume slider, are present on the main window. The left sidebar holds visualization effects and sound fidelity level. When you select any radio station, a small summary appears under Information that contains preset/song name, bitrate and file format.
You can search your favorite radio station from different groups including By Category, By Foreign language, By Network and By Country. Just head over to Presets menu, and select the radio station from aforementioned groups. The  selected station is automatically pinned to Presets menu. In case you like any station, you may add it to your favorites by clicking Favorites => Add current station to Favorites. You can hit Rec to record the current stream, which by default, is saved under Documents/Screamer Radio folder.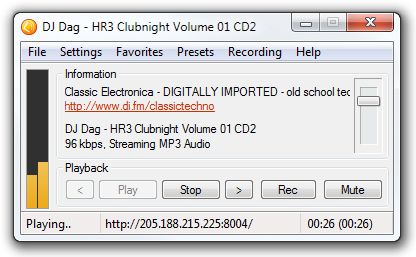 Being a highly customizable application, it lets you tweak the audio quality, set UI elements and change default behaviors. The Setting menu includes Stereo Separation (difference in percentage between Mono & Stereo),  Effects (Compressor, Reverse Stereo), Language, Always On Top and Preferences. The applications preferences menu contains a handful of options to customize the player. Under Encoding tab, you will find options to Encode Ogg Vorbis as MP3 and Continuous Encoding, along with that you can also set Encoding Bitrate (default 128). The Advanced tab lets you configure settings like audio output, buffer size and reconnection (to lost radio stations).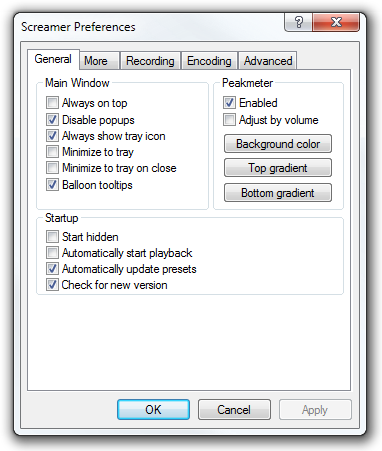 The application works on Windows XP, Windows Vista, Windows 7 and Windows 8.