Bamboo Paper Finally Goes Multi-Platform & We Took It For A Spin
If you are artistically inclined, you will instantly recognize the name of Wacom, a company that made a name for itself through digital drawing tablets. Despite not being an artist, I have used the Wacom Bamboo for the longest time, as it brought an element of ease and fluidity to writing, note taking, scribbling and drawing on a computer. 'Bamboo' was the name given to their introductory line of drawing tablets. When the world started shifting to tablet computing, it was a logical choice to provide Bamboo's trade mark fluidity in the new world. This brought us Bamboo Paper, a very popular app that has been an iOS exclusive for nearly 3 years. However, it is now looking at a multi-platform launch for "Kindle + Windows Tablets + Android" Phablets and Tablets. Phones – even large screen devices – will have to make do with Wacom's image sharing app Bamboo Loop, as Paper is not available to all mobile users. Let us take you through how the app fares on an Android Phablet (tested on a Sony Xperia Z Ultra).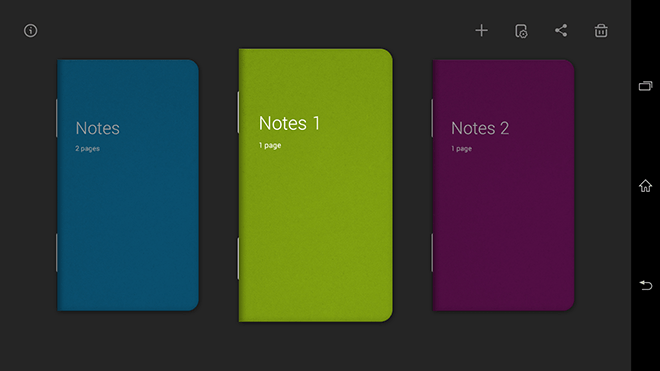 First thing's first. It would be unfair to compare Bamboo Paper to Skitch. Even though there are functional overlaps but Paper is not supposed to be an annotation platform, it is designed to serve the purpose of a piece of paper on your device, hence they are incomparable. To celebrate the launch, the drawing tools are available for free. The app will still be available after the free period is exhausted, only with limited features.
Bamboo Paper is very straight forward, you pick a notebook, assign it a color of your choice, pick the type of lines in that notebook (can be changed later) and get to work. As soon as you open a notebook you will notice that you can use different styles of pens with adjustable thickness, I imagine it will come in handy for artists to pen basic concepts. Though Wacom recommends using their stylus, my experience remained pretty fluid with a non-wacom stylus, infact, I could even use my finger without issue. The response was practically instantaneous. You can swipe pages, by pressing the edge of the page and dragging in the opposite direction.
You can write in ink of various colors and you can even import an image from your gallery to annotate. Again, Skitch is a clearly superior annotation platform, but you won't miss it too much if you are on Bamboo Paper.
Once you have created your note, you can upload the final result to a service/platform of your choice. So there is something to be said about its practicality. You could take notes/mark an image and upload it to Dropbox for further processing or directly e-mail it to someone.
There are a few habits of the app that tend to get old, for example, selecting a pen did not send the selection pane away, so I had to tap on the note, leaving a pen mark, which I had to erase/undo, creating a needless extra step. Sometimes swiping between pages leaves similar marks on the edge of the page. This could be credited to the relatively smaller screen on the Xperia Z Ultra – small compared to tabs anyway – or it could be universal. However, this is a minor issue, not a deal breaker by any means. We truly recommend that you keep this with you as it gives new purpose to phablets and tablets alike.
Download Bamboo Paper for your platform here (free)