We are reader supported and may earn a commission when you buy through links on our site.
Learn more
10 Best Anonymous Browser Apps for Android to Stay Incognito
Android isn't the most secure platform out there, but with the 10 best apps for anonymous browsing, you can greatly enhance your privacy online. Today we'll define what anonymous browsing actually entails, run through 10 essential Android apps, and present the 2 best Android VPNs for the ultimate mobile cybersecurity.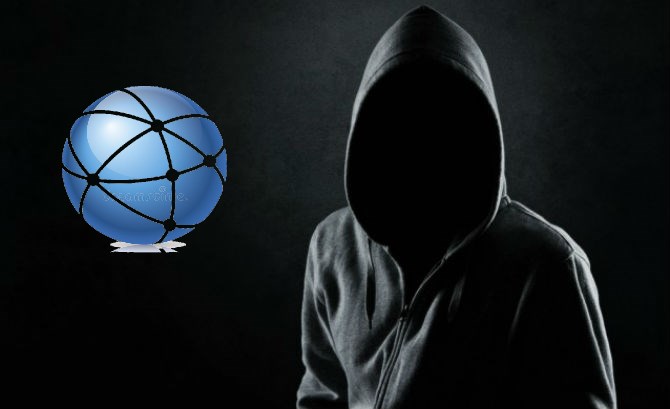 The Internet is a jungle with dangers on every corner. Big corporations want to know what you're doing and where you're going to feed you with relevant advertising. Others just collect personal data with bad intents. In addition, we're browsing the internet from our mobile devices more than ever. Without being too paranoid, you need to make sure your mobile online activity is kept private.
The first step in doing that is to use an anonymous browser, one that will truly protect our privacy. While the default browsers that come preinstalled on our devices might help, they don't offer the same level of protection as a dedicated anonymous browser. Let's have a look at the top 10 apps for anonymous browsing on Android.
We'll begin our discussion by explaining what anonymous browsing is and how it helps preserve your privacy. Then, we'll jump right in and introduce 10 of the best anonymous browsing apps for Android that we've found. As we discuss each one, we'll tell you about their most important features of those that make them unique.
30-days money back guarantee
For Even Better Privacy, Use A VPN On Your Android Device
No matter how anonymous your browser can be, it can't stop anyone from snooping on your Internet traffic and intercepting your data. To protect against that kind of threat, what you need is a Virtual Private Network or VPN. They work by encrypting all data in and out of your computer using strong algorithms that make it virtually impossible to crack and forcing it through a tunnel to a remote VPN server before sending it out on the Internet. Anyone intercepting your data would only see meaningless garbage with no way to tell what you're doing or even where you're going online.
With so many VPN providers, choosing the best one for you can turn out to be a daunting task. There are several factors to consider. Among the most important a fast connection speed will avoid buffering when streaming video, a no-logging policy will further protect your privacy, no usage restrictions will let you access any content at full speed and, in our specific situation, client software for Android will make using the VPN a more pleasant experience.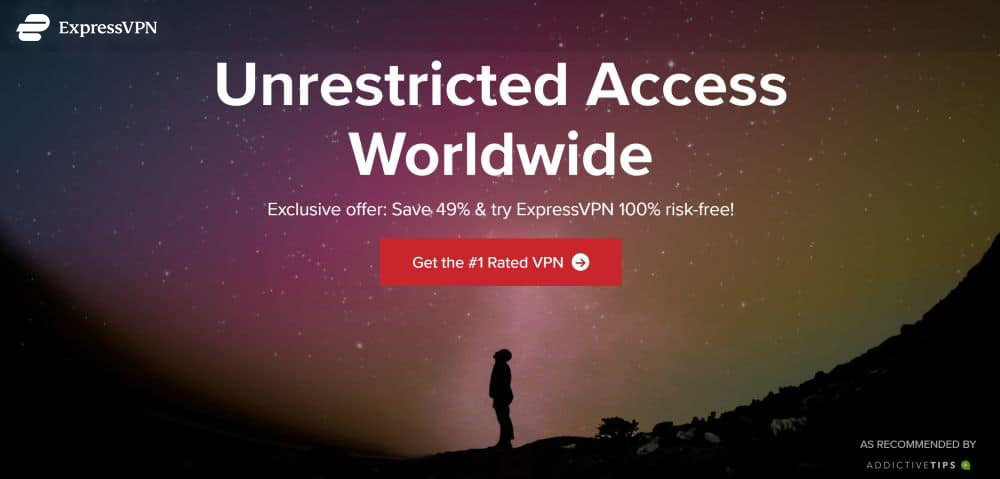 ExpressVPN has an excellent reputation for speed. The entire network boasts over 3,000 servers in 94+ countries, one of the largest selections of any VPN provider, offering optimized connections no matter where in the world you go.
ExpressVPN also has excellent privacy features, most notably unbreakable 256-bit AES encryption. They have a strict zero-logging policy to ensure your privacy is safeguarded no matter what. They also offer unlimited bandwidth as well as a no restrictions whatsoever. Theis is perfect for Android users using their mobile device for anything, anywhere. And talking about Android, their client app is one of the best on the market, easily downloaded from the Play Store and super intuitive to use.
Read our full ExpressVPN review.
Pros
Unblocks US Netflix
3,000+ super fast servers
No DNS/IP leaks found
No logs for personal data
Customer Service (24/7 Chat).
Cons
Expensive month-to-month plan.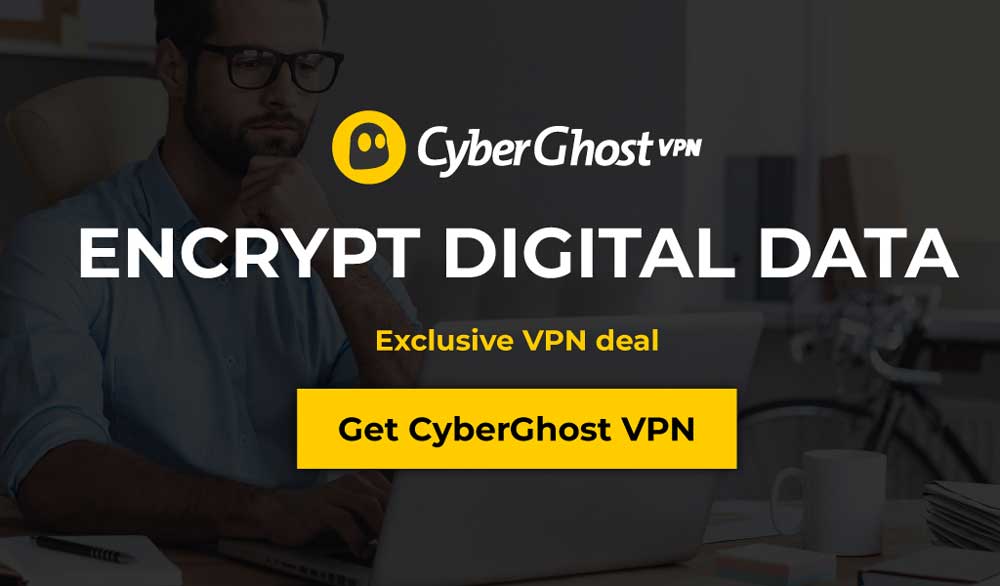 Equally good in terms of speed and features, CyberGhost is another excellent VPN for Android users. Its main features include unlimited bandwidth and traffic, 256-bit AES encryption, anti-fingerprinting system, and more. They've also really stepped up their server network in recent years, spanning 5,900+ nodes in over 90 countries.
CyberGhost not only has a strict zero-logging policy, they also don't keep any kind of data about their users. All purchases are processed through resellers so that they don't have any personal information that could identify users. As for its Android app, it is one of the best on Google Play.
Read our full CyberGhost review.
Pros
LOW PRICE: 6 EXTRA free months (79% off - link below)
Compatible with TOR
7 simultaneous connections
Strict no-logs policy
24h support.
Cons
Sometimes experiencing average speeds.
What Is Anonymous Browsing?
According to Wikipedia, anonymous web browsing refers to using the World Wide Web while hiding a user's personally identifiable information from websites visited. But today, it is even more than that. Anonymous browsers will use several different methods to safeguard your privacy such as blocking cookies that some sites use to track your activities.
Have you ever wondered why after searching on Google for something, every site you visit for weeks seems to be showing you advertising for that specific thing you searched for? This is done with cookies. And Google, among others, uses them extensively. Anonymous browsing also means browsing without cookies.
Anonymous browsing also happens on your local machine. Every time you end an anonymous browsing session, most apps will delete every temporary file that was downloaded in the background, unbeknownst to you. Of course, files you specifically downloaded from websites won't be deleted but images and scripts from visited web pages will be deleted, leaving no trace of your activity on your computer.
READ ALSO: Google Chrome Incognito – Is It Really Private?
The Top 10 Android Apps for Anonymous Browsing
The Google Chrome browser, almost the de-facto standard in the Android world has an incognito function, just like its big brothers on Windows or Macintosh computers. It doesn't go real far in providing privacy, though. It will address the local privacy and the cookies but it kind of stops there. As we discover the Top 10 Android apps for anonymous browsing, you'll find that there's quite a bit more which can be done.
Each of the 10 product we're about to have some great privacy features. Some features are unique to some products, others are common to many. All 10 are probably equally as good, and each one has earned its spot on our list for various reasons.
Everyone knows Firefox. Their "standard" Android web browser is one of the most popular, second only to chrome. Firefox Focus focuses on privacy (pun intended).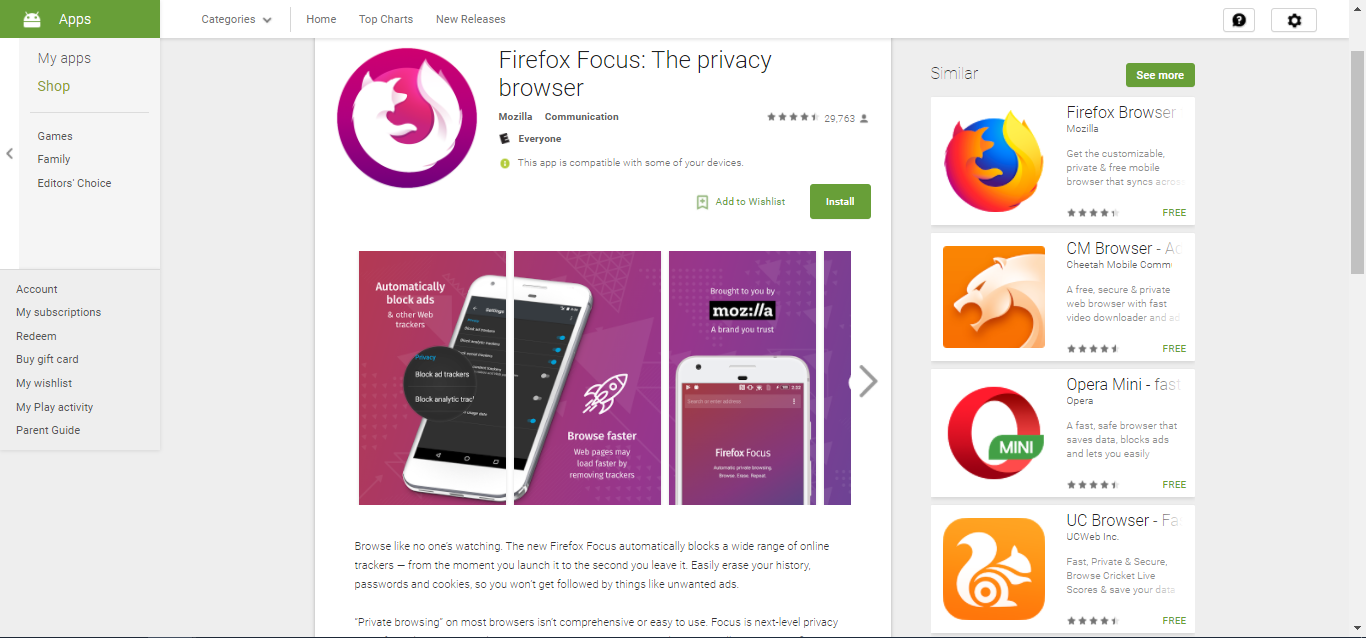 Firefox Focus is specifically designed with privacy in mind. It is a fast and minimal browser that automatically blocks all trackers and ads. All that without the need to configure anything. Just install it and browse the internet as you normally would. When you close the browser, Firefox Focus will automatically clear all your browsing data including browsing history, download history, etc.
Firefox Focus lets you specify which trackers are blocked or allowed. This is not a common feature and most browsers have an all-or-nothing approach instead. For example, if you want to keep social media trackers for easy sharing, you can. According to Firefox this also helps reduce data usage.
Overall, Firefox Focus is an excellent private browser. And if you're used to Firefox on Android, you'll feel right at home.
Orfox uses the Tor network. Your privacy is protected by a complicated process of bouncing your data back and forth through a number of computers scattered throughout the Internet, In addition, Orfox adds its own encryption layer, and encrypts your Internet traffic.  In a sense, Orfox on top of a sort of VPN service which is available free, unlike most VPN.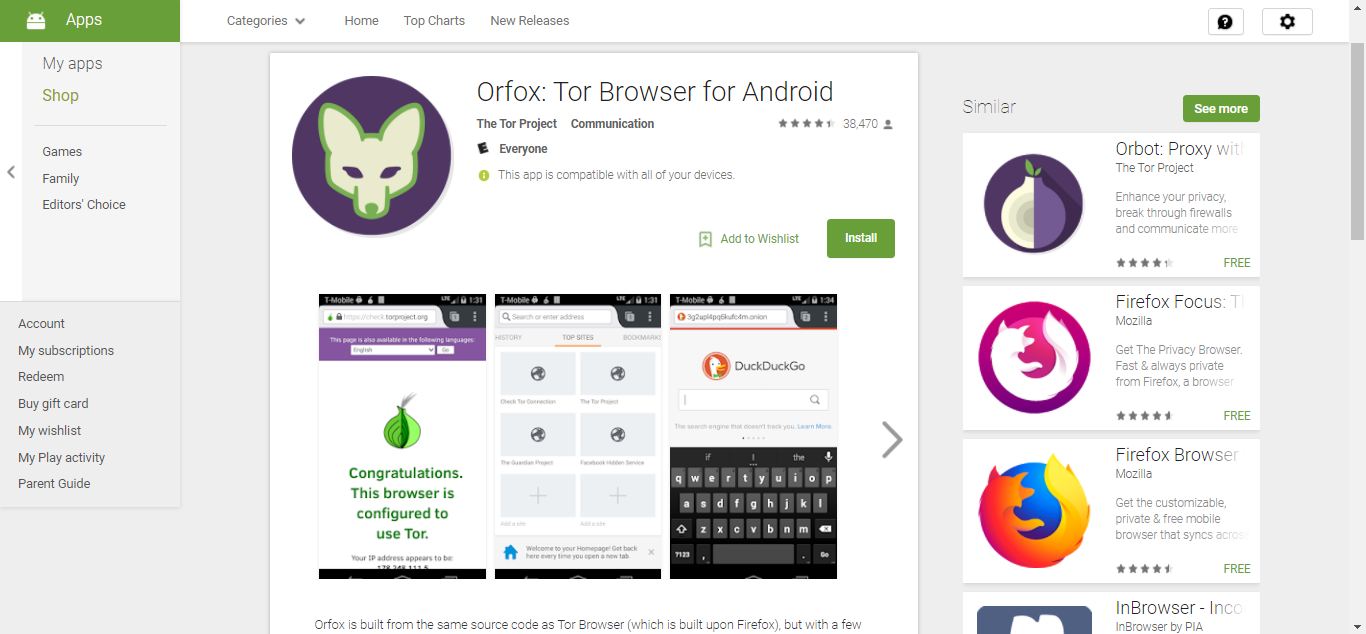 Orfox is one of the best private browsing apps for Android. It allows for a mobile Internet connection that is truly private. Websites you visit won't be able to monitor you at all. Using Orfox prevents others reach you based on your internet activities.
The Orfox Browser is built from the same source code as the Tor Browser with modified privacy features to make them compatible with Firefox for Android and the Android operating system.
The Tor component of Orfox is actually provided by another app called Orbot which must be installed alongside Orfox to benefit from the best privacy.
InBrowser is amongst the most popular anonymous browsers currently available. And it comes with a number of excellent features. Let's have a look at some of its most unique and valuable ones.
InBrowser supports in-app video. You don't have to worry about letting another, less-secure app such as YouTube, accidentally take over video playback. Another feature is called agent cloaking. With it, you can make websites think that you are visiting from a different browser such as Firefox or Chrome.
InBrowser has an excellent user interface that's easy to use, though perhaps not as intuitive as Firefox Focus. It has a minimalistic approach which translates into a bigger space for browsing. That's especially useful if you like to view websites in their desktop format.
InBrowser also has TOR connectivity to ensure your activity can't be traced back to you. And whenever you quit the InBrowser app, all your activity is erased in a matter of seconds.
InBrowser is a fantastic anonymous web browser. It has several excellent features enabling you to tailor your web browsing experience.
The Ghostery browser has some unique features that combine to make it a great option for anonymous browsing on Android.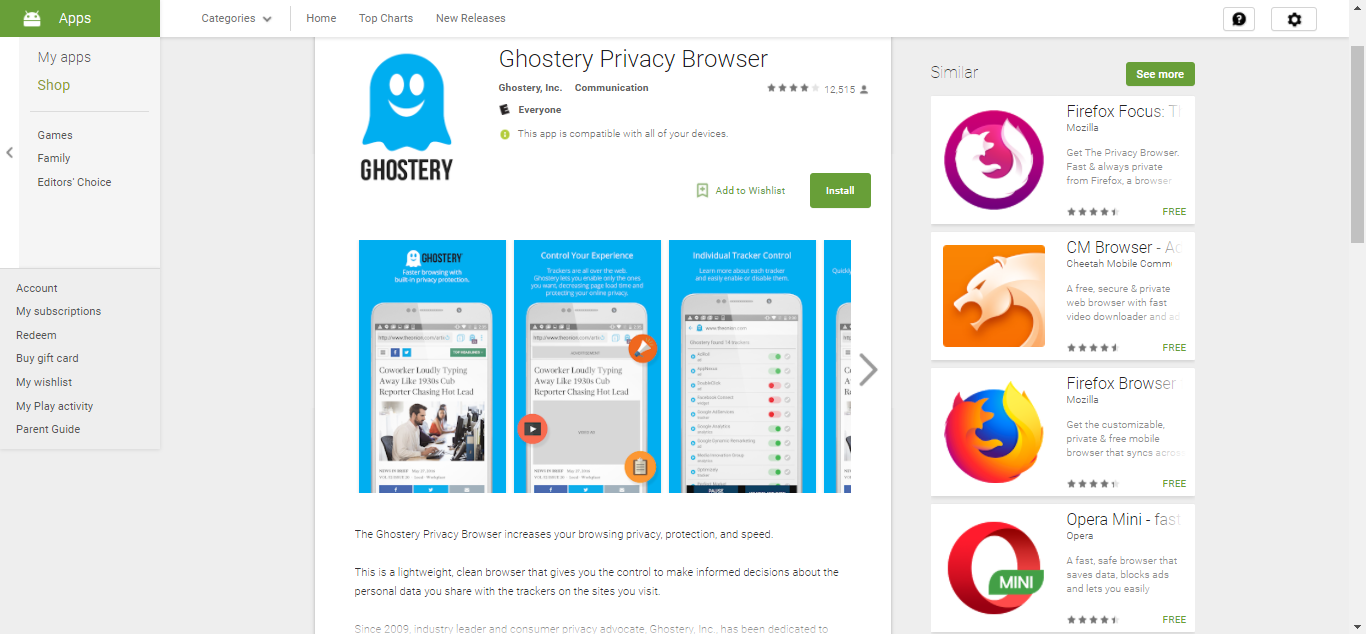 Ghostery's most important feature is its ability to show exactly which trackers are present on any given website. The browser also lets you individually choose what is allowed to track your browsing habits and what is not. For the best privacy, you can ensure that absolutely nothing is tracking your activity. Ghostery uses one of the largest trackers databases which includes over 2000 trackers and 4500 scripts.
With a look and feel that closely resemble Chrome on Android, users will feel right at home and won't have any trouble using it. Extra privacy options in Ghostery allow the user to clear cache and history quickly and easily.
At only 2.1 Mb in size, Ghostery's footprint and impact on your mobile device's limited resources is minimal. The publisher, Ghostery Inc., has been around since 2009, dedicated to protecting users' privacy.
The Frost Incognito Browser is one of the most widely used apps for private browsing. The browser is always in incognito mode so all your activity remains private. It also comes with an ad blocker and it uses a proxy system, allowing you to bypass local restrictions. Accessing any Internet resource from school, from the office or from a public WiFi hotspot won't be a problem.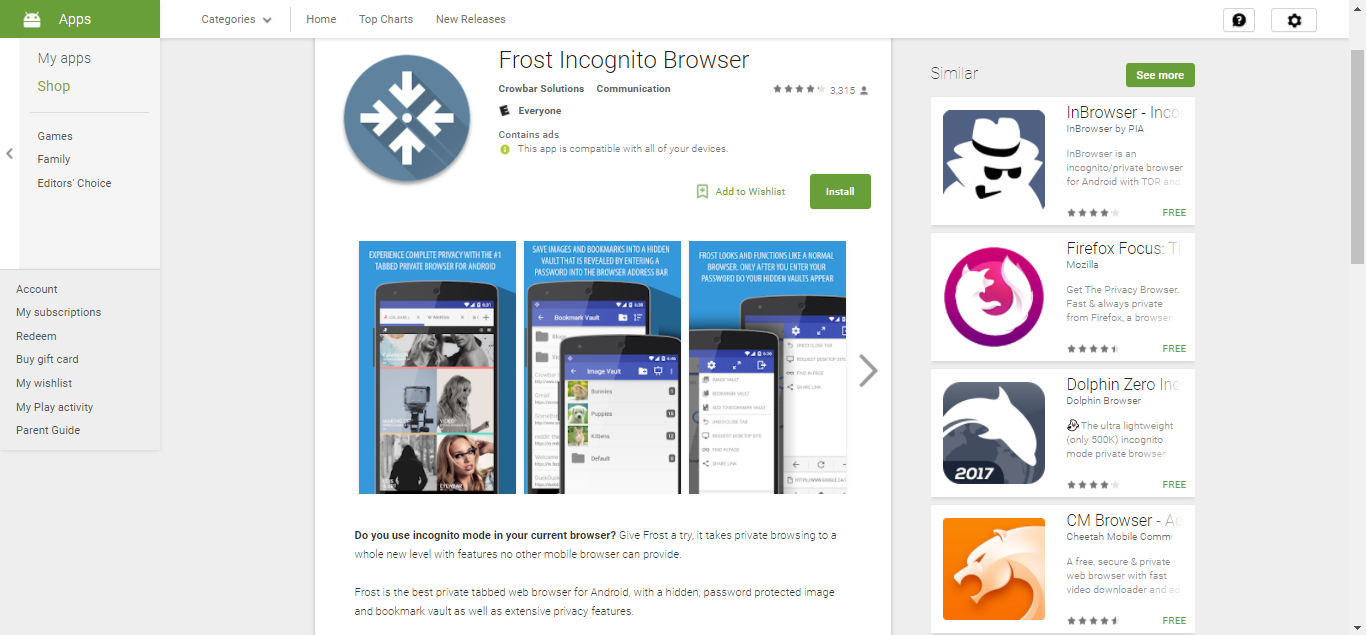 One of the Frost Incognito Browser's most unique features is its image and bookmark vault. Images downloaded from websites as well as bookmarks are saved into a hidden, password protected vault. They are invisible to other apps running on your device and only exist within the Frost Incognito browser's environment. The browser also lets you import and export images between the browser's vault and the device so they can be used elsewhere.
The browser has a very polished and simple design that makes the most of your screen. An important feature on devices with smaller displays. It is a fast, full-featured tabbed browser with HTML 5 video support, popup blocker, and user agent switching.
The Dolphin Zero browser has a "do not track" feature that is enabled by default. This prevents it from revealing personal information like browser history, form data, input data, passwords, cached data and files, favicons. user address book, cookies and location information.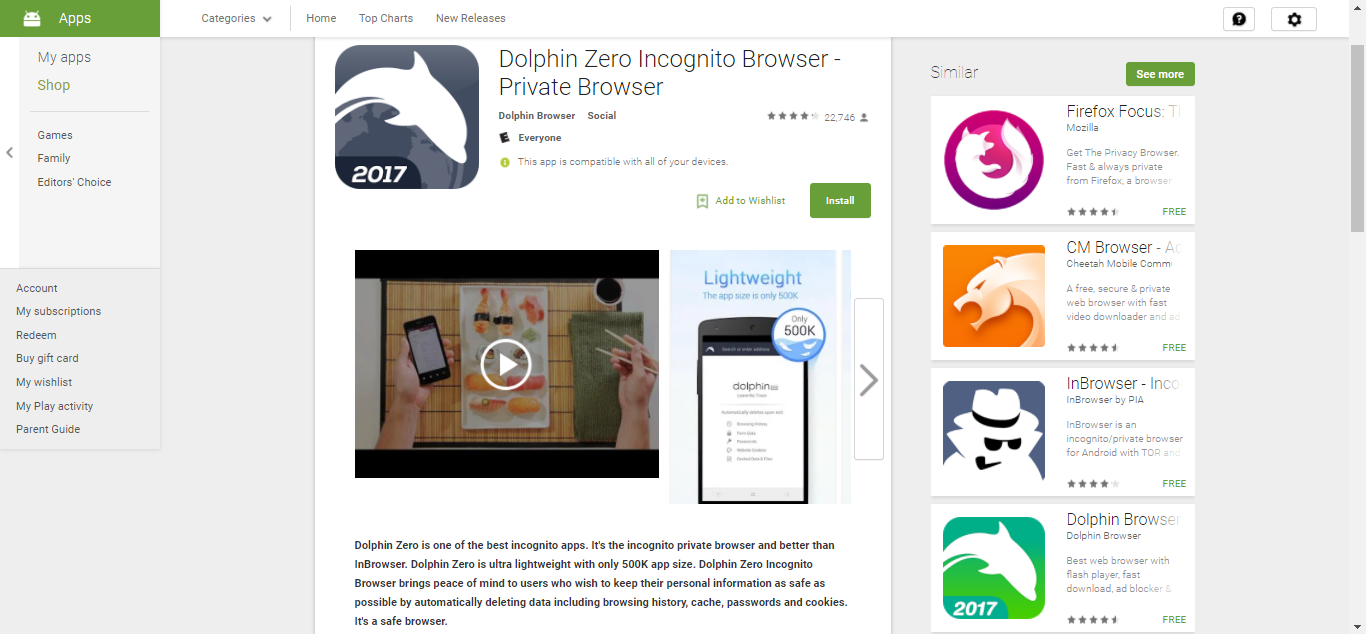 Dolphin Zero Browser also has Adblock, allowing you to browse seamlessly without any popups, ads, banners & ad-videos. The browser's focus is primarily privacy, user experience and simplicity.
Dolphin Zero lets you download videos at blazingly fast speed with its video downloader. It provides a clean user interface where you can add your preferred websites as speed dial icons with one-touch access. You can also create personalized gestures to access common features of websites like drawing a letter "B" to go to Bing. The browser even has voice search that works with Yahoo, Bing or Duckduckgo.
CM Browser is published by Cheetah Mobile Inc., the developer of Clean Master and CM AppLock. It's got a clean, minimalist interface with a unified address and search bar that is very pleasing to the eye and easy to use.  At only 2.9 MB, it is also is one of the tiniest browsers on the market. It has an acceleration feature that makes web surfing a breeze by preloading web page elements.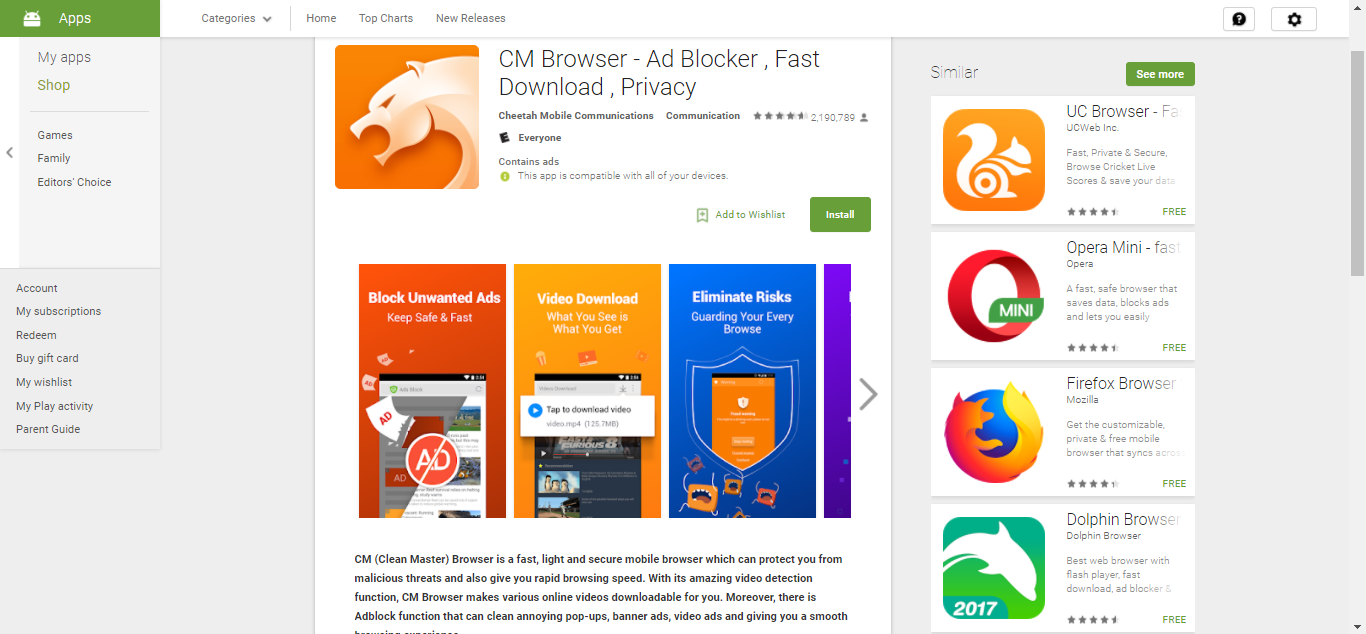 CM Browser boasts do-not-track settings by default and will warn you when you visit potentially fraudulent websites. Furthermore, the browser also has anti-malware functionality, automatically scanning all downloaded file. In addition, the Adblock function can clean annoying pop-ups, banner ads, video ads. All those combine to give you a smooth browsing experience.
Armorfly is made by Cheetah Mobile, the same company that makes the well known CM Browser. It is quite a bit different from the CM browser, though. You can think of it as a hardened CM browser with more security and privacy features.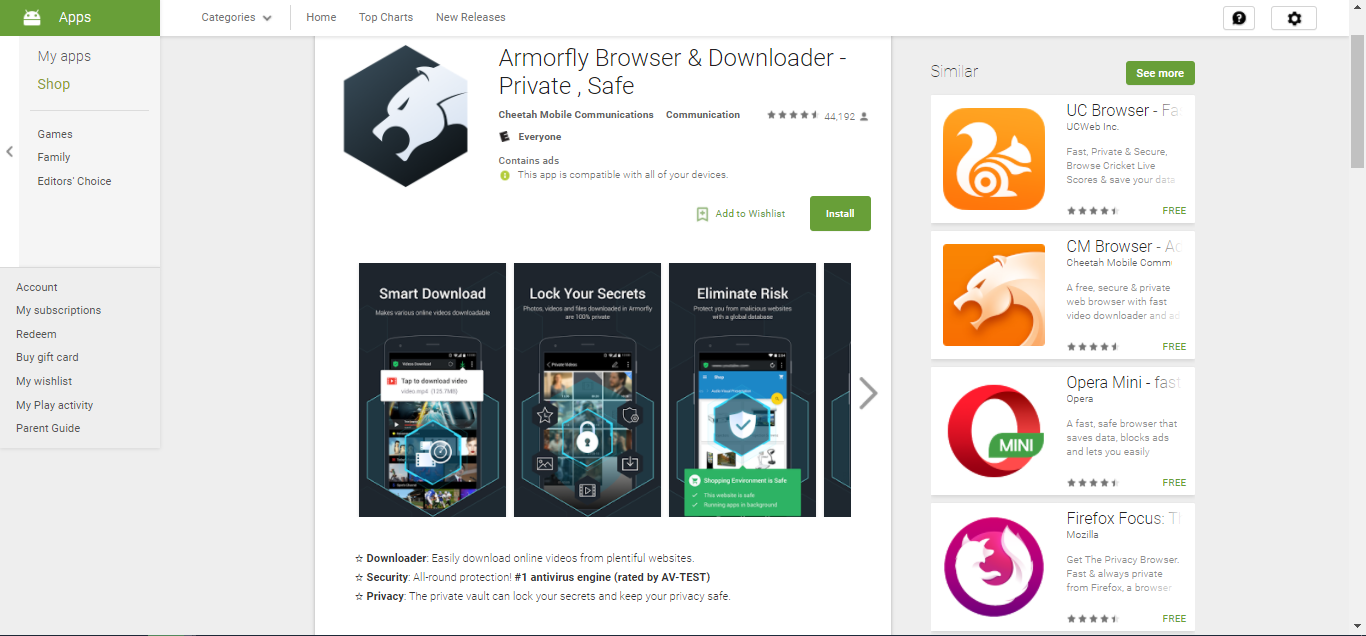 One of Armorfly's unique features is the possibility to download videos from many different websites, something that is not available usually possible without a browser extension. It detects every video on a web page and gives you the option of downloading it.
On the security front, it also has a "Private Vault" where you can store personal files and a very powerful built-in antivirus engine to keep your safe from malware.
Armorfly is a very interesting option, especially for those who are used to their mother product, CM browser. It offers some excellent features you don't normally find elsewhere.
Brave, the publisher of the Brave Browser was co-founded by former Mozilla CEO Brendan Eich. Chances are he knows a thing or two about browsers. They recently released a new, revamped version of their Brave browser. They replace the old user interface with link bubbles and other oddities and replaced it with a more familiar tabbed browser experience,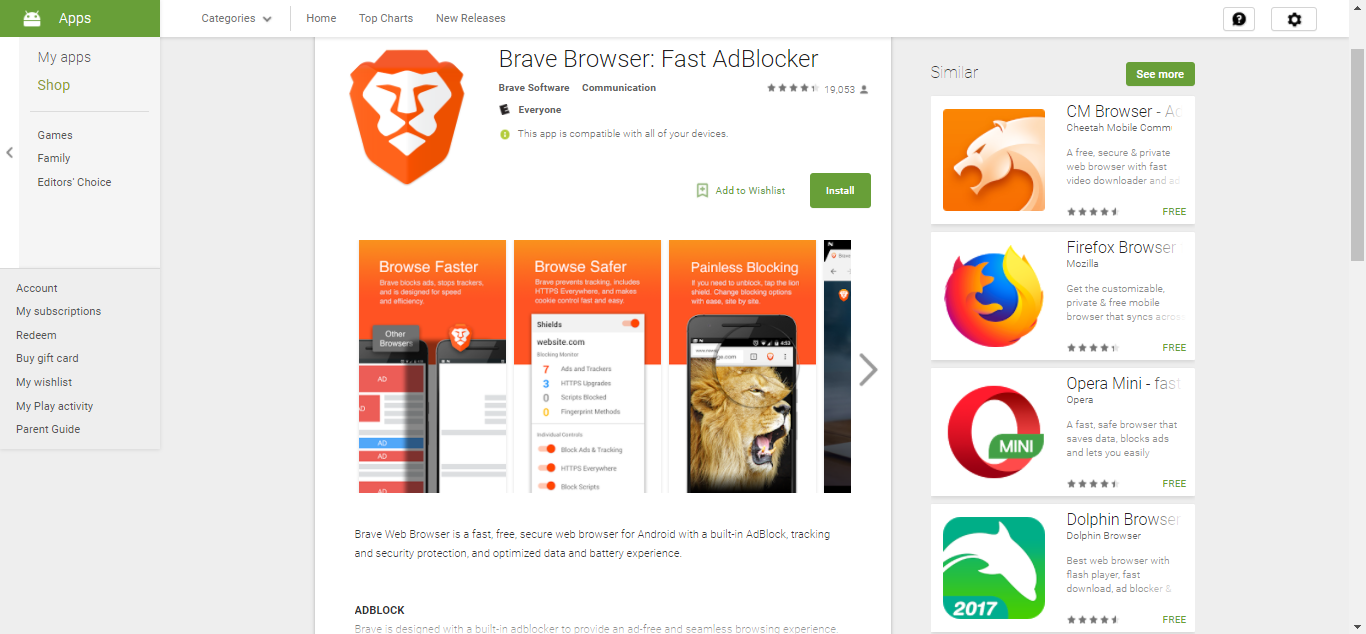 Privacy-wise, Brave Browser has numerous security features. It has HTTPS Everywhere which will always try to access a secure version of any website you visit. In addition, it also has an anti-fingerprinting shield, phishing protection, and malware filtering. Add to that a built-in ad blocker and popup blocker, tracking protection, script blocking and third-party cookie blocking and you have pretty much every security feature there is. And to make things even better, It is also optimized to save battery and data consumption.
Perhaps Firefox Focus is too restricted for your taste. Or perhaps you'd rather stick to more "mainstream" apps. Then, how about using the good old Firefox browser. While it's not, in itself, a particularly secure or private browser. Several extensions exist to enhance it with those features you need.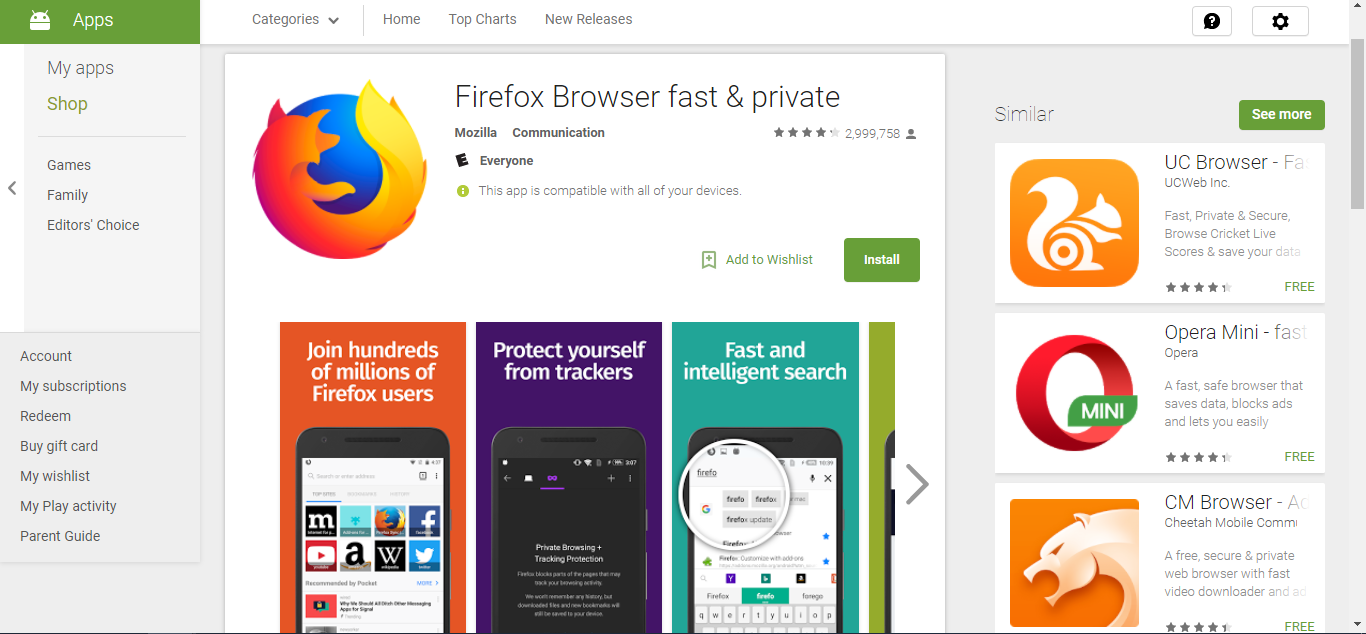 Out of the box, Firefox browser's latest version has some pretty decent privacy features such as private browsing with tracking protection which blocks any web page content that may track your browsing activity.
Furthermore, Firefox has a large library of free add-ons like HTTPS Everywhere, AdBlock, Readability, etc. that work together to give you the level of privacy you need. And unlike Chrome, which uses separate apps to add features, Firefox's extension work inside the browser, like they do on their desktop counterpart.
And you also get all of those great non-privacy features that Firefox is famous for. Among those, its smart search capabilities quickly come to mind. Overall, Firefox is a great browser that can be made a private as the most private ones.
In Conclusion
We've only presented a sample of all the available Anonymous browsers for Android. There are dozens more. But those ten seem to be generally considered as among the best of them. Each has some interesting and/or unique feature. Is any one browser better than any other, we don't think so. Like always, selecting the best for you is a matter of finding one that has all the features you want and none of the annoyances you can't stand. And the only way to find it is to try as many as you can.
Are you a big fan of anonymous browsing on Android? If you are, which app are you using and which of its features do you like most? Use the comments below to share your experience with us,