Hands-On With Google Chrome For Android [Review]
If you're among those few lucky Android users running Android 4.0 Ice Cream Sandwich or higher on their devices, you've now got a sound reason to dump whatever browser you are currently using. Google has just released a beta build of Chrome for Android (update: now out of beta) with several innovations that are bound to set new benchmarks for contemporary mobile browsers across all platforms, let alone Android. Ranging from an ultra-swift web browsing experience to real-time syncing of tabs opened on your desktop browser (or any other device running Chrome with your account in sync), this new wonder product from Google is here to redefine the way you surf the web on the go.

The highlights of the browser include tabbed browsing, ability to sign in with Google account to access your Chrome bookmarks, accelerometer-based tilt scrolling, easy swipe-across-the-edge switching between tabs, good-looking 3D transition effects between tabs, incognito browsing, facility to jump to most frequently opened and recently closed pages from the browser's homescreen, auto-zooming on content/URL-laden areas of a webpage, and smoother rendering of webpages.
When it comes to providing users with simple, intuitive and highly innovative apps, Google always comes up with a trick or two (in this case, even more) which part it from the rest of the competition by some margin. If the recently released Google Currents – a feature-rich RSS feed and news aggregator for Android – showed us a user-friendly and simple way of keeping in sync with our news sources, Chrome for Android, with all its goodness, seems hell-bent to transform the ways in which we go about browsing on mobile devices. Although most of the features included in Android Chrome browser have already been seen in several other third-party browsers, Google seems to have got almost everything spot-on with its very first attempt whereas others are still trying to rectify existing issues in their solutions.
Continuing with the long list of features that Chrome for Android supports, you also get all the conventional features that are commonly found in most modern-day mobile web browsers. These include bookmarking favorite webpages from within the browser (with offline access support), auto-filling of forms, in-page search support, option to set a preferred search service (from Google, Bing and Yahoo!), JavaScript support, built-in pop-up blocker, extended privacy settings, close all open tabs with a single tab, and lots more.
When launched for the first time, the app prompts you to read and agree to the End-User License Agreement, and associate your Gmail ID with the browser for real-time content syncing (optional but not-to-be-missed). Once past that, you land on Chrome's main homepage that is very much reminiscent of its desktop counterpart. You have shortcuts to your recently opened, and most frequently accessed pages, the inevitable and extremely helpful omnibar to help you conduct online queries, and a couple of tabs at the bottom to provide you quick access to your mobile and desktop bookmarks, as well as tabs that are currently opened on another device (computer, smartphone or tablet; requires sign-in). To sign in to the desktop version of Chrome, just tap the tiny wrench icon at the top-right, click Sign in to Chrome…, provide your login credentials, and you're good to go!
Syncing content from desktop and/or other multiple devices is instant, and the best thing about the entire process is that even if you've shut down your browser on the other device, you can still access the last synced tabs on Android. The reverse syncing future (from mobile to desktop), if added, would further enhance the ever-growing popularity of Google Chrome.
The app's main menu homes several handy features including navigation controls, bookmark button (represented by a star), and options to open New tab, New Incognito tab, Bookmarks manager, tabs currently opened on Other devices, in-page searching and sharing, app's Settings screen and Help.
As more tabs are opened, they keep stacking up in the from of cards on the New tab page. Each new tab is added to the stack via smooth transition (rotate in) effect, and can be removed from the list by a mere flip. The aforementioned tilt scrolling feature can be accessed from the same New tab screen.
Said feature, if enabled from the within the app's settings, uses your device's accelerometer to automatically slide currently opened tabs up/down as per device movements to give you a bird's eye view of webpages you're currently browsing; a sight to behold. The concept of tabbed browsing might have been adopted by many alternative browsers these days, but none presents them in the way Chrome does.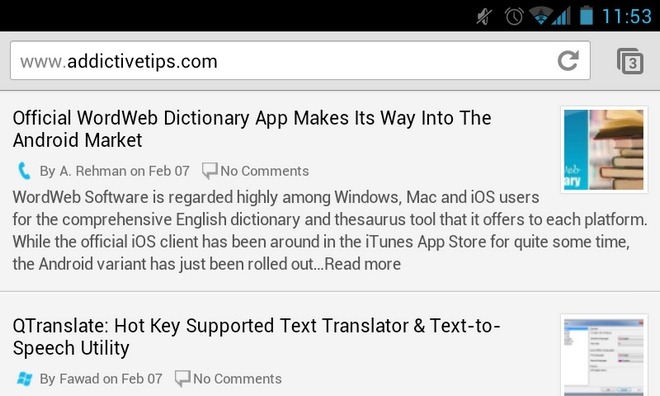 With multiple tabs opened simultaneously, you can easily switch between any two by swiping left/right from either edge of your screen. Provided you are surfing the web using a Wi-Fi connection, you can also enable the Preload webpages option from within the Menu > Settings > Bandwidth management to let Chrome load other relevant webpages within an open website; handy for a faster browsing experience. The app also sports a rather scant developers segment that is surely to be beefed up with some noteworthy features in future iterations.
What's missing currently from the mix is the quick access controls that we get in the stock ICS browser and the recently reviewed ICS Browser Plus, the option to select custom UA string to browse a device-specific version of websites, and finally, the ever-so-wanted support for Flash; a feature that might never be included at all. Still, considering it's just a beta release far from perfection, Chrome for Android already ticks most boxes to qualify as your default mobile browser. For me, at least.
To all the envious iOS users out there (including some of my colleagues), you guys might just have to sit in anticipation for Chrome to be released to the iTunes App Store – a prospect that doesn't seem to be transforming into reality; not in the near-future, at least.
Install Chrome from Play Store