How To Enable Freeform Windows Mode In Android 7.0 [No Root]
Android 7.0 has a hidden freeform mode that lets you arrange multiple app windows side-by-side or one-on-top-of-the-other on your screen. Much like you can have multiple windows open on your desktop, this freeform windows mode works similarly. It's best suited for tablets but any device running Android 7.0 can switch to it provided you know how to unlock it. Most unlocking methods involve rooting your device but there's a popular Android launcher app called Taskbar that lets you do it without root. Here's how to unlock freeform windows mode in Android 7.0.
Before you install Taskbar, you need to enable developer options. To do so, open the Settings app and go to About Phone. Tap the build number seven times and developer options will be enabled.
Next, go to Developer options and scroll down to the very bottom. Enable the 'Force activities to be resizeable' option. Next, install Taskbar and grant it the permissions it asks for. Clear all your recent apps and restart your device.
Once you've restarted your device, launch Taskbar. It adds a floating button at the bottom. Tap the overview button and then tap taskbar's floating button. You will see a list of all the apps installed on your device. Tap a device and it will launch in freeform mode.
Tap Taskbar's floating button and launch a second, third, and fourth app from the menu. The apps launch as windows like they would on a desktop. You can drag them around and position them any way you want.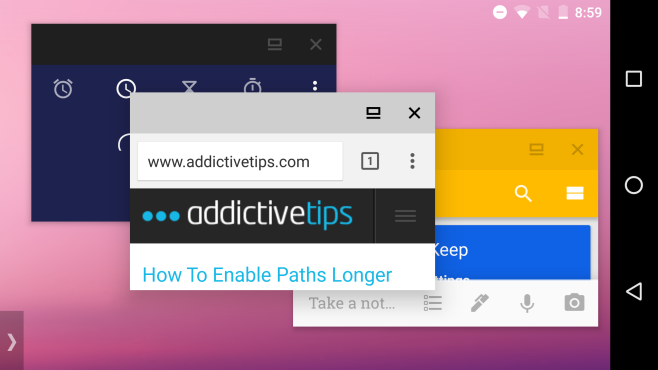 The app windows have two buttons; full screen and close. Tap the full screen button to exit the freefrom mode. The close button will, obviously, exit the app.
You might occasionally run into a little trouble with some of the apps. The apps that are stable otherwise might occasionally crash but it's a rare occurrence.
Install Taskbar From The Google Play Store