Install Leaked Android 4.1.2 Jelly Bean On Samsung Galaxy S II
There was enormous speculation, numerous fake troll attempts and countless people losing sleep over it, but finally the wait is over! One of the most successful Android devices to date – the Samsung Galaxy S II – now has an official, fully working Android 4.1.2 Jelly Bean ROM available for it. Super-excited? Let's get it up and running on your S2!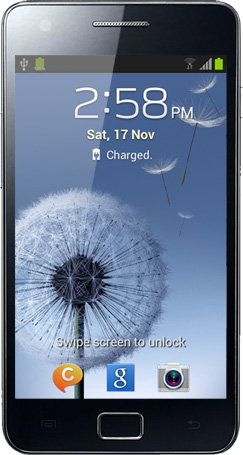 The Galaxy S II is arguably the device that put Samsung in the lead of the Android handset market. Since the release of the Galaxy S III, Samsung has obviously wanted users to go for the latest device and many speculated that this would perhaps means the Galaxy S II either not getting official Jelly Bean at all, or getting it very late. However, the wait is over, in form of a fully working, completely stock, official TouchWiz based, Odin-flashable 4.1.2 ROM.
Shared with us by XDA-Developers forum member This ROM is a leak rather than a release by Samsung and as such, there *might* be issues but we tried installing it on our phone and it worked like a charm for us. The response from other community members who tested it was positive as well. It includes the latest version of TouchWiz along with the new 'Inspired by Nature' sounds that the Galaxy S III ships with. And thanks to Google's Project Butter introduced in Jelly Bean, the ROM is super-fast and buttery-smooth! It also includes fully working Google Now, as you can see below:
Since this ROM is a rather large file, the best and fasted method to download it is torrent. We are also providing alternative download links, but those may be slower.
We are sure you just can't wait to get the ROM up and running on your Galaxy S II, so let's move on to the installation instructions.
Disclaimer: Please follow this guide at your own risk. AddictiveTips will not be liable if your device gets damaged or bricked during the process.
Requirements
Samsung Galaxy S II GT-I9100 (This ROM is NOT intended for any other variants of Galaxy S II)
Android 4.1.2 Leaked ROM for Samsung Galaxy S II:
A file decompression utility. We recommend using 7-Zip for the purpose.
Procedure
Make sure your phone has adequate battery before proceeding. 50% or more is recommended. You can charge the phone while the required files are being downloaded.
Backup/sync your data on the phone including apps, contacts, SMS/MMS etc. Your SD card content will not be erased but you will lose the phone data as you would in a factory reset.
Download the ROM from the link given above.

If you have used the ZippyShare mirror to download it in parts, just make sure all three downloaded files are in the same folder and extract the first one using 7-zip. It should extract the complete contents.

From the downloaded files, you will only need CODE_I9100XXLSJ.tar.part1.rar, CODE_I9100XXLSJ.tar.part2.rar, CSC_HOME_OXX_I9100OXXLS1.tar.md5, MODEM_I9100XXLS6.tar.md5, and Odin3_v1.85.zip. You may delete the rest of the files to avoid any confusion.
Extract the contents of Odin3_v1.85.zip to the same folder.
Extract the contents of CODE_I9100XXLSJ.tar.part1.rar to the same folder. This will extract both parts of the file from the two rar files, and you should now have a CODE_I9100XXLSJ.tar.md5 file in the same folder.
Remove the .md5 extension from CODE_I9100XXLSJ.tar.md5, CSC_HOME_OXX_I9100OXXLS1.rar.md5 and MODEM_I9100XXLS6.tar.md5 files. You should now have these files named CODE_I9100XXLSJ.tar, CSC_HOME_OXX_I9100OXXLS1.tar and MODEM_I9100XXLS6.tar respectively.
Download and install the USB drivers, if you don't already have them installed.
Put your Galaxy S II in download mode. To do this:

Power the phone off.
Press and hold the volume-down, home and power keys. You will be asked to press volume-up to install a custom ROM or volume-down to abort.
Press volume-up to confirm and you will be in download mode.

Connect the phone to your PC via USB and wait while Windows automatically configured the drivers.
Run the Odin3 v1.85.exe file on your computer. If your phone is properly connected, One of the rectangular boxes under ID:COM (in most cases the very first one) should be yellow now.
Make sure Re-Partition is unchecked, Auto Reboot is checked, F. Reset Time is checked, and Flash Lock is unchecked. Phone EFS Clear and Phone Bootloader Update should also remain unchecked. Leave pretty much everything exactly as it is.
Click PDA and select the CODE_I9100XXLSJ.tar file.
Click Phone and select the MODEM_I9100XXLS6.tar file.
Click CSC and select the CSC_HOME_OXX_I9100OXXLS1.tar file.
Click the 'Start' button. This will begin the flashing process, which can take several minutes. Wait patiently and do NOT disconnect your phone, or perform any intensive task on your PC. You will see a progress bar on both your phone and in Odin.
Once the process finishes, your phone will reboot automatically. You may close Odin now.
Congratulations – you now have Android 4.1.2 Jelly Bean up and running on your Samsung Galaxy S II. Enjoy!
[Via XDA-Developers]