Mantano Reader: Feature-Rich Android ePub & PDF Reader With Support For Cloud Sync & Annotation
Whether you're a dedicated bookworm or occasionally find yourself in need to fetch some helpful material from various ePub and PDF documents, you're likely to have, at least, one e-Reader installed on your mobile device. While the Google Play Store offers some pretty comprehensive options in this regard, there is still room for a product to impress readers with its own unique features. One such immensely useful eBook reader that brings several ePub and PDF-reading features to the table is Mantano Reader. Laced with plenty of conventional and relatively fresh eBook/PDF reading and annotating tools, Mantano Reader vows to enhance your reading experience on your Android device. The app sports a neatly-designed library that caters for your local and online eBook management needs. In addition, it features its own Open Publication Distribution System (OPDS) catalogs explorer, supports opening files protected by Adobe DRM, lets you sync data and preferences with the Mantano Cloud, and last, but not the least, brings arguably one of the most intuitive and well-crafted eBook reader interfaces to Android.
The main library UI is spilt into two main tabs: My bookshelf and My bookstore. My bookstores is from where you can manage your eBook providers/resources. It is from this screen that you can sift through the unending stream of publication categories as well as providers, purchase favorite material, download free eBooks (in ePub or PDF format), and add custom feeds to fetch your favorite publications from.
The My bookshelf tab takes care of your local publications through a native library interface. From this screen, you can search for the required content, and sort content by title, author, rating, added date, and last access date. Moreover, this screen lets you add custom tags to eBooks, and filter content by collections, recently read, recently added, unread books, annotated books, and your personal book collections. You can also toggle between details and thumbnail view of the books within the library, manually sync personal content with the cloud, import ePub and PDF documents from the SD card, and keep an eye on various details pertaining to each individual eBook, which include author, date added, tags, cloud sync status, total number of pages, last opened/read page, rating, and content type. The app also supports batch selection of eBooks, and lets you arrange, share and tag the selected content in bulk.
Tapping the Settings tab on this screen takes you to the app's main preferences screen, from where you can connect the app to the Mantano Cloud to sync and backup your personal content. Also from this screen, you can authorize the app to access your Adobe DRM ID, enable the option to get notifications for the latest books in the library, and customize the reader and your personal book settings. We shall look at the customizable options offered for the app's reader interface later on. However, for you personal books collection settings, the app lets you set the local folder to sync your Mantano content to, import covers along with books, and automatically generate/fetch book covers for such content that does not sport one already.
Each individual eBook is presented under the My bookshelf tab, represented by its relevant book cover and type. To start reading a book, hit its title. As mentioned earlier, the eBook reader interface of Mantano Reader is filled with plenty of user-friendly options. To begin with, it supports multiple ways to sift through pages. In this regard, you can use the slider at the bottom to quickly jump to the required page, or swipe left or right on the middle of the screen to switch between pages. Similarly, you can use your device's volume keys to navigate to various pages within a document. Various on-screen indicators also help you instantly jump to two different (non-continual) pages within the opened document.
Mantano Reader supports pinch-to-zoom gesture to help easily you zoom in to documents, and lets you bookmark multiple instances/pages within a single document. In case of PDF documents with dual columns, the app supports shifting single-column view by double-tapping anywhere on the page. You can also opt to manually or automatically remove margins on PDF documents. Then there is the option to shift between day and night reading modes, and you can also adjust a page's brightness level by simply swiping vertically on the left edge of the screen.
Among other options that you get on the toolbar at the bottom of the app's reader interface, there is the option to quickly navigate to the bookmarks, highlighted excerpts, and notes. In addition, you can create custom notes with a title and description of choice, choose the auto-fit mode for documents (horizontal or vertical), modify the document's display settings (margin removal, pagination, orientation selection, font size et al), switch to a different document theme (if it supports one), search within the document for required keyword, and head over to the app's reader settings screen.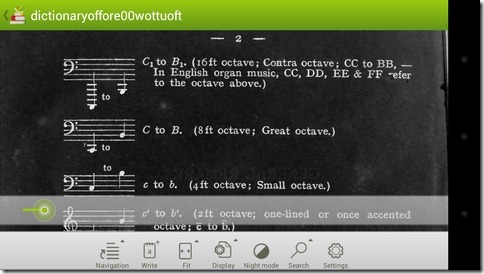 Various options available on the app's settings screen let you keep the screen on whilst in reading mode, display page number at the top of the document, select custom reader screen orientation, enable animations, enable/disable Adobe Digital Editions (ADE) sync, and enable haptic feedback when selecting/highlighting text.
That's not all; provided the document is not protected, you can long-press anywhere on the opened page to avail several options that include copying, sharing and highlighting the required piece of text (using a custom color), creating custom annotations, and looking up the online dictionary for meaning of selected word. Your custom notes, annotations and highlighted content is quickly accessible through the relevant buttons in the top-left corner of the screen.
We're not done here; the app also lets you access your favorite eBook right from the homescreen via its nifty widget, and displays status bar notification regarding the eBook that you're currently reading.
Mantano Reader is available in the Google Play Store as a free and $8.80 Premium version. Paying said amount for the Premium version not only removes on-screen ads that the free variant sports, but also brings several additional features, such as extensive customization of ePub documents via several themes, option to create custom themes, Text-To-Speech (TTS) to listen to the documents, advanced annotation and notes management features, and plenty more.
Download Mantano Reader Lite (Free)
Download Mantano Reader Premium (Paid)