MultiWall: Set A Different Wallpaper For Each Monitor Or Stretch One Across All
Wallpapers Desktop customization is rather important for one to increase overall productivity. While working, a good wallpaper can have very pleasant and positive effect on you. The default Windows 7 wallpaper management for a multi monitor setup is a little different from Windows 8. For example, in Windows 7 when you set a wallpaper as desktop background, the same wallpaper is applied on both monitors and there is no option to set a different wallpaper for each display monitor, while Windows 8 lets you set a different wallpaper for each screen and span one wallpaper across multiple monitors. A while back, we covered an application for Windows named DisplayFusion, a multi-display desktop window manager that lets you adjust the Resolution, Refresh Rate and Color Depth of each monitor separately and set primary monitor, manage its position and change wallpapers for both monitors. Today, we have another application, called MultiWall that allows you to set an individual wallpaper for each monitor and stretch a single wallpaper across all connected monitors. Read on to find out more about MultiWall.
Not only does MultiWall lets you apply a different wallpaper for each desktop, you can also perform editing functions over the wallpaper before applying it. The application allows you to change the wallpaper color.  You can also rotate the wallpaper, both clockwise and counter-clockwise, flip it, and crop the wallpaper before applying if you want to choose just a specific part to appear on your desktop. It enables you to pick the images locally from your computer, or apply them directly from online wallpaper sources' streams. By default, an image stream from Imgur is selected. Setting a wallpaper is really simple: just select a wallpaper from the list and click Apply. It provides you with a preview of how the wallpaper will look on the connected display adapter. If you have dual monitor setup, you can set a different wallpaper for both the monitors, or choose to stretch a single wallpaper on both monitors.
Choose the Crawler tab from the top to select a Random photo stream such as Reddit, Microsoft or from a local folder. You can choose to apply new wallpapers automatically after a specified time. It even allows you to change the wallpaper after specified time interval between 1 hour to 1 week.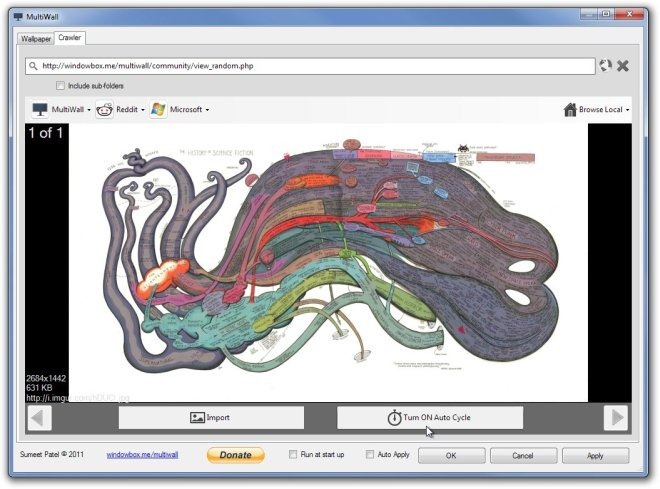 The application works on both 32-bit and 64-bit versions of Windows XP, Windows Vista, Windows 7 and Windows 8.