Movellas For Android: Discover, Read & Share New Stories On The Go
Whether you're fond of storytelling or into digesting long, epic tales, you must have, at least once, come across Movellas. Featuring hundreds of stories from almost all popular genres, and collected from avid storytellers from all around the world, Movellas is a social network that lets you fulfill your craving for discovering, writing and sharing interesting tales. The service released its official iOS app in the App Store a while ago, whereas the Android variant has just been rolled out into the Google Play Store. Sporting a slightly Holo-themed interface, featuring an extensive list of categories and underlying stories, and granting you access to its various social activities, the Movellas for Android certainly deserves a look, especially if you have the fervor for storytelling.
In order to get into the social side of things, you must log in to the app using a Movellas or Facebook account. Even if you don't log in, you can still search across its extensive database to explore, search for and read your favorite stories. In fact, the journey of exploring all the interesting content begins right from the app's dashboard, which presents you with different categories, including a featured section, and a separate one for each genre. Can't find what you're looking for? Hit the search button in the top-right corner, pick your preferred story category and enter the required keywords.
Alongside each story title, you can view its cover page, author, preview and relevant sharing stats. Hit a title to go through all the user comments that the story has received thus far, reply to comments or submit your own. Apart from that, you can like or bookmark the story, share the it with your buddies or follow its author. The built-in reader follows a very simple design, and doesn't really sport any extra features worth mentioning.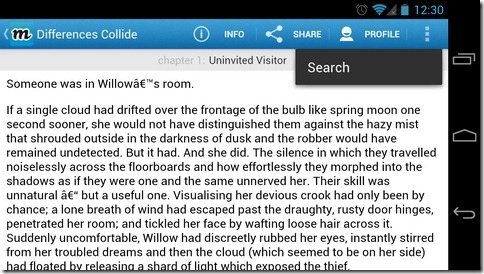 Although the web service allows users to submit their own stories, we weren't able to find any such option within the app. Though, even without said option, the app is quite handy in its own respect, since it saves you from the tedious chores required to sift through various online sources, or subscribing to multiple services, to find quality content to read. The app is currently available in English and Danish.
Like its iOS counterpart, the Android variant of Movellas is available for free. The app requires Android v2.2 or higher to run.
Download Movellas for iPhone, iPad & iPod touch