How To Remap The Bixby Button On Samsung Galaxy S8/S8+ [No Root]
The Samsung Galaxy S8 came out to tremendous fanfare and it sucked many of us in. However, those of us who got their hands on this gorgeous device, were greeted with a surprise in the form of an extra button on the side under the volume rocker. It wasn't for power, it wasn't for camera, but it was there. Pressing it launches Galaxy's new smart assistant called Bixby. If you are not a fan of Bixby, here is a guide on how to remap the Bixby button on your Galaxy S8 device, without rooting it.
Even though there is no rooting required, this is a roundabout way of repurposing the Bixby button. This guide will replace the Bixby button with Google Assistant, but once you understand how to do this, you can remap this button to do almost anything you want.
Before doing anything else, make sure you've launched and configured Bixby. It will make things easier down the line. Lastly, there are new apps coming out let you remap the Bixby button. Links to some of those apps will be included at the bottom of this guide if you don't like the one we've picked out.
Install All in one Gestures app
The All in one Gestures app is a handy tool to have in any scenario as you can use it to tweak your device, but that's another lesson for another day. Today we will focus on that Bixby button.
Once this app is installed, launch it and it will ask to modify system settings. Grant it all the permissions it asks for. Although strictly in the purview of this guide, you will not need to grant it system-wide access. However, if you want to run something like Bluetooth off of it, you will need those permissions.
Once the application launches, you will see the 'Swipe' screen. Ignore this screen and make your way to the screen on the left, named 'Hard Keys'.
Toggle on 'Enable'.
A prompt will appear at the bottom asking you to 'enable All in one Gestures' Accessibility Service'.
Tapping on that button will take you to the Accessibility Settings screen.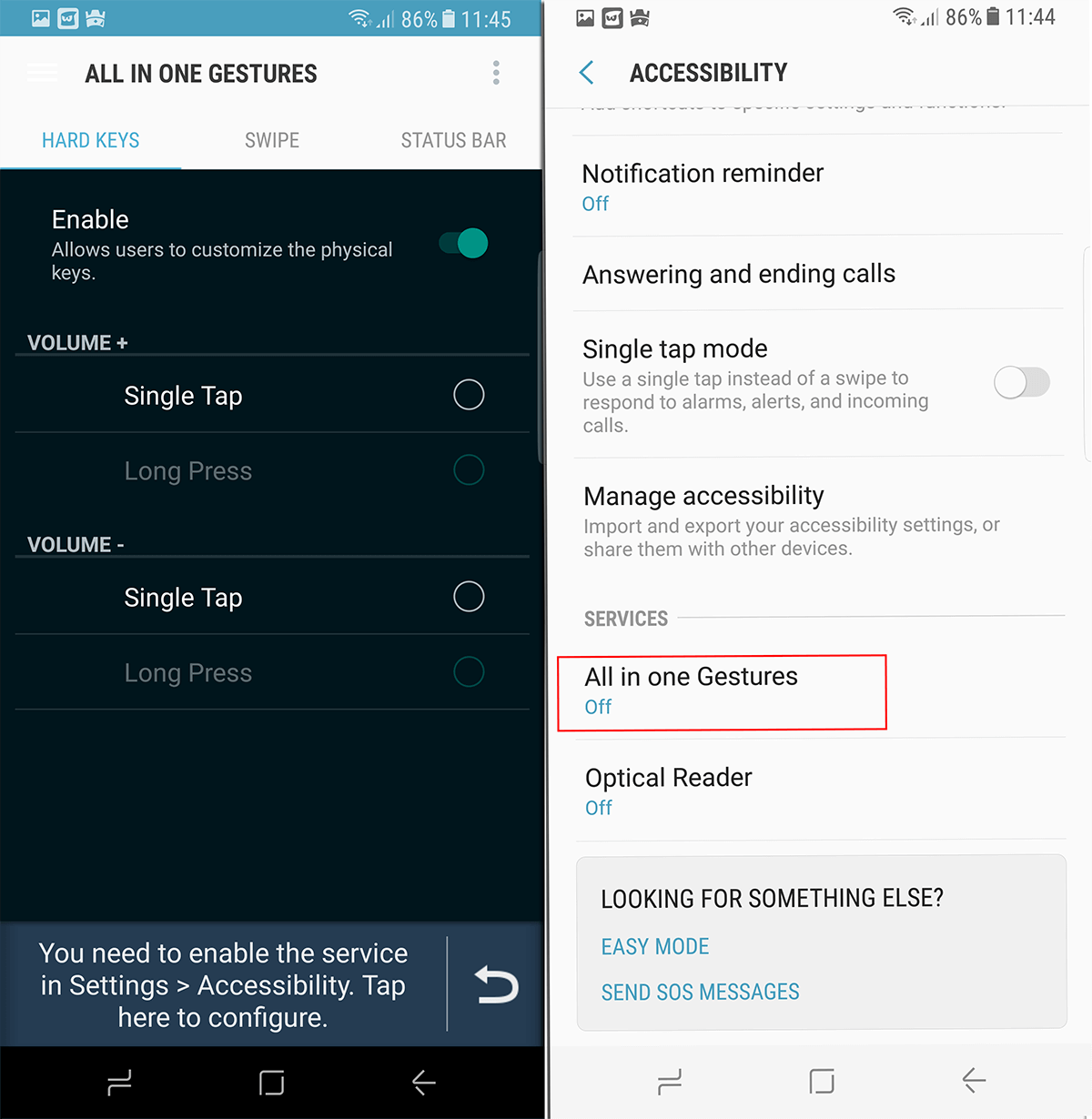 On this screen, scroll to the bottom until you see Services. Under services you will see 'All in one Gestures'. Tap on it to turn it on and grant the app complete set of permissions it needs to remap the Bixby button on your device.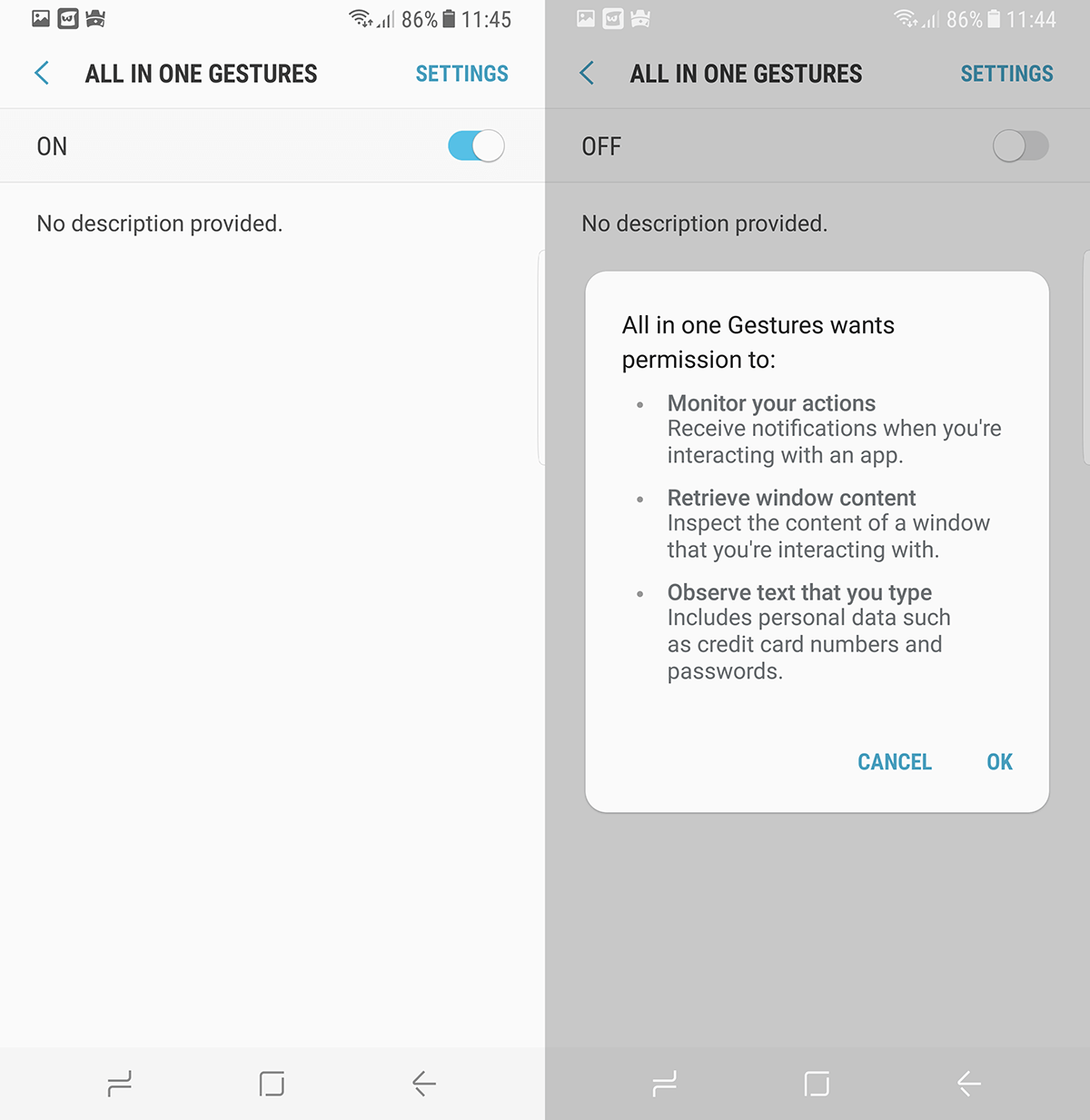 Return to All in one Gestures and tap on the overflow/menu button on the top-right corner and tap 'Custom Keys'.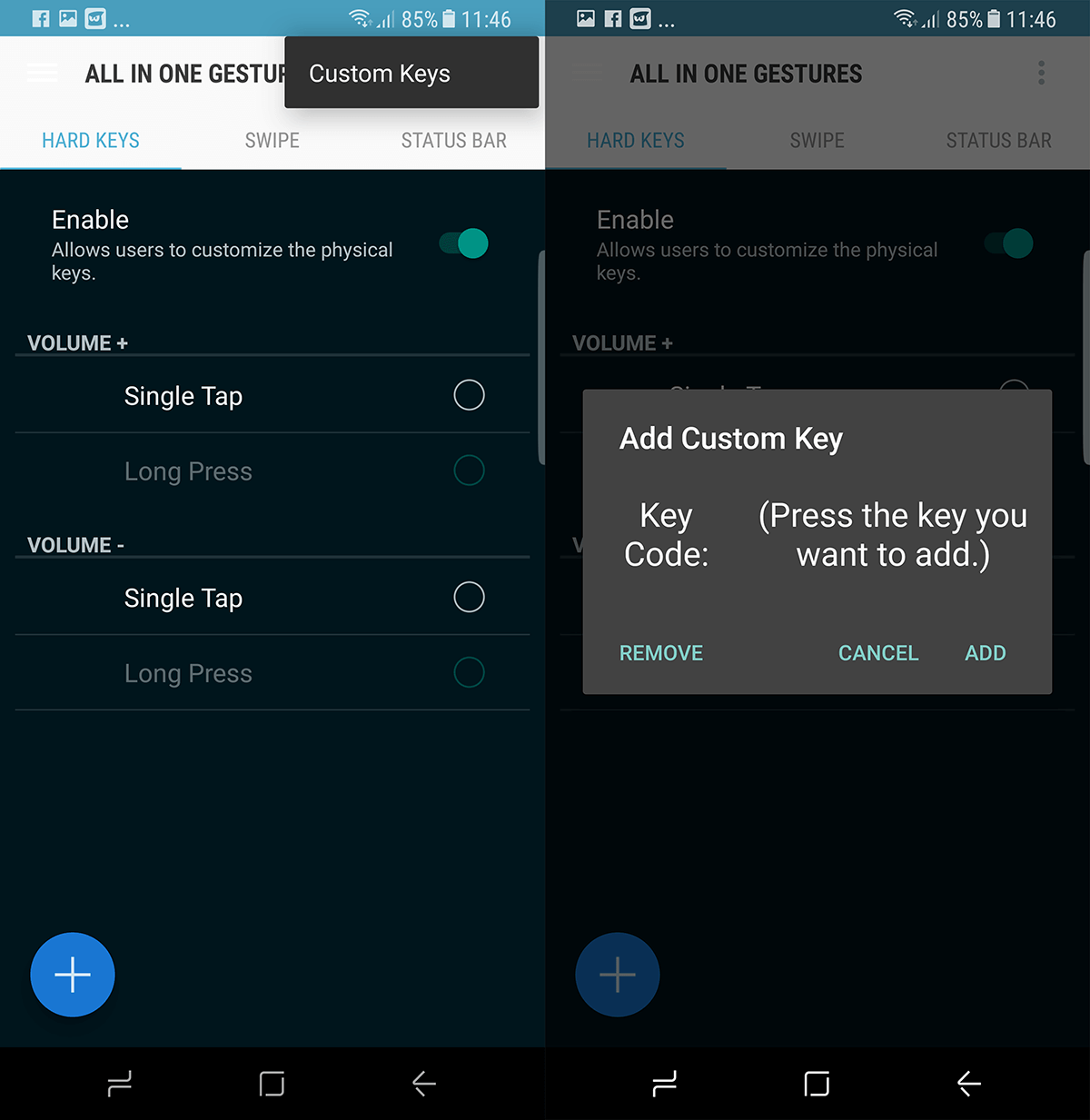 You will see a dialog pop up asking you to 'Add Custom Key'. When this dialogue appears, press the Bixby button on the side of your device.
The Bixby assistant will launch, but you don't have to interact with it yet. Just go back to the All in one Gesture app.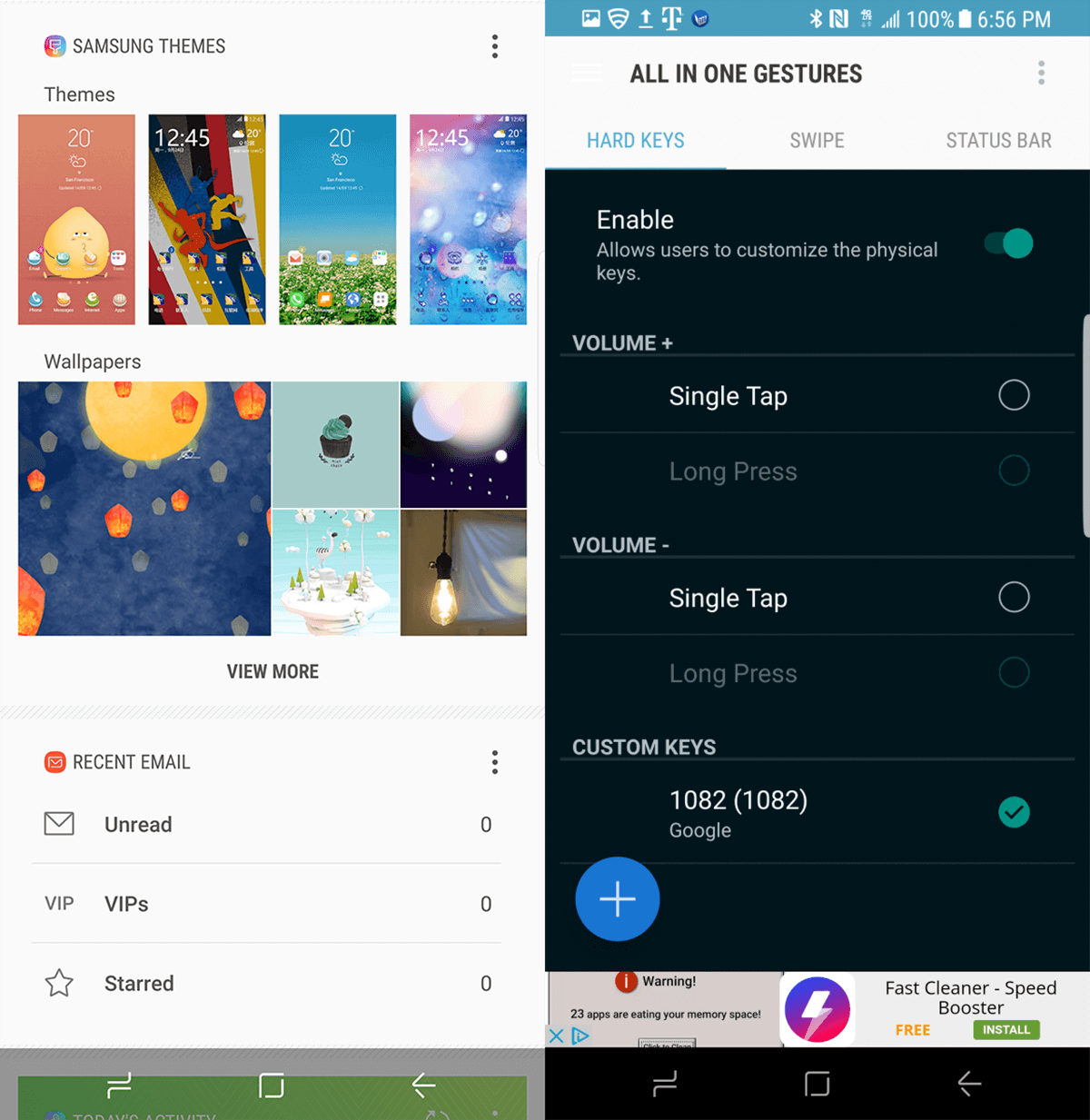 Once here, the 'Key Code' will show the number 1082. This is the Bixby button's code. Press 'Add' and it will become part of the hard buttons list. What happens here is that the app starts intercepting input on this button and reassigning it to whatever function you want.
Tap on the Radio button (circular check button) next to Key Code #1082, this will bring up another dialog box.
This screen will show 'Actions'. You can swipe left and right to go to the 'Applications' and 'Shortcuts' tabs.  If you want to launch an app when you press the Bixby button, the applications tab is where you can configure it.
To turn the Bixby button into a different shortcut, tap on 'Search' and when the search options appear, choose 'Voice Search'.
Now you should see voice search under the Key Code #1082.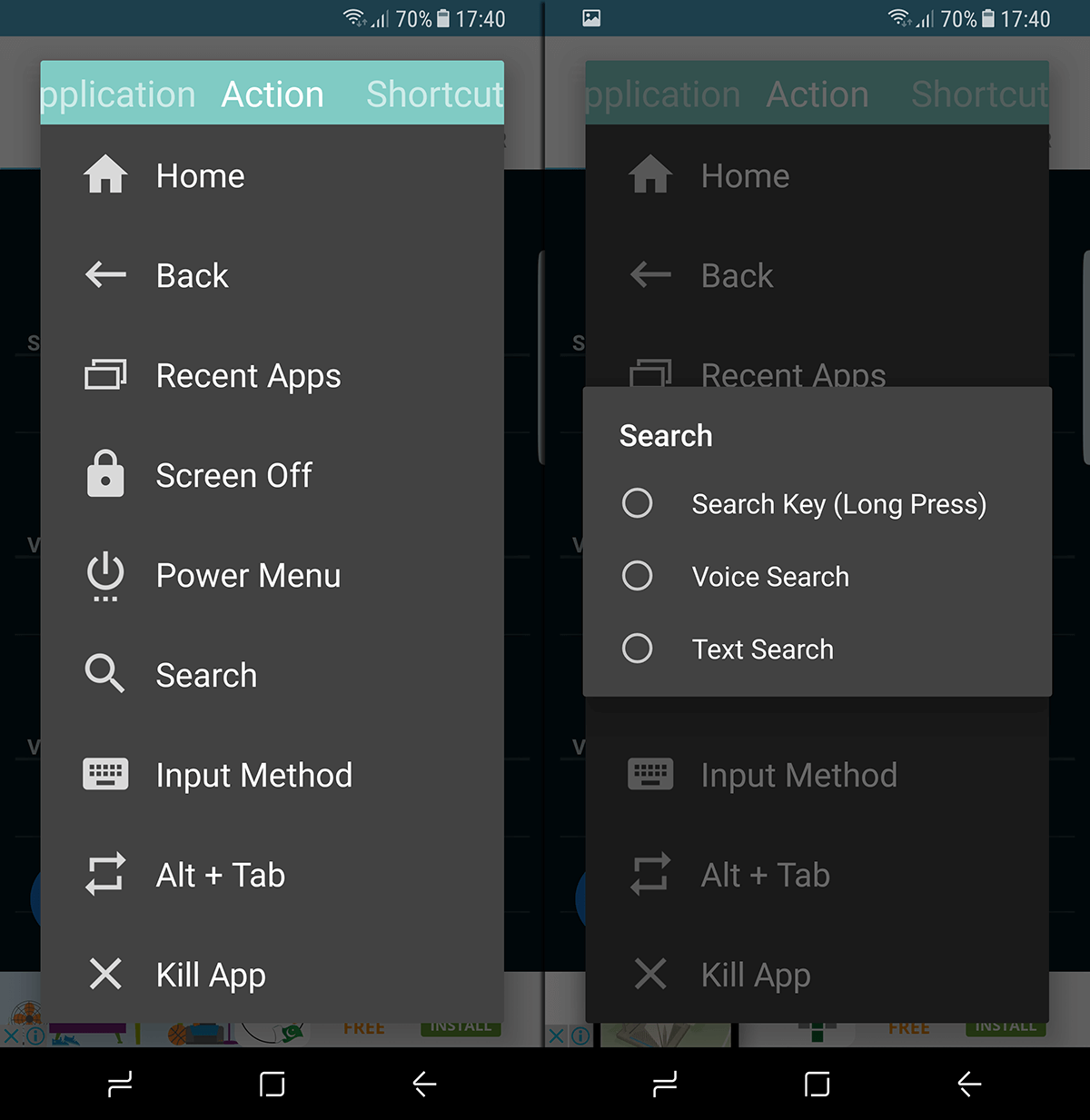 This will enable you to activate Google's voice assistant instead of Bixby and you will have salvaged the one sore point of an otherwise fantastic device.
Install All in one Gestures app from the Play Store
Alternative apps that you can use to remap the Bixby button like BxAction, BixRemap, and Custom Bixby Button.