Retune Allows Remote Control Of iTunes Playback From Android
The Digital Audio Control Protocol (DACP) introduced by Apple allows iDevice users to remotely control the desktop iTunes application from their mobile devices over a shared WiFi network. Wish you could do the same through your Android device as well? Fresh to the Play Store, Retune allows Android users to remotely control the iTunes desktop application. There's no need to install any additional desktop server apps or bear the hassle of manually configuring extensive remote connection settings. All you need to do is make sure that your computer as well as Android device is connected to the same WiFi network. The app pairs both devices via a unique pairing code, after which you can remotely control music playback & volume levels on your iTunes, view playlists, iTunes U content & Genius mixes, select your favorite radio channels, control your iTunes DJ, make iTunes stream to Apple TV, and search your iTunes library for required media.
Before proceeding further, it must be mentioned here that Retune is not the only app of its kind available in the market. There are several solutions already out there, but most of them are either paid, limited trials or not entirely Holo-themed, which is what makes Retune an excellent option.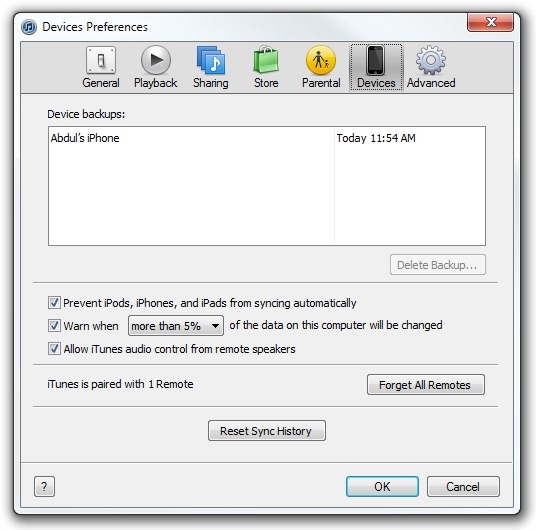 Upon launching the app, you're presented with a 4-digit code that you must feed into the iTunes application in order to pair your Android device to it. Once again, make sure your mobile device and computer are connected to the same WiFi network.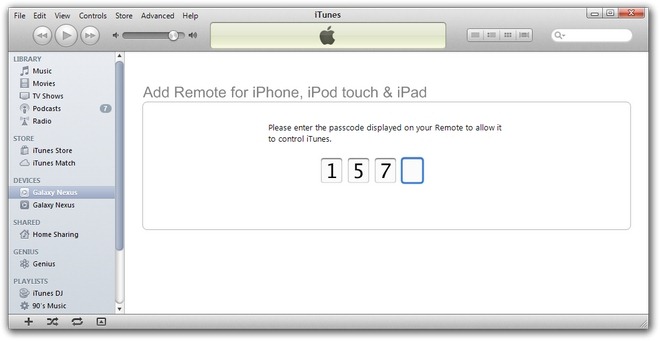 Next, navigate to the Edit > Preferences > Sharing tab in iTunes, and enable the Share my library on my local network option. Next, head over to the Devices tab and enable the Allow iTunes audio control from remote speakers option. You should now be able to see your device listed in iTunes' left pane.
Once successfully paired, you can view your iTunes library, complete with synced content, within the Android app. Using the drop-down menu in the top-left corner, select the multimedia content that you want to play on your computer.
As far as configuration is concerned, the app lets you enable its background services, and set the custom disconnection time (in minutes) once the screen goes to sleep. Android 4.1 Jelly Bean or higher users can take advantage of its interactive notifications to control playback right from the notification shade.
Please be informed that Retune is an iTunes remote controller, and does not support streaming media to your Android device. For that, check out previously-reviewed TuneSync HomeStream.
Retune is a free app that requires Android 3.2 (Honeycomb) or higher to run and is compatible with iTunes 10.3 or higher. We've provided a link to the latest version of iTunes below.
Update: Retune has just been updated to v1.9.0 with quite a few impressive features, such as complete iTunes 11 and its Up Next feature support, lockscreen controls, option to pick custom view upon launching the app, and enhanced song information.