How To Root HTC One M7 Using Custom Recovery
HTC One rooted! The device that currently sits on the throne of the Android world has gained root access while the hype from its announcement is still fresh. With its off-the-charts specs and prowess, root access is only going to add to the already-popular device's appeal. If you are one of those lucky few who somehow managed to grab this device, or are planning on getting one soon, you are in luck. The rooting procedure is fairly easy, though the recoveries needed are not fully functional yet and there have been complaints regarding users failing to boot into a certain recovery. The idea is to flash a recovery, boot into it and install the SuperUser package from within. Not sure whether you should root? Our guide on the top 10 reasons to root an Android device might help you out with your decision.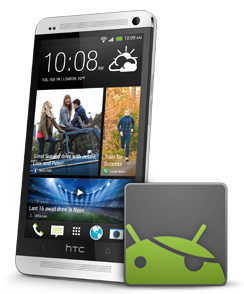 To play it safe, we will be temporarily 'booting' the device into a recovery and installing the package, rather than permanently flashing a broken recovery to the phone. There are currently three recoveries available for the device as listed in the requirements section below.
Disclaimer: Follow this guide at your own risk. AddictiveTips will not be held responsible in case your device gets bricked or damaged in any other way as a result of following this method.
Requirements
An unlocked bootloader. Visit HTCDev and select "All other supported models" as your device.
Instructions
To begin, download the fastboot package and extract the contents to a folder.
Download the recovery of your choice, rename it to 'recovery.img' and copy it to the location where fastboot.exe is.
Download the SuperUser zip file and copy it to the root of the phone's storage / SD card.
Power the phone off, boot into fastboot mode and connect the phone to your computer. You can do so by holding down the Power button and Volume Down key at the same time and then selecting 'Fastboot' from the menu using the 'Power' button.
Once in fastboot mode, open command prompt on your computer, switch to the path where fastboot.exe is and enter the following command:

fastboot boot recovery.img

The device should now boot into the custom recovery. Navigate to 'install zip from sdcard' and choose the SuperUser package to install it.
When installed, simply reboot the device.
That's it! Look for the SuperUser app in the app drawer to confirm that your HTC One has been rooted. Additionally, you might want to take a look at our compilation of the top 15 must-have apps after rooting an Android device.
[via XDA-Developers]