Symbaloo Brings Its Efficient Bookmark Management App To Android & iOS
Symbaloo is a simple-to-use and innovative bookmark management web app that lets you organize and share bookmarks favorite websites with utmost ease. Simply put, it's a visual bookmarking web service that enhances your URL bookmarking experience by presenting you with a sleek interface, supplemented with dozens of visually attractive tiles and logos of your favorite URLs and RSS feeds. Using Symbaloo, you can group bookmarks relating to a specific topic under a tile-oriented interface, referred to as webmixes. Here's some good news – the service has just launched its official Android and iOS client to help mobile users explore their custom webmixes and underlying visual bookmarks on the go.
Bookmark management and sharing methods through various web browsers and standalone mobile apps are aplenty, but if you're craving for a simple solution, Symbaloo is the way to go. The app requires a registration/account to work.
Just like its web interface, the mobile variant of Symbaloo also presents you with your favorite bookmarks in the form of various tiles. In fact, the mobile app serves as a personalized homepage (start page) that houses your favorite bookmarks, as is the case with most modern web browsers. To help you easily navigate to the URL of choice, the app also comes packaged with a simple web browser of its own.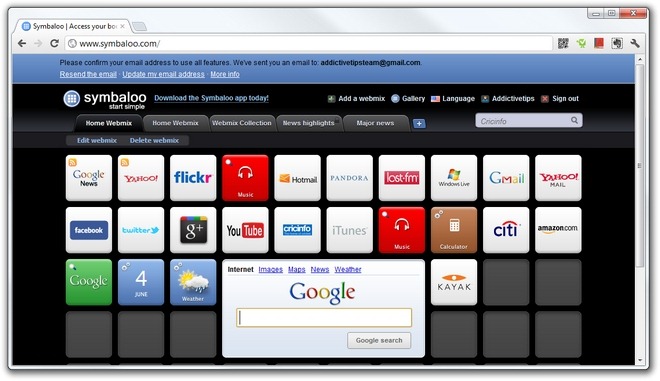 Symbaloo comes preloaded with hundreds of frequently accessed bookmarks; however, it also lets you search for a URL of choice. The list of supported services is huge, and the below list is a mere preview:
News: Google, Yahoo!, CNN, BBC, The Washington Post, abc News, Associated Press
Social: Facebook, Twitter, Google+, MySpace, YouTube, Flickr, tumblr, LinkedIn
Shopping: Amazon, eBay, Buy, overstock, Wal-Mart, BestBuy, Netflix
Email: Gmail, Yahoo! Mail, AOL, Windows Live
Banks: Bank Of America, Wells Fargo, Chase, Bank Of The West, PNC, Citi
Travel: Expedia, Booking.com, CheapTickets, Hotwire, Priceline, Kayak, Travelocity
Music: Pandora, last.fm, iTunes, Borders, Music
Although configuration of bookmarks and webmixes on the mobile is quite easy, too, if you have this content set up through the web app itself, life becomes a lot more easier. This is particularly due to the fact that the web interface is a bit more intuitive and easier to use than its mobile counterpart. It simplifies the bookmarking process through the help of floating tiles, easier URL searching and adding mechanism, and more convenient navigation to the Symbaloo webmix presets that help you instantly find a bookmark of choice.
That said, the mobile app also makes searching for, adding, managing and accessing webmixes as well as bookmarks quite a breeze. The only annoyance is that, despite having a preferred bookmark available under a webmix preset, you cannot move it to a custom webmix. Having to manually search for a URL of choice can be made a lot easier, too, by integrating real-time search suggestions. Once you've found the required URL, just hold down its tile to get it added to the selected webmix. The same gesture can be used to remove a tile from a webmix.
From Android's perspective, the lack of homescreen widget is also quite surprising, as most quality apps are expected to offer, at least, some sort of convenience in this regard. We hope to see this addressed in future revisions.
Download links to Symbaloo's Android and iOS variant are provided below, but before hitting them, check out the app's official demo video below.
Download Symbaloo for iPhone, iPad & iPod touch