Track, Access & Wipe Your Lost Or Stolen Android With Droid Finder
Know that feeling of helplessness when you misplace your mobile phone, or worse, have it stolen? Losing your smartphone can be scary because of all your personal data like SMS, contacts, photos, emails, and sometimes even financial information that resides on it or is accessible from it. On the flip side, you can save yourself from such nightmare by using various security features of the OS, as well as third-party apps available to enhance it. If you're not sure where to start, take Droid Finder for a try. In case your Android phone goes missing, this app may not only help you locate your missing device, but also send you pictures of the intruder via the device's front facing camera. It uses your Google account to monitor your device, pinpoints its location on Google Map API and lets you track it via its web-based dashboard.
Droid Finder is very easy to setup. Upon launching it, just tap 'Sign in' at the top, after which you can link your Google+ account with the app. The app boasts a wide array of features such as anti-theft, intruder alert, SMS control, SIM change alert etc., and gives you full flexibility and control over the ones you want to enable or disable. All these features are initially disabled though, and the app prompts you to 'Fix it' by tapping the each.
You will also need to lock your device via a Pin or Pattern Lock first in order to use any of the Anti-theft options of the app. You can enable/disable your desired option via simple on/off switches. Intruder Alert is pretty handy for remotely locking your device through the web-based dashboard. Though where things get really interesting is the Trigger Modes screen, which allows you choose and activate four different types of triggers: silent, medium, aggressive or custom, all of which are pretty much self-explanatory. As stated earlier, Droid Finder can also capture photos of anyone who tried to access your phone, meaning if the device is stolen, those photos might potentially show you the thief. Also, in case you've just misplaced your device, a photo may help you remember where you left it.
The rest of the things are done from the web based control center, which basically enables you to remotely control your device as well as locate it using GPS, GSM or Wi-Fi location, and showing it on Google Maps. To get started, you can go to the Droid Finder web page and sign in using your Google+ account.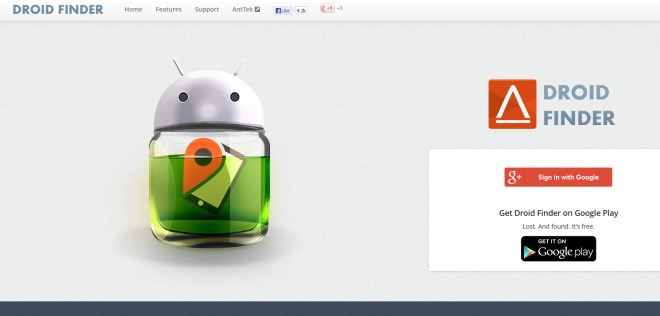 The control center looks pretty nice and easy to navigate. Of course, your device must have one of the available communication options enabled in order for its location to be tracked. You can also find out if the SIM card in the handset has been removed or replaced. Other than that, you can send a text or email to your device, lock it, wipe data, manually capture a photo using its camera, or even dial your number from it.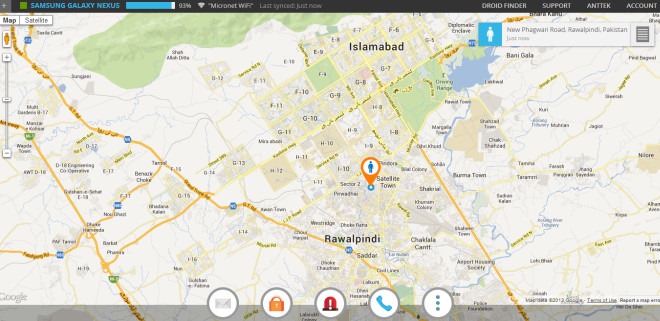 Droid Finder is available at Google Play for free. Just use the download link below to grab it for your device.
Install Droid Finder from Play Store