Easily Backup & Restore Your Mozilla Thunderbird Accounts & Their Data
I've used several email clients over the years, including Outlook for quite some, a while back. Though when I got the opportunity to try Thunderbird, I couldn't settle for any other email client since then. Mozilla's open-source application is fairly powerful, and helps me keep a tab on all my work and personal email accounts from one place. If you're also a Thunderbird user, one very important thing you must consider when switching to a new computer is migrating your Thunderbird information, as you won't likely want to reconfigure your profile from scratch. If you're in such a situation, we've got an app for you today built for this very purpose, by the name of Backup Thunderbird. This free app is designed to do one thing: quickly backup and restore your Thunderbird data including your emails, newsgroups, RSS feeds, address book and accounts.
The application looks very simple and plain, and carries all the options in its sole window. Getting started with the app is fairly easy; download it via the link provided at the end of the post, and launch it after installation. The tool can easily create backups and let you restore them using a single click. You can even encrypt your backups via a password for security. To create a backup, type its name in the appropriate field under the Backup section, and click 'Save As' to specify the destination directory for it. You can also optionally enter a password for it. Once ready, click 'Backup now', and the resulting backup file will be created at the specified location.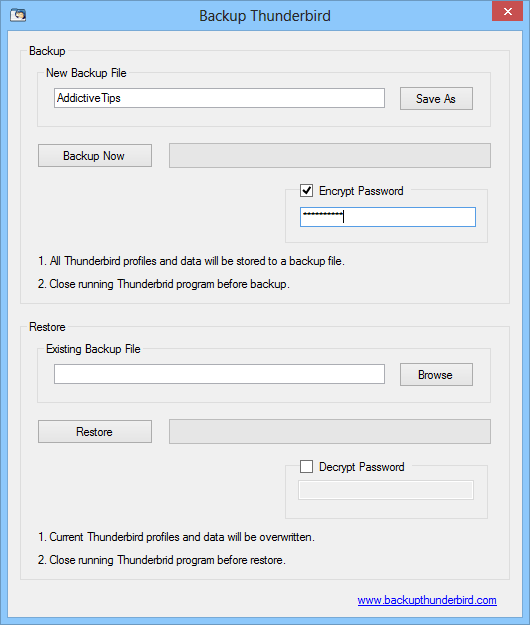 The time it takes for creating the backup will depend on the total size of the information that needs to be backed up, i.e. the number of your accounts to backup, the overall size of emails in them, your address book size etc. The application doesn't offer a way to create separate backups for each account or profile, or a backup of only select data from an account. The backup file is supposed to be stored with a BAK extension. Though during testing, I noticed the resultant file was missing the extension and I had to manually rename the file to add it.
To restore the backup, browse to the location of its BAK file under the Restore section of the tool, enter the password (if you set any), and click Restore. Just make sure to close Thunderbird before backup and restore operations, in case you have it running.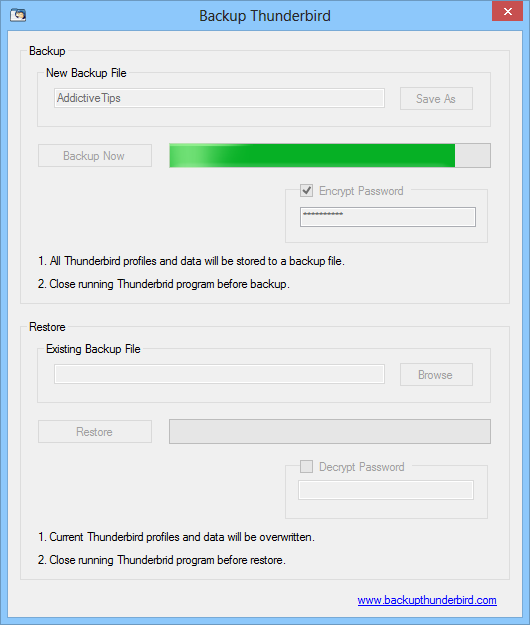 That's pretty much all there is to Backup Thunderbird. The application works on both 32-bit and 64-bit variants of Windows XP, Vista, 7 and 8.