Get The Windows Notepad App On Android
The Windows Notepad app is a simple text editor. It's been part of Windows for years. The app is great if you want to edit a script, an HTML file, or take a quick note. The app has remained unchanged for the most part but it is still a great app. Imagine if you could use it on an Android device. Real Notepad : Notebook is a very realistic, Windows like, port of the Notepad app. Running the app essentially gives you the Windows Notepad app on Android. You do not need a rooted device. The app lets you copy/paste text, customize the font, and save to TXT and HTML (and other) formats. It costs $0.99 but it is well worth the price.
Install Real Notepad : Notebook and open it. The app looks like a Windows app by all accounts. The interface is very Modern UI. The app has the usual File, Edit, Format, and Help menus at the top. The 'View' menu is the only one that is missing.
Create A New Text File
Launch the app to create a new file. A new file is called 'Untitled'. You can start typing a note right away. You can print a file or exit the app from the File menu. The Edit menu lets you cut, copy, paste, delete, and undo typing. It also has a find and replace function and a date and time function.
You can change the font from Format>Font. Like the Windows Notepad app, you can only set one font for the entire file. You cannot have different fonts in one text file.
Open/Save A Text File
Go to File>Save to save your text file. Enter a name like you would on your desktop. By default, the file saves as a TXT file. If you want to save a file with a different extension, tap the 'Save As' drop-down in the Save dialogue box. Select 'All files (*.*)' from the drop-down and give your file any extension you want. You can save a file to the app's root or you can create a new folder to save the file to.
To open a file, launch Real Notepad Notebook and go to File>Open. Pick the file you want to open and Real Notepad Notebook will open it for you.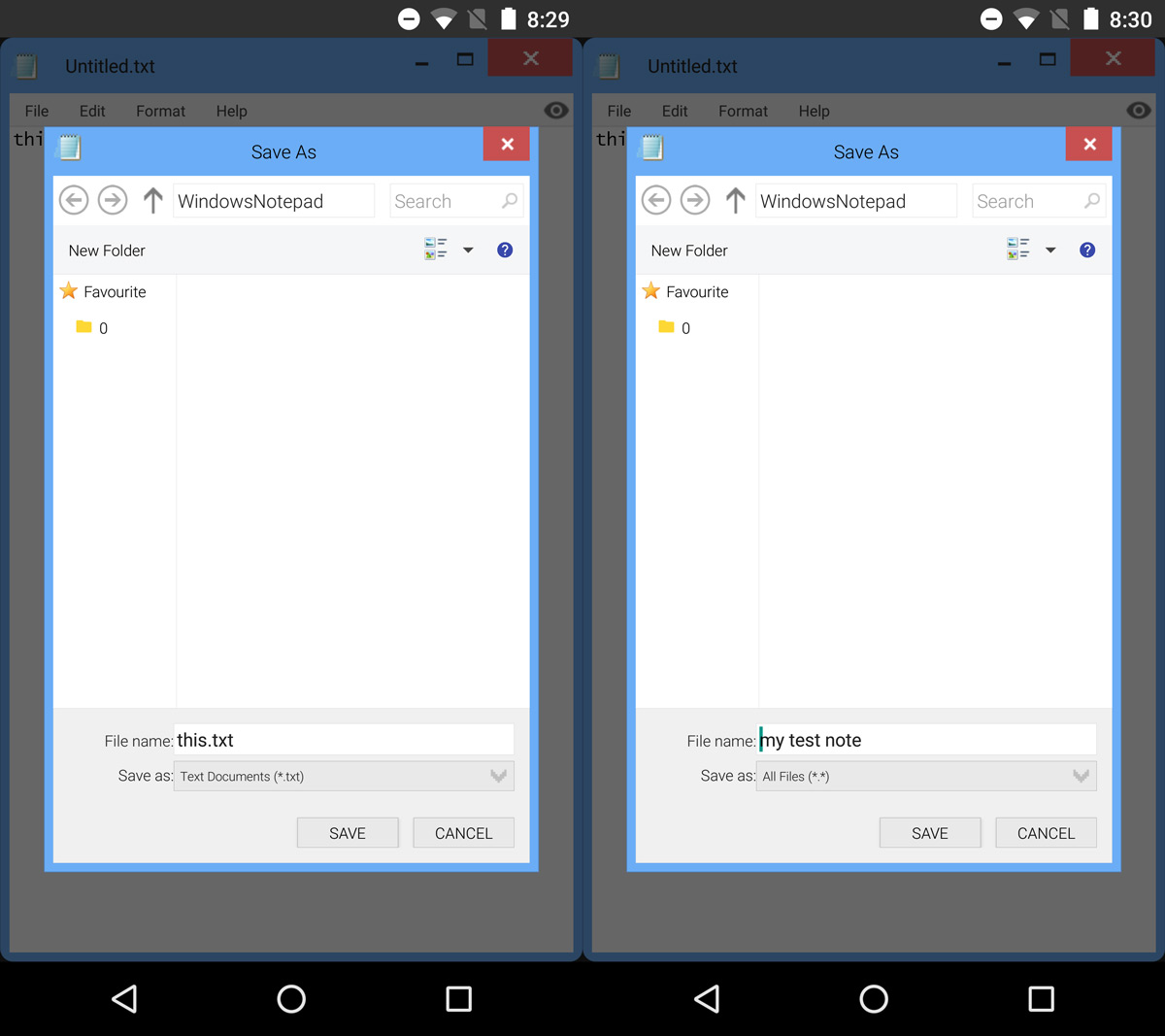 Everything about Real Notepad : Notebook, from the UI to the save and open screens is reminiscent of Windows. The app runs without a hitch and is generally just an amazing port. The only shortcoming of this app is that it isn't available for iOS. Regardless, someone buy the developer cake.