Wondershare Player Might Be The Best Android Video Player, Discovery & Streaming App Yet
MX Video Player is dubbed by many as the best video player for Android, courtesy of the app's ability to flawlessly play almost any known video format. This, coupled with its great controls, and all the various additional features that it brings to the table, makes MX Video Player the first choice of most Android users when it comes to free video players. Ever since we reviewed the app, not many alternatives have been able to impress a great deal. However, this perception seems to be taking a pleasant turn with the release of Wondershare Player – a good-looking, comprehensive video player for Android that, apart from borrowing most of its features from MX Video Player, supports the additional ability of exploring and streaming high quality videos from top video-hosting web services, including YouTube, Hulu, Vevo, Dailymotion and many more. The app combines high quality video streaming with seamless playback of locally stored media, presenting you with what is arguably one of the most feature-rich Android video players available today.
Like MX Player, Wondershare Player also supports playing a wide array of common video formats, such as MKV, AVI, VOB, RMVB, FLV, WMV, MOV et al, without requiring any additional codecs. In addition, it boasts several very useful features, which are as follows:
Advanced video playback customizations to specify preferred video buffer and playback settings
Extended customization options for subtitles. Supported subtitle formats include SRT, SUB, SSA, SAMI/SAMI, PSB and MPL etc.
Ability to play DVD content with complete DVD menu navigation support
Option to select the quality of online video streams on-the-fly (supports 1080p videos, too)
Real-time search suggestions for finding videos from online resources
Built-in web browser to stream video content from preferred online video streaming services
Easy-to-use swipe gestures to control video playback, screen brightness and volume levels
Ability to toggle between various aspect ratios, and option to lock video screen with a mere tap
Option to bookmark favorite videos, and stream them while online or offline
Remote streaming of media files from over a local server or video streaming URL of choice
Ability to fetch media files from custom directories
Filtering of multimedia content to list out just the video/audio files on the playlist
Seamless video playback, with support for remembering last played position of each and every file in the playlist
Option to specify custom decoding mode (hardware/software) for each individual supported file format
Detailed history log of previously played content
On-screen network connection indicator, and the option to stream content over Wi-Fi only
Comparatively lighter on your device's battery
The app's main interface is split into two main tabs; the Browse tab is dedicated to your online video streaming needs whereas the Library tab caters to your local (offline) media playback needs. Online video content under the Browse tab is categorized in terms of Movies, Episodes (TV shows), MV (Music Videos), Videos (miscellaneous videos) and Hot Sites (to navigate to the online video hosting service of choice). Each said category sports the latest video arrivals, where each individual video clip is presented as a thumbnail on a scrollable slider. Tapping a video thumbnail takes you to the app's native web browser that lets you stream selected content via the relevant online service.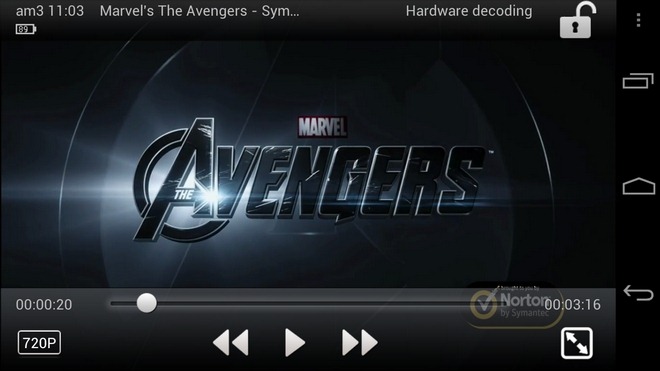 Tapping the More> button alongside each video category lists the underlying videos along with their respective ratings, duration, and genre. Apart from adding a video to your favorites, you can use the same screen to navigate to the trending videos from within the selected category. It is also from the same screen that you can select the desired genre of video content. Depending upon the selected video category, the underlying genre is carved out accordingly. For instance, while surfing music videos, you can select among Jazz, Pop, Rock, and Country etc. Likewise, while browsing the Videos segment, you can filter the search results to show only the comedy, travel, science or gaming-based clips.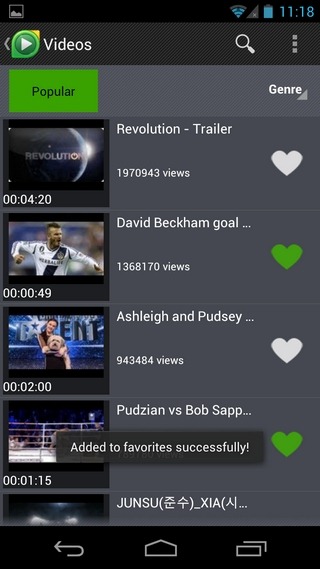 Head over the Library tab, and you have several other sub-tabs that list videos lying within your Watch Later and Favorites list. The Local sub-tab is from where you can play your locally stored audio/video files, and remotely stream media from a local server. Oddly enough, the option to stream videos from a from a URL of choice has been placed under the (Library) tab that mostly caters to your local media playback requirements.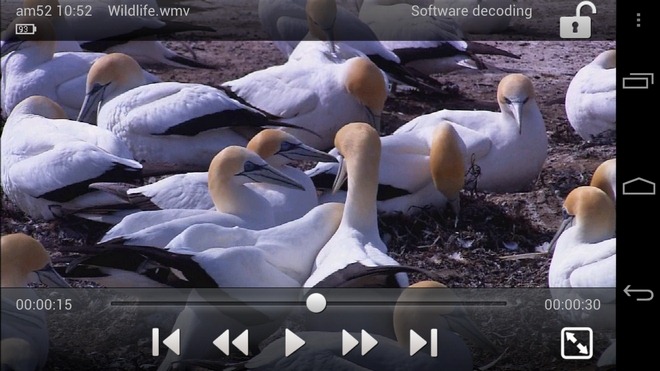 Now to the all-important question that might be popping into your mind: how does Wondershare Player fare as compared to its peers? While the app is actually pretty good with most of the features that it supports, it still has plenty of ground to cover before it can pose any noteworthy threats to the likes of MX Video Player. With what we personally observed during a couple of hours of testing on Galaxy Nexus, the app is a tad inconsistent in its performance, especially while playing video files with higher resolutions. Not only does it occasionally fail to read subtitles but also misses out on audio playback of certain MKV files. In addition, it also seems to mishandle fetching certain media files (AVIs, to be precise) from the device's storage. Lastly, the DVD menu support feature doesn't seem to work at all; not for us, at least.
Taking all the various aspects into consideration, one can expect any newly launched product to serve a few minor odd glitches, and Wondershare Player is no exception in this regard. Hopefully, with future updates, the app will emerge as a well-rounded, fully-functional product that can give the very best media streaming and playing Android apps a good run for their money.
Download Wondershare Player For Android
Download Wondershare Player For iPhone, iPad & iPod Touch