Steam Download Slow? Here's What to Do for Better Steam Download Speed
Millions of users play on Steam on a daily basis both offline and online. Before trying a new and exciting title, though, they have to download the game files to their computer. And that's where some users have trouble.
If Steam downloads games too slowly on your computer or if the game files take too long to update, your friends might not be willing to wait for you to join a multiplayer session.
It's definitely frustrating, especially when planning an entire weekend of casual gaming to relieve stress from a hard week at work. Not to worry, though, since we're here to help.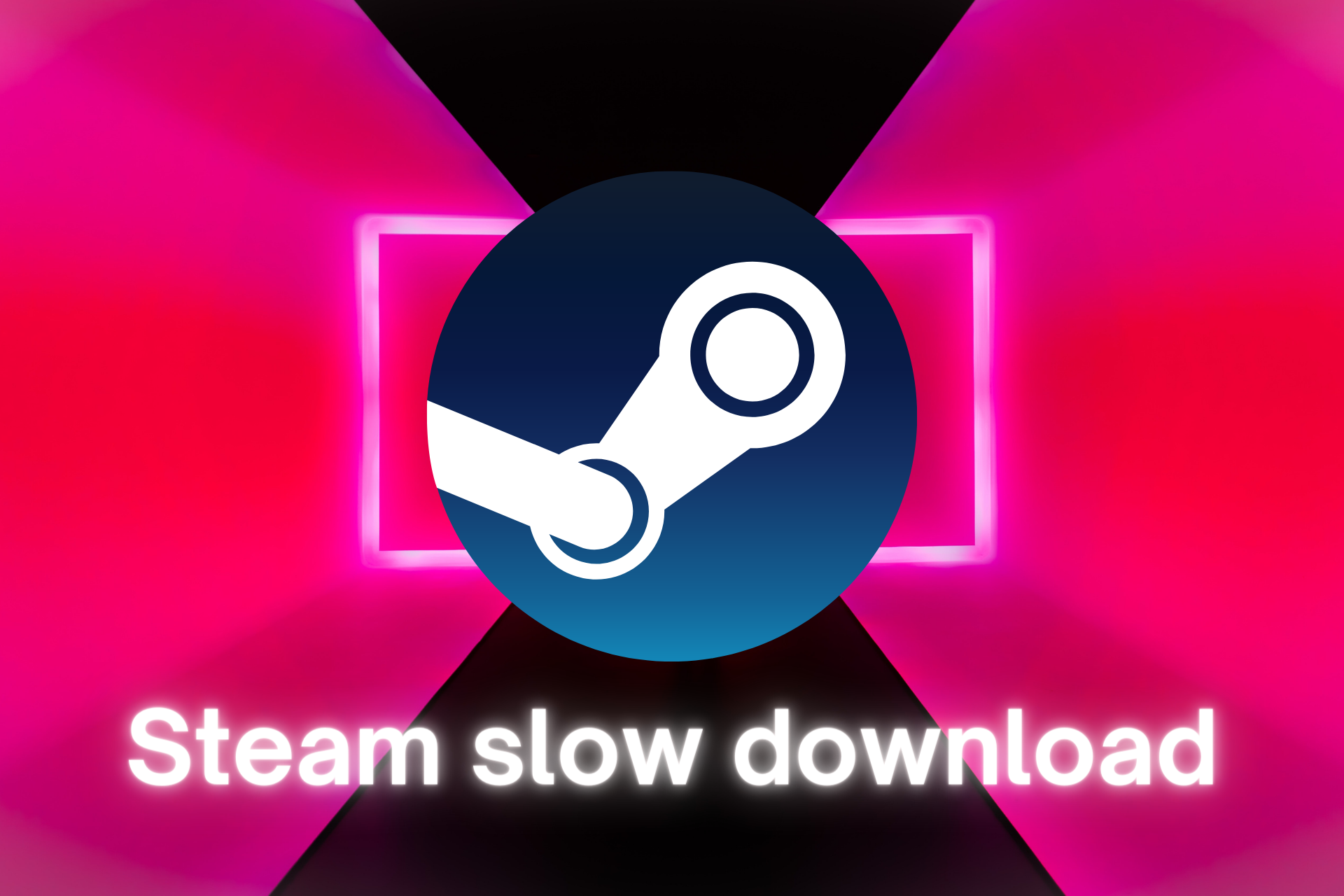 Why is Steam downloading so slow?
There could be various reasons behind a slow download speed on Steam. Some of them include:
Outdated gaming client
Ongoing system updates
Corrupt download cache
Low bandwidth limit on Steam
Incorrect download region
High network usage on your computer
Internet connectivity issues
Damaged files within the Steam game client
Full browser cache and cookies
Outdated network drivers
Busy Steam servers
How to fix Steam download speed slow
If Steam downloads are hampered by a software issue, then you should be able to quickly fix it using the following solutions.
In the worst case scenario, you have to check your Internet connection or even get in touch with your ISP to see if it throttled your bandwidth.
1. Update the Steam desktop client
Steam regularly receives updates so that you can benefit from the latest features, improvements, and bug fixes. It's all performed automatically so all you have to do is allow it.
However, if you previously joined the beta development stage to test exciting new features, you shouldn't be surprised when encountering various problems like slow Steam download. It's definitely safer to stick to stable updates.
Here's how to disable Steam beta updates on Windows 10:
Restart Steam
2. Check for OS updates
If you haven't turned on your Windows computer for a long time, you might be surprised by how long it takes to download and install all current updates.
The task can cripple your whole computer activities, not to mention any application with Internet access. So it could be the reason why Steam downloads are so slow.
In this case, you can wait until Windows finishes downloading everything. It might be necessary to reboot your computer several times. Otherwise, you can cancel and postpone any ongoing OS updates.
Just make sure to eventually update your operating system since it's paramount for your PC security.
3. Clear the Steam download cache
The Steam download cache contains temporary files required for game downloads and application updates. However, the cache doesn't always get cleared on its own, so you might get stuck with older files that Steam doesn't need anymore.
But you can easily fix this problem by manually emptying the Steam download cache. In addition to speeding up game downloads, this should also help fix games that refuse to start.
How to clear the Steam download cache on Windows 10:
Click OK when asked to confirm
Log out of Steam and log back in
4. Check the Steam download restrictions
Steam has a special feature reserved for users with a limited Internet connection. It allows them to limit their bandwidth when downloading game and application files, so that other applications can still go online without getting slowed down or crippled.
If you or someone else with access to your computer has recently limited the network bandwidth, it's exactly why your Steam downloads are so slow right now.
However, it's possible to fix this in just a few simple steps. While doing so, you should also deactivate other similar limitations.
How to disable download restrictions on Steam:
In Downloads, uncheck Limit bandwidth to, Only auto-update games between, and Throttle downloads while streaming
Enable Allow downloads while streaming and click OK
Log out of Steam and log back in
5. Change the Steam download region
When installing the Steam client on your computer, it automatically sets the download region by taking into account your system settings. But it may sometimes fail to obtain your accurate location.
Furthermore, if you have a laptop and travel to another city or country, then the Steam download region won't be precise anymore because it can't update your location automatically.
How to change the Steam download region:
If your city isn't displayed on the list, then click the nearest location
Click OK and restart Steam
6. Close other running apps with Internet access
If you have too many applications running in the background that take up your entire network bandwidth, you should expect Steam slow downloads.
The quick solution here is to close all other active processes that your computer doesn't need while you're downloading and playing Steam games.
Examples include web browsers, antivirus, firewall and other Internet security applications, VPN services, and other gaming clients besides Steam.
You should also turn off torrenting clients and other peer-to-peer programs, FTP clients and web server apps, Internet boosters, and download accelerators.
For more information, check out the list of programs which may interfere with Steam.
How to disable network-consuming processes on Windows 10:
Right-click the first process in the list (except Steam) and select End task
Do this for multiple applications if necessary
Restart Steam
7. Repair Steam
A simple way to speed up Steam downloads is by repairing the application from Command Prompt. Just make sure you're logged in as the computer administrator before starting to take the following measures:
Press Win key+ R
If you installed Steam in a different folder than default, make sure to edit the location address above
Press Ctrl + Shift + Enter to execute the command with admin rights
Click Yes if prompted by UAC (User Account Control)
Restart Steam
8. Reinstall Steam
Most problems with the Steam gaming client can be fixed by reinstalling the application. It's also the best way to ensure that you will be downloading and setting up the newest version available.
How to reinstall Steam:
Download Steam from the official website and install it
9. Clear Steam browser cache and cookies
Steam has an integrated browser that allows you to explore the store, look for new games, as well as purchase new titles. Just like a typical Internet navigator, Steam's browser can get cluttered with cache and cookies, resulting in slower downloads.
How to clear Steam browser cache and cookies:
Select Web Browser
Click Delete Browser cookies and OK to confirm
Log out of Steam and log back in
10. Set custom DNS servers
If you have the default DNS servers assigned by your ISP and if they aren't optimized properly, it could be the reason why your Steam downloads are so slow. But you can quickly fix it.
How to set Cloudflare DNS servers on Windows 10:
Make sure you're logged in as the PC administrator
Set Preferred DNS server to 1.1.1.1
Set Alternate DNS server to 1.0.0.1
Click OK
Restart Steam
11. Check your Internet connection
It might seem a redundant task, but you can never be sure of your Internet connection's reliability. You could run a network speed test to check for noteworthy changes about your download and upload speed.
Furthermore, you could reboot your router, check the router configuration settings and disable QoS if it was activated, switch from wireless to Ethernet mode, and even verify your cables.
If you manage to fix your slow Internet on Windows 10, this will also help repair Steam slow downloads.
12. Update your network driver
If you have an older network card, it might be time to consider ditching it in favor of a newer model. However, before doing so, you should update your network driver to the latest version.
You might be surprised at how your Internet speed will improve after a simple driver update, including your Steam download speed.
How to update the network driver on Windows 10:
Expand the Network adapters group
Microsoft uses Windows Update to try and find a newer network driver. Unfortunately, it often fails to do so, although newer driver versions actually exist.
In this case, you have to discover the manufacturer of your network driver using Device Manager, visit its official website, then download and install a more recent driver on your computer.
13. Contact your ISP
When everything else fails, there only one option left: contacting your Internet service provider. There are many ISPs known to intentionally slow down your Internet speed when gaming, torrenting, or streaming, in an effort to preserve the overall bandwidth.
For instance, if you are not currently subscribed to the most expensive Internet plan, your ISP could throttle your bandwidth to trick you into paying for a superior plan.
But, before jumping to any conclusion, you should review the agreement you made with your ISP as well as get in touch with tech support. There could be a more serious problem that you're not aware of.
You could also check the stats with used download bandwidth on Steam to get a clearer picture of how your download speed averages compared to your region.
Steam Download Slow: CONCLUSION
To summarize, if your Steam download speed is too slow, you can try fixing it by updating the Steam desktop client and operating system, clearing the download cache, and removing Steam download restrictions.
You could also change the Steam download region to a location closer to you, terminate any other running applications with Internet access, and repair Steam from the command-line environment.
It's also a good idea to completely reinstall the Steam client, clear the cache and cookies of its internal web browser, configure custom DNS servers, check the quality of your Internet connection, and update your network driver. If all else fails, it's time to get in touch with your ISP.
Which of these solutions made your Steam downloads faster? Did we miss any important steps? Let us know in the comment section below.