WHEA Uncorrectable Error on Windows 10 (FIXED)
Blue screen messages can be caused by any number of computer problems, ranging from software to hardware. What they have in common is that they make your machine inoperable.
When PC users stumble upon a BSOD error message, they jump to the ultimate scenario: Windows factory reset. But it's pretty drastic and sometimes unnecessary since you can use other, simpler means for troubleshooting.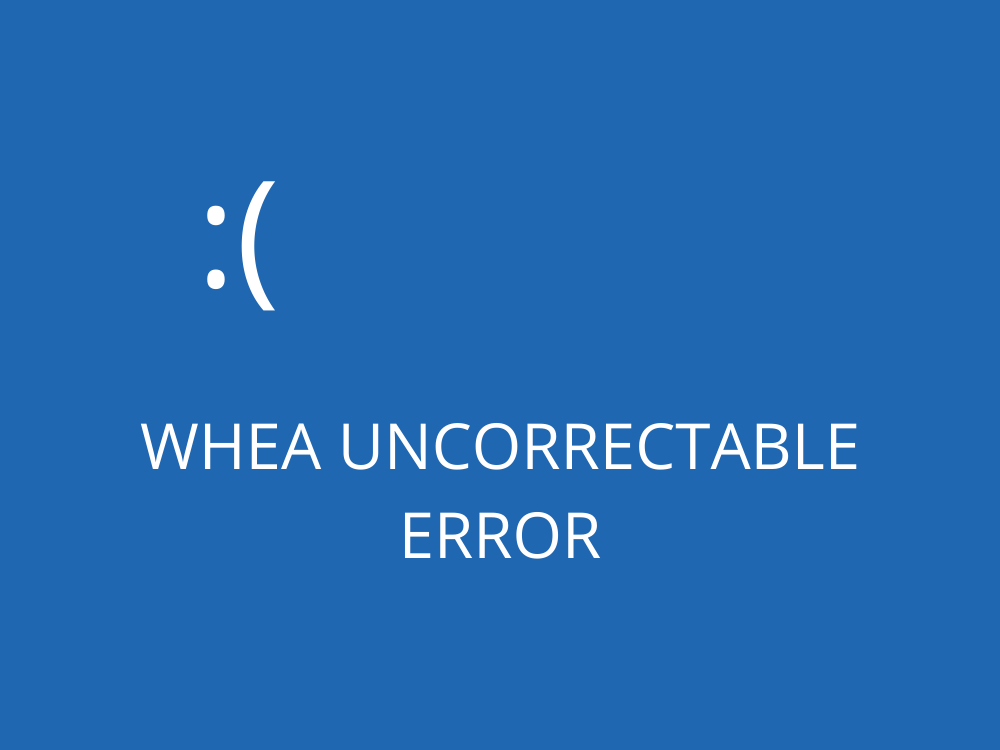 What is WHEA UNCORRECTABLE ERROR?
WHEA UNCORRECTABLE ERROR is a blue screen error caused by a hardware issue. It automatically shuts down your computer in an effort to prevent data loss. However, you can fix the WHEA_UNCORRECTABLE_ERROR stop code, whether it occurred on Windows 10, 8.1, 8, 7, Vista, or XP.
The Blue Screen of Death message is sometimes accompanied by the 0xc0000124 code. Since it indicates an underlying problem with your hardware, you should check for HDD or SDD corruption, issues with your RAM and CPU, damaged system files, overclocking, and other aspects.
How to fix WHEA UNCORRECTABLE ERROR
It would be wise to run a full backup on your computer to save important files. However, if that's not possible, then you should at least create a system restore point that allows you to roll back changes later if it will be necessary.
1. Use Windows Update
If you have any missing device drivers on our computer, especially when it comes to the RAM, CPU or GPU, then you should use Windows Update to download and install the latest versions.
Here's how to use Windows Update:
Restart your PC. You might have to do this several times
2. Roll back Windows
If the WHEA_UNCORRECTABLE_ERROR stop code was triggered by a software issue, like an incompatible program you recently installed on your computer, you should be able to seamlessly repair it by rolling back Windows to a previous checkpoint in Recovery mode.
Here's how to use System Recovery:
Log in to Windows 10 with admin rights
Restart your computer
However, if there are no restore points on the list, then you should proceed to the next solution to uninstall problematic applications.
3. Uninstall recent and untrusted apps
Not all software programs are fully compatible with Microsoft's latest operating system, which may lead to BSOD error messages like WHEA UNCORRECTABLE ERROR. Others are malicious, which means that you have to get rid of them no matter what.
Here's how to remove recent programs:
Reboot your computer
If you still get BSOD errors, remove the next recently installed program from the list
Unfortunately, these steps won't work if the application has already made changes to the Windows registry and shared DLLs with your operating system. Instead of using the built-in uninstaller, we suggest opting for a third-party programs removal tool.
In addition to uninstalling an application, it will find and delete any leftover files from your hard drive as well as restore the system registry to default.
4. Fix HDD errors and corrupt system files
Hardware errors that could cause BSOD problems like the WHEA_UNCORRECTABLE_ERROR stop code can be solved using CHKDSK (Check Disk), a built-in Windows tool.
When it comes to corrupt system files, you can count on SFC (System File Checker). Lastly, DISM (Deployment Image Servicing and Management) takes the system file check a step further and verifies the integrity of the Windows image's component store.
All three tools can be launched from the command-line environment with admin rights. Don't worry since you don't need any special skills as long as you follow the instructions below. Just make sure to run the three utilities in the next order.
How to use CHKDSK:
If Windows is installed in the default C: partition, type chkdsk c: /f. But if it's somewhere else, make sure to replace c: with the correct drive letter
Type y to schedule the disk integrity checkup at the next system reboot
Restart your computer and check for BSOD errors
How to use SFC:
Wait until SFC scans and repairs your system files
Reboot your computer
How to use DISM:
If DISM reports any problems with the system image, type DISM /online /cleanup-image /restorehealth
Restart your computer and relaunch CMD as admin
Reboot your PC again
5. Check your drivers
In the first solution on this list, we said that you should turn to Windows Update in order to download any pending updates, especially when it comes to your device drivers. However, it doesn't always work as expected.
For example, if you have missing drivers on your PC, then you should uninstall the associated devices and let Windows 10 auto-reinstall the correct version for your PC.
Here's how to reinstall device drivers:
Look for any devices in the list with a yellow exclamation mark. If you find one, right-click it and select Uninstall device
Follow the steps given by Windows and restart your computer
We recommend using Microsoft's DriverVerifier if you need additional help with identifying missing or outdated drivers on your computer. You can also use this app to manually update your drivers.
It means going to the manufacturer website of each device to find and download the latest driver. However, it's not a good idea to do this if you're not experienced since you risk getting the wrong driver, which may cause further issues on your PC.
To eliminate this risk, consider using a third-party program for updating drivers. It's a special kind of software that detects your currently installed drivers, finds newer versions on the web, then downloads and installs the latest drivers on your Windows 10 PC. And it's all done automatically.
6. Run a malware scan
Hard drive corruption could be caused by a massive malware infection on your computer. If it also triggered the WHEA_UNCORRECTABLE_ERROR stop code, then you have to find and eliminate the malware agent from your computer.
How to check your PC for malware with Windows Defender:
If the scan results don't return anything, run another one using Windows Defender Offline scan
If you have another antimalware application installed on your computer which overrides Windows Defender, make sure to adjust the steps above. You should also check if your antivirus tool supports vulnerability scan mode.
7. Disable your overclocking software
Some PC users turn to overclocking tools to make modifications to their CPU, RAM and GPU, in order to improve their gaming experience. If you're one of them, you should know that overclocking can cause hardware problems like overheating.
In turn, this leads to BSOD errors like WHEA UNCORRECTABLE ERROR since Windows will do everything it takes to protect your hard drive from fatal damage, even if it means shutting down everything.
But the solution is simple in this case: just deactivate your overclocking utilities and stop using them.
Here's how to disable overclocking in BIOS:
Restart your computer and press the key or key combination displayed on the screen for entering BIOS mode
Find the Advanced settings
Disable the Overclocking option
Save the current configuration, exit BIOS, and restart your computer
Check if you still receive BSOD errors
8. Check the system memory
Any RAM problems you might have could affect the hard disk, processes, services, drivers, and entire operating system, ultimately resulting in BSOD stop codes like WHEA_UNCORRECTABLE_ERROR.
Here's how to check your RAM using Windows Memory Diagnostic:
Make sure to save any ongoing projects and exit all applications
During the Windows reboot, the diagnostic tool will check your RAM and fix any errors it finds. It might be necessary to restart your PC several times. Once it's over, feel free to check if you still receive the stop code.
9. Reset BIOS to factory settings
If you have made any other changes to your BIOS besides overclocking (which we described in a previous solution), you might have accidentally messed up your hard drive settings and caused the WHEA UNCORRECTABLE ERROR error.
Here's how to reset BIOS to default:
Restart your computer
During reboot, press the key or key combination shown on your screen to enter BIOS mode
Locate the option to reset BIOS to default
Save BIOS settings, exit, and restart your computer
10. Reattach all peripheral devices
Blue screen errors could be also caused by hardware components that aren't correctly plugged into your computer unit. Another possibility is that your USB ports are damaged, resulting in hardware connection problems.
To solve this matter, shut down your computer, remove all cables, and detach everything. You might also want to check if your cooler is working properly. Then, start connecting your gear one piece at a time and make sure they fit the sockets but without applying force.
When it comes to your USB-enabled peripheral devices, try plugging them into different ports. Boot Windows and check if you still receive the WHEA UNCORRECTABLE ERROR stop code.
11. Perform a clean Windows boot
If you can't even use Windows 10 to begin troubleshooting the blue screen error, then you should run a clean Windows boot. It means starting up your operating system by loading only the necessary services, processes, and drivers. Everything else is disabled.
Here's how to clean boot Windows 10:
Select the Services tab, clear the Hide all Microsoft services box, and press the Disable all button
Do this for all startup apps with the Enabled status
Reboot your PC
12. Use Disk Cleanup
You might be surprised by the number of software and hardware problems caused by insufficient disk space. That's because your operating system must temporarily allocate free disk space to run processes in the background, check your PC for errors, and download updates.
To quickly check this, it's enough to take a look at the available disk space on the partition where Windows is installed (it's usually C:). If there's more room on other partitions, consider moving your applications, games, and personal documents there.
You should also transfer data to external hard disks and USB sticks, upload it to the cloud, or simply delete the files you don't need anymore, especially the large ones.
Here's how to use Disk Cleanup to remove junk data:
Log in to Windows 10 with admin rights
Visit the Downloads and Recycle Bin locations to make sure there's nothing there you wish to keep
Restart your computer
WHEA_UNCORRECTABLE_ERROR: Conclusion
To summarize, you can repair the WHEA UNCORRECTABLE ERROR stop code by downloading the latest Windows updates, rolling back the OS to a previous restore point, as well as by uninstalling recent and untrusted apps.
You can also fix HDD errors and corrupt system files from the console, check for incompatible drivers and update obsolete drivers, run a malware scan, and disable overclocking mode.
Another good idea is to check the system memory, reset BIOS to factory settings, detach and reattach all peripheral devices, perform a clean Windows boot, and use Disk Cleanup to free up disk space by deleting junk data.
Did any of the solutions fix the WHEA UNCORRECTABLE ERROR BSOD error for you? Let us know in the comment area below.