Access Reddit History For Visited Links Without Signing In [Firefox]
Did you come across something really funny on Reddit, but now just can't find it any more? Reddit is one of the largest social news websites on the internet, with content ranging from politics and funny images to videos and loads more. The platform has a massive collection of all kinds of links/images that you can enjoy browsing, but when you want to share links that you visited at a earlier time and can't find them, it can get really annoying. Even though Reddit allows you to save links if you're logged in to the site, that only means extra clicks. This is where Reddit History, a Firefox add-on, comes in handy. This slick tool lets you view the history of all your visited links, even when you are not logged in to Reddit. It does this by integrating a new tab, labeled history, to Reddit's interface. Under this tab, you will find a list of all your visited links that you can filter by sub-reddit and text search (regex) options.
After you've installed the add-on, you will notice that a new history tab has been added to Reddit's interface. This tabs integrates seamlessly with the service itself, and lets you view the entire list of links that you've visited at an earlier time. The add-on also allows you to filter links by All Subreddits and Images through a drop-down menu. Moreover, you can perform text search (RegEx supported) by entering a term in the search bar located at the top of the page.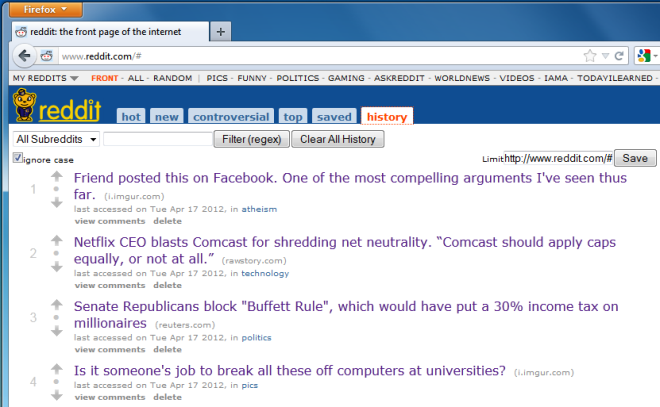 With Reddit History, you will no longer have to search for links in your browsers history or under the saved tab. This nifty little tool keeps track of all the submissions you have viewed on Reddit and allows you to quickly access them at a later time.
Install Reddit History Add-On For Firefox