Free Video to GIF Converter: Create GIFs From Frames Of Videos
A GIF or Graphics Interchange Format image is one of the few graphics image formats that can be used to create simple animations. It supports a separate palette of 256 colors for each frame, and you can use a GIF animation tool, like AnimateGIF, a portable application that can create flawless GIF images with custom frame delay and option to run the animation once or in a loop,
to combine multiple GIF images into a single file for creating a low-end animation. The previously featured GiftedMotion is another easy-to-use animator for GIF images, which lets you create animations from a series of digital images. These tools work flawlessly, but what if you want to create GIF animation out of video clips? Both of these applications lack the option to create GIFs out of video. Today, we came across a tool for creating GIF animations, called Free Video to GIF Converter that enables you to easily create GIFs from video clips. It has a low learning curve and supports a wide range of popular video formats including AVI, WMV, MPEG, MOV, FLV, MP4, 3GP etc. Keep reading after the jump to find out more about the software.
To begin creating a GIF, click Browse Video and navigate to the required video file. When the video is loaded, move to the Extract Frames section to choose the part of video you want to extract. The Width and Height fields allow you to specify custom resolution for the frames. You can also choose the total number of frames to be extracted per second. The extraction range is from 1 to 20 frames per second. Once you've configured the settings, click Next.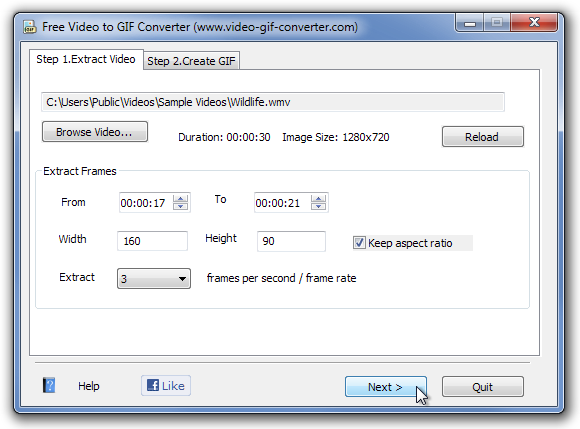 The Step 2.Create GIF tab shows you the preview of each frame and lets you select the frames to include in the animation. Just select a frame and click Remove to delete the frame from the list. You can select the Play Speed to be the same as that of the source video or set it to a custom rate from 1 to 20 FPS. The Color Matching feature lets you select either Normal Quality and Excellent Quality for the animation. When settings are in place, click Make GIF.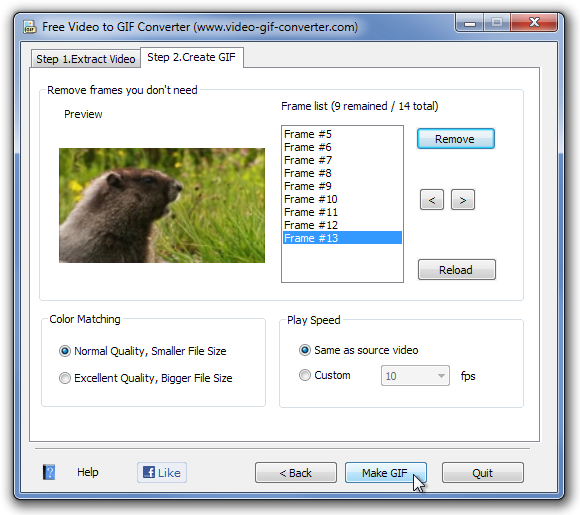 Free Video to GIF Converter works on both 32-bit and 64-bit versions of Windows XP, Windows Vista, Windows 7 and Windows 8.
Download Free Video to GIF Converter