Free Document OCR Uses Optical Character Recognition To Extract Text From Images
A few days back, we reviewed SuperGeek's free JPG to PDF converter that allows you to not only convert various image file to PDF format, but also transform images into PS (post script) format. Today, we will take a look at another tool from SuperGeek, named SuperGeek Free Document OCR. If your aren't familiar with the term OCR (Optical Character Recognition), it is a technique to convert scanned images or printed text into machine-encoded text. It is quite useful if you occasionally need to rewrite scanned text documents and use them in emails, drafts, reports etc. The application recognizes images with great accuracy, and supports all the major image formats, including JPG, GIF, PNG, BMP, TIFF, EMF, PCX and so on. Moreover, it has the ability to import images from any local location, and fetch scanned images directly from the scanner.
As stated earlier, the application can recognize images with great accuracy, no matter whether the image is a plain text document or a rich text document with images. The tool offers an elegant UI design, containing a total of three tabs namely Home, Help, and Image.  All you need is to click Open (either on shortcut menu or under Home or Image tab) to select your source file. You can also use any document from your scanner device by clicking Scan. Either way, your image will appear in the preview section. Now, select either whole or just part of the image that you want to send to OCR processing. The application automatically reads the pixels containing textual information within the selected area.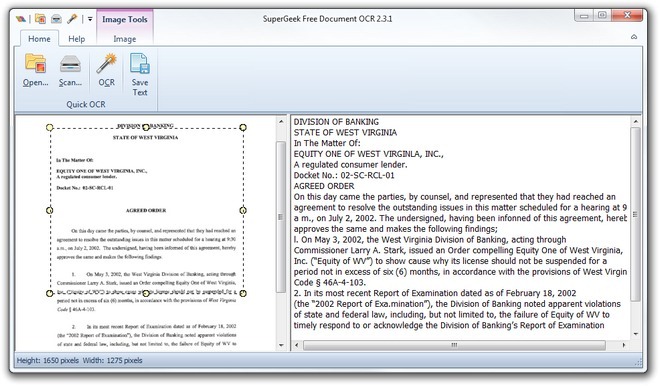 The Image tab brings a few more options on the toolbar, such as Fit Image, Fit Width, Enlarge, Reduce, Rotate ACW, Selection, Undo and Redo, to properly adjust the image. When you've done adjusting the image, click OCR to get an editable copy of the text in main window. The application is quite fast and almost instantaneously recognizes the text. You may save the document in TXT format using Save Text option on toolbar.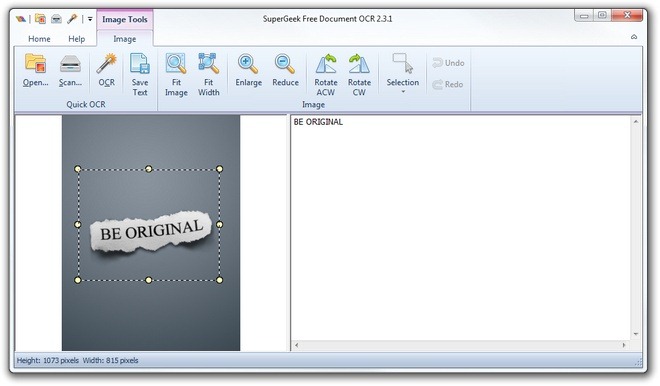 We threw a number of images to try the application's OCR potential and the output seemed quite promising. Overall, SuperGeek Free Document OCR has proved to be an useful OCR tool that automatically recognizes scanned documents and text within images, and extracts the text in simple, editable form. It works on Windows XP, Windows Vista, Windows 7 and Windows 8.
Download SuperGeek Free Document OCR