Add 'Up One Level' Option For Websites In Chrome With NavigUp
Browsers have a 'back' button and a 'forward' button. They keep a record of which page(s) you visited and let you return to them in a browsing session. What browsers don't have is a level up button (like the one ditched in Windows 7 Explorer) that lets you return to the parent folder. While you can directly click the folder you want to go in the location bar (in Windows 7 explorer) you still can't level up in your browser unless of course you're using Chrome and have the NavigUp extension installed.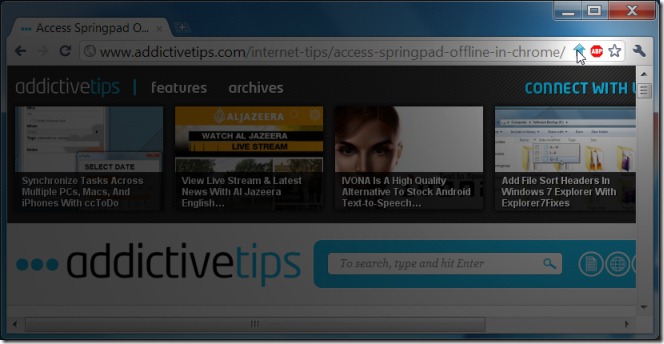 NavigUp installs as a button in the OmniBar and will take you up one level in the URL.
If you're browsing: www.addictivetips.com/internet-tips/remove-facebook-ads-in-chrome-with-facebook-clear/ and you click the blue arrow ( the NavigUp icon) you will be taken to: www.addictivetips.com/internet-tips/. The extension works for almost everything and anything you can open in your browser, including images and files.
You can use keyboard shortcuts to level up in a webpage as well; Alt + Up (the up arrow key) to go up one level. Using Shift + Alt + Up, Ctrl + Alt + Up or Ctrl + Shift + Alt + Up will take you up two, three or four levels respectively. The extension can make it easier to browse different categories on a site and level up when viewing directories. The extension can remove most query strings, page anchors, sub- domains and security layers.