Allow Anyone To Upload Files To Your Dropbox Folder
Dropbox does not provide any functionality to allow other users to upload files to your account. This is a serious nuisance considering how may times we come across situations where we need users or co-workers to upload files so we can check them out. Such a functionality can also be useful when students or professionals are working in groups and everyone needs to upload files to one single directory.
Jake Jancar has created a simple PHP class, called Dropbox Uploader, which can be used to upload files to Dropbox. Reader Amit Banerjee has created a full script, which once uploaded to the server, can allow users to upload files to your Dropbox folder via a simple browser based uploader.
We played around with the script too and made a Dropbox Uploader with a neat interface (demo), and it worked!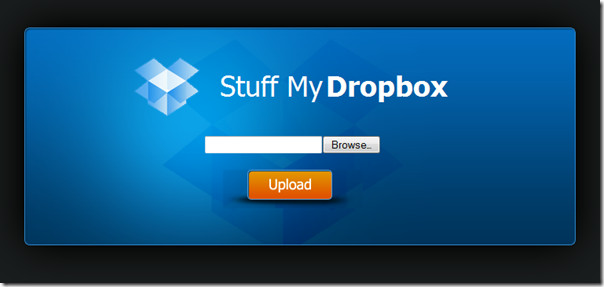 Before you upload the Dropbox folder containing the script to your server, edit the Index.php file with notepad, and provide your Dropbox email, password, and folder (where you want files to be uploaded). That is all!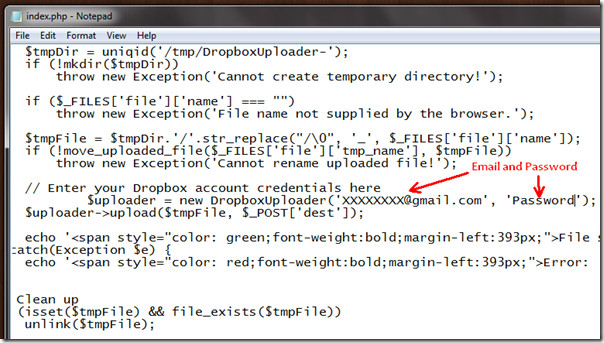 For the complete step-by-step guide, along with the screencast, visit the blog post written by Amit Banerjee. You can also grab his script or grab ours (modified to look appealing) from the link below.
Download Dropbox Uploader script
Thanks to Jake Jancar for the original PHP class!
Update: If you have implemented some new features in the script for added security or better usability, we would be glad if you can share them with us (and the world) in the comments.
Update 2: Use DropItToMe, it is based on this script and includes password protection.