MP3 Freund: Index Large Mp3 Music Library For Faster Search
MP3Freund can index your MP3 music library for faster search. It has a fast indexing mechanism, offers instant search with an ability to search by meta information, file name and folder name. It allows controlling of music player using plugins – at the moment only Winamp is supported. However, the opening of music files and drag & drop behavior will work with every media player.
During installation, you can download a plugin for Winamp to gain more control over your music collection. In the last steps, specify the folder(s) path to index all of your music collection. Once configured, you will see a nice minimalistic explorer. It is also an efficient static and dynamic playlist management tool which lets you filter music files on different scales. The left sidebar carries search bar and music collection explorer. Under S tab, you can search music tracks by meta data, file name or by folder name.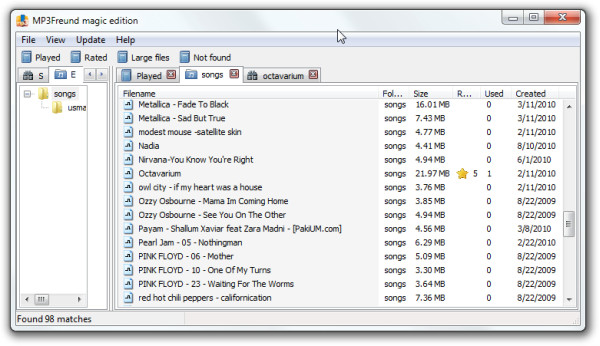 Songs can be rated and added in queue to play them in Winamp. There are four tabs on the top for viewing Played, Related, Large Files and Not Found dump files respectively.
From Options window, you can change the Player, Folders, View, and General settings. From the player tab, you can select which action to perform when double-clicked on the item.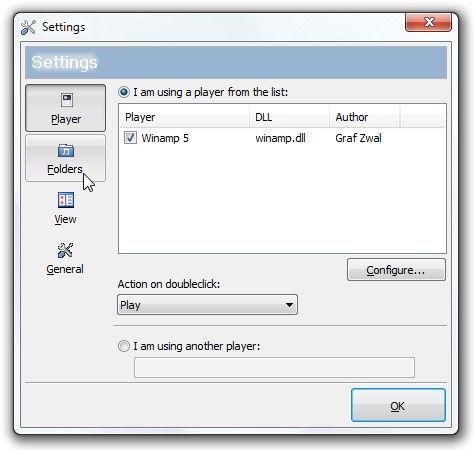 The application is still in its infancy but very stable. The interface is available in two languages – English and German. Portable version of the application is also available. It runs on Windows XP, Vista, and 7; testing was done on Windows 7 x86 system.