ConvertICO: Batch Convert PNG/JPG to ICO & Back, Combine Multiple Images Into One Icon [Web]
As the world has moved towards Web 2.0, and with the advent of HTML5, highly capable web apps have started to become a norm, ranging from capable image editors, multimedia creators, document manipulators, to the likes of architectural simulation and 3D anatomy of the human body. However, a web application doesn't necessarily have to be complex and feature rich to prove useful, and that's exactly what I found ConvertICO to be. This simple web app lets you convert images to icons, and vice versa. Supported output icon types include those for Windows (XP, Vista, 7), Favicons and even any custom dimensions that you choose. Moreover, ConvertICO adds batch processing to the mix, and lets you even merge multiple PNG files into one icon.

ConvertICO is pretty simply laid out, and offers four functioning tabs for image/icon processing, the last one being a simple About Us page. On the Homepage, you get your basic image-to-icon converter, letting you upload a file in PNG, ICO, JPG, GIF or BMP from your computer for conversion. There is no limit on the image's resolution, but it must be less that 1MB in size. Should you wish to specify an image from the internet, just input its URL in the relevant field. Specifying the parent file will reveal the resultant icon's parameters, which include getting an ICO for Windows 7, Vista or newer, ICO for Windows XP or older, Favicon for website or Custom dimensions.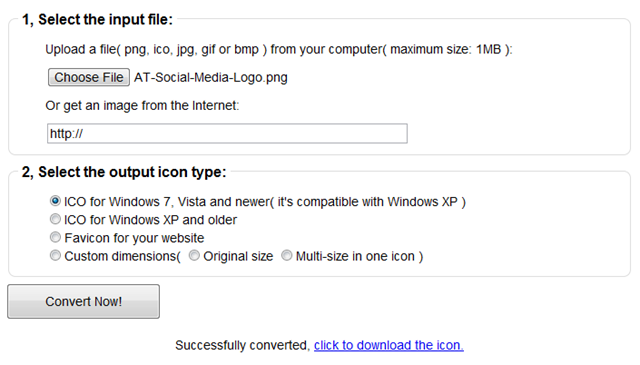 Done with the parameters, hit the Convert Now! button, and you can simply download the output ICO file from the generated link. This same method can be used to get a, say, favicon, out of an existing ICO file that you may have.
Apart from the simple operation, ConvertICO gives you Batch PNG to ICO conversion, which lets you get several multiple-sized icons from PNG images. Please note that here, only PNG is supported, and other formats are not possible to process. The reciprocal, Batch ICO to Image, is also possible, which will convert several multi-resolution icons into PNG, JPG or GIF images.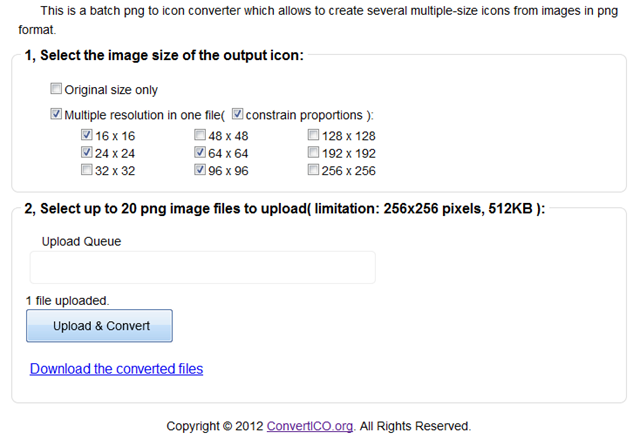 The final, and rather most interesting, feature offered by ConvertICO is Multiple PNG to One ICO, which lets you combine up to 15 images to get one, multi-sized Windows icon, without altering image resolutions. The only limitation, other than the 15 images at one time, is that they should be in a maximum resolution of 256×256 pixels, and less than 512kB in size. As before, only PNG is supported in this function.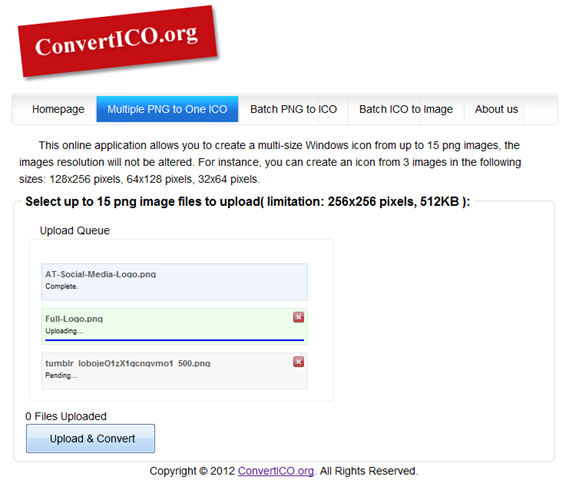 Despite being a rather useful and lightweight web app, ConvertICO is not exactly perfect. The options are plentiful, I agree, but the functioning is rather hit-or-miss. To be precise, it took me 3 attempts to get an ICO file out of the Multiple PNG to One ICO option, but it did work nevertheless. The developer might want to address that on priority if he wants ConvertICO to gather any solid user base.