Boxify.me – Upload Files To Your Private URL For Group Sharing
Cloud hosting and sharing files has become a popular and convenient way of backing up data and sharing it without using either email or a USB. With the myriad of services available, some big, some still in obscurity, sharing a file really isn't a big deal anymore but what can sometimes be a pain is when your friends use a different service and sharing a file branches out to time wasting steps. Boxify.me is  a simple web service that requires absolutely no sign up. It lets you create 'boxes' or 'private URLs where you can upload any number of files in any format and any size. File sharing is as easy as sharing the URL. Any one can upload more files to your 'box' and download the ones you've added.
The service auto generates a URL that you can rename and start uploading files to. Each time you want to add a new file, click the Upload a file button and select multiple files at once to upload.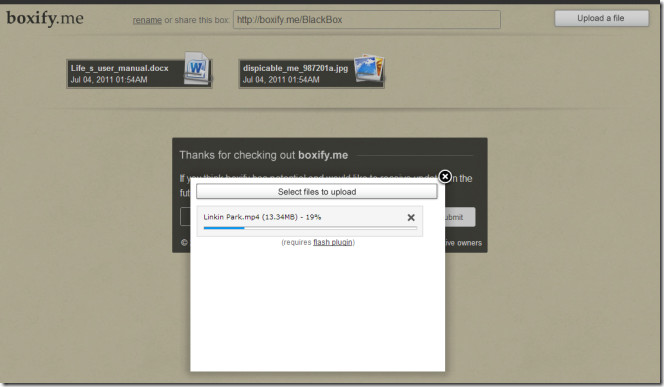 Once you've uploaded all the files you need to share, send the URL out to your friends. They can download and view all files. Even though the service doesn't detect some formats like MP4, TXT and AVI, it still lets you upload and download files in these formats without effecting the quality.