Check Any Website For Viruses, Malware, And Phishing Scam With URLVoid
Many a time we come across websites that can contain malware and phishing scams. Although, there are a number of extensions available to provide some sort of security, they require visiting the website for them to work. By then it can be too late if the malware infects your system. Moreover, a website can be infected by a virus when one transfers a file to the FTP server for deployment and by many other means.
URLVoid is a free web service that scans any specified website with a number of diagnostic tools such as Browse Defender, Google Diagnostics, hpHosts, Malware Patrol, McAfee SiteAdvisor, Norton SafeWeb, etc and provides a detailed scanning result.
Just go to the URLVoid website and enter a website URL to begin scanning.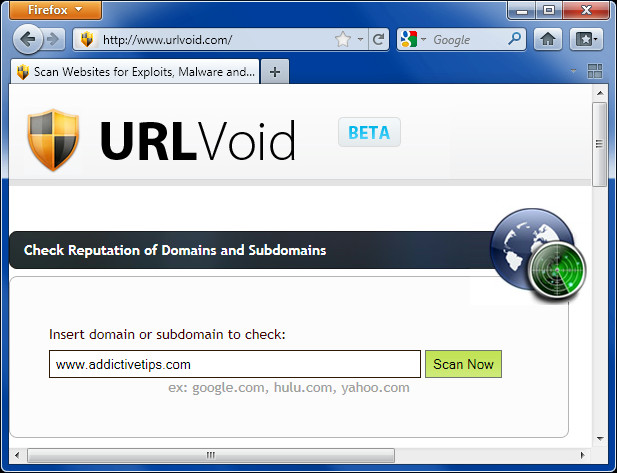 In a short, while you will be presented with the scanning result along with information about the website such as, IP address, IP location, Domain hash, Web host, malware detection percentage (if any) and overall status. The best thing about URLVoid is that it uses reliable scanning resources like Google Diagnostics, MacAfee SiteAdvisor, Norton SafeWeb, TrendMicro Web Reputation, and so on.